Bars to Visit After Seeing a Broadway Show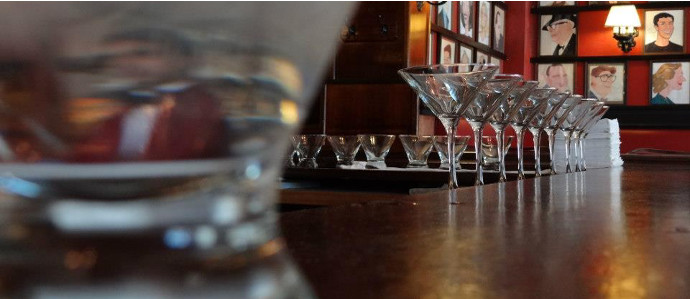 The holidays are long over, the start of the New Year has come and gone and now we're trapped in those purgatorial months of snow, cold and darkness. To break up the gloom, people in New York, visiting and local, have to find ways to inject a bit of brightness into their lives—hence, Broadway. A huge draw for tourists and a welcome distraction for some New Yorkers, seeing a play or two (or several) to get through the winter works wonders. To stretch out the activity (and get out of the house for a solid four plus hours at a time), try drinking at these establishments before or after (or before and after) your show.

If you're a vodka fan, there's nowhere else to go when you're seeing a show on Broadway. There's always a guy playing the piano, the clientele as well as the vodka are largely Russian and the vodka selection is extensive. Infusions include garlic pepper and dill (not for the faint of heart), peach and apricot, and horseradish, to name a few. (265 W 52nd St.; 212-307-5835)
This place may seem a little cheesy, but it will either get you in the mood for a lively show or help you sustain the mood after one's over. There's always different music playing, and all the mahogany will make you feel like you're somewhere you want to be. A decent wine selection is musically themed (like the Grateful Dead Red Blend and the Pink Floyd Dark Side Cabernet). (237 W 42nd St.; 212-997-4144)
This place is huge and heavily Victorian-themed, which somehow makes the heavy-handed theme ascend "bearable" and even attain "delightful" status. Beers are on the pricier end (between $6 and $13), but there are plenty to choose from, and it's Times Square, so you're not going to do much better. (249 W 49th St.; 212-957-4530)
This place might be worth going to beyond just because you're going to see a Broadway show. Its entrance isn't at all showy like other Times Square establishments so the tourist bustle won't be overwhelming (it's located above the restaurant Joe Allen's—some have a hard time finding it), and it's cozy for hiding away during winter weather. (324 W 46th St.; 212-581-3130)
If you're looking for cheap and basic, this is the place to go. Good energy pervades, and it's not screaming at you to flush all your money away like other Times Square establishments do. All the memorabilia on the walls gives it that diner-esque touch. It's the kind of place you go just to drink, because you want a place just to drink. (140 W 44th St.; 212-221-9510)
The piano bar here features a talented staff that will complete your Broadway experience, if you're looking for the kind of night where the singing doesn't end. Performers take song requests and patrons can even get up and sing if they're feeling the spirit. Wines are priced at about $8 per glass. (343 W 46th St.; 212-757-0788)
Sardi's
If you want to trick yourself into thinking you're going to see a celebrity after you catch a Broadway show, by all means, make the trip to Sardi's. Tourists seem to love this place, New Yorkers don't, but it's somehow iconic.
(234 W 44th St.; 212-221-844)
Photo via Sardi's
Tags:
Beer
,
Cocktails
,
Dinner
,
Food
,
Music
,
Spirits
,
Whiskey
,
Wine
Recent Articles

Feedback
How are we doing? Tell us what you like or don't like and how we can improve. We would love to hear your thoughts!