The History of The Boulevardier Cocktail - and How You Can Make it at Home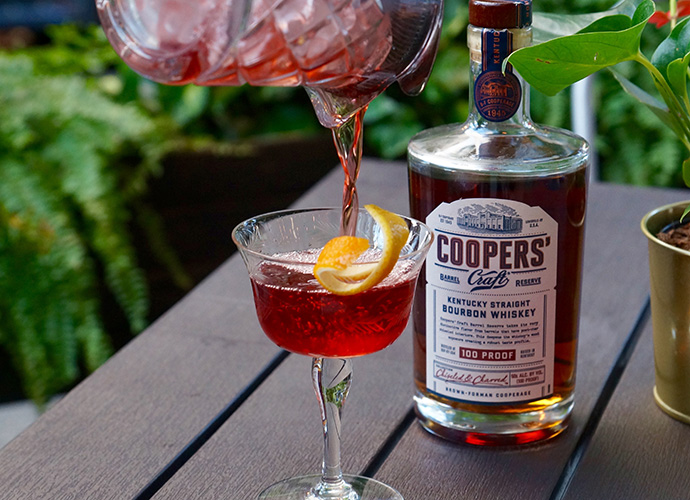 The Boulevardier Cocktail is often described as "a bourbon variation of a Negroni," and it's made with equal parts bourbon whiskey, Campari, and sweet vermouth (served over ice or straight up). It's definitely reminiscent of a Negroni, thanks to the Campari and sweet vermouth. However, The Boulevardier actually may be 20 years older than the Negroni, so really, you could say that a Negroni is a gin variation of a Boulevardier. To tell the full story, we'll have to explore American prohibition in the 1920s and the subsequent careers of two men in Paris, France.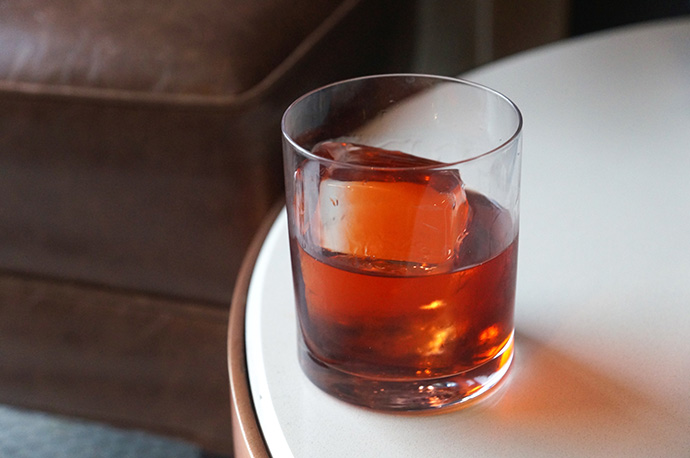 How to Make It
The Boulevardier Cocktail:
1.5 oz bourbon whiskey of your choice (pictured in top photo is Coopers' Craft 100 Proof Barrel Reserve)
1.5 oz Campari
1.5 oz sweet vermouth
*stirred with cracked ice, served neat or over ice, depending on your preference, garnish with orange peel (optional)
Why stirred and why use cracked ice?
There's a reason we shake some cocktails and stir others; our drinks contain a secret ingredient that's left off the menu, water. When you shake, the ice slamming against the walls of the tin cause cracks large and small to form. The cracks spread like roots; the alcohol in your cocktail is not far behind. This additional surface area allows more of the ice to melt, watering down your drink. Sirring is the gentler alternative and the pefect way to keep your cocktail bourbon forward, exactly where you want it to be.
- Fitz Bailey, Coopers' Craft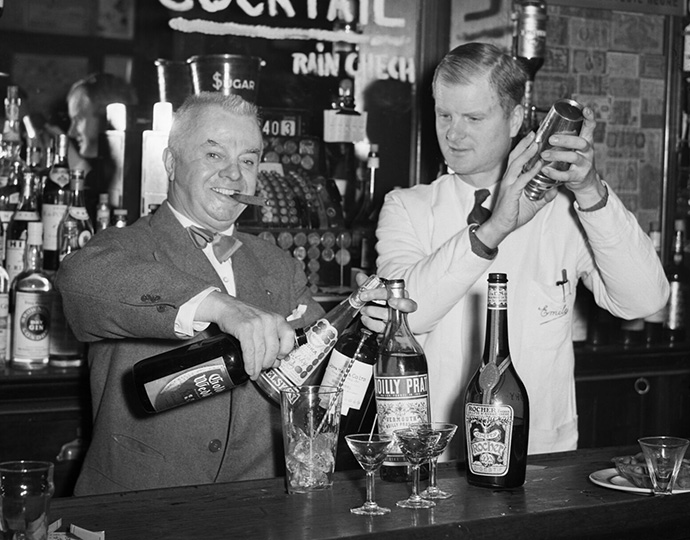 Photo of Harry MacElhone (left) via Tullio Saba
The History
Harry MacElhone, a famed bartender, worked at the Plaza Hotel in New York until prohibition hit America in 1920. Bartenders across America, suddenly out of work, relocated to Europe to find jobs and continue their craft. MacElhone relocated to several bars in Europe, and one of them happened to be Tod Sloan's New York Bar in Paris. In 1923, he ended up buying the establishment and changing the name to Harry's New York Bar, which is now one of the most famous bars in the world. Harry's is believed to be the origin of many other classic cocktails, including the Sidecar, Bloody Mary, and French 75.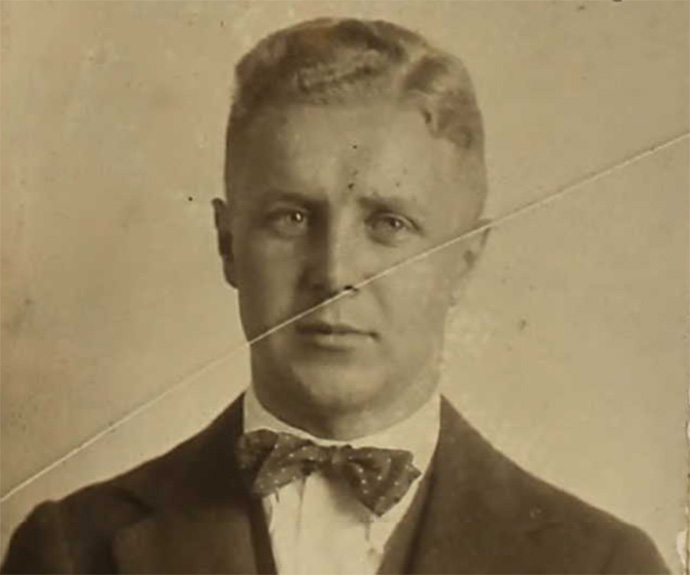 Photo of Erskine Gwynne via Bobby Kelley
At the same time, an American writer named Erskine Gwynne, who was a member of the famous Vanderbilt family, moved to Paris in the late 1920s to start an English-language literary magazine similar to The New Yorker. The magazine, named The Boulevardier, ran from 1927 to 1932. Harry's New York Bar in Paris had become a local stomping ground for famous writers and socialites, and Gwynne was among them. He frequently drank at Harry's, and ultimately, he asked for one particular drink so much that Harry's decided to put it on the menu and name it after Gwynne's magazine, creating The Boulevardier Cocktail.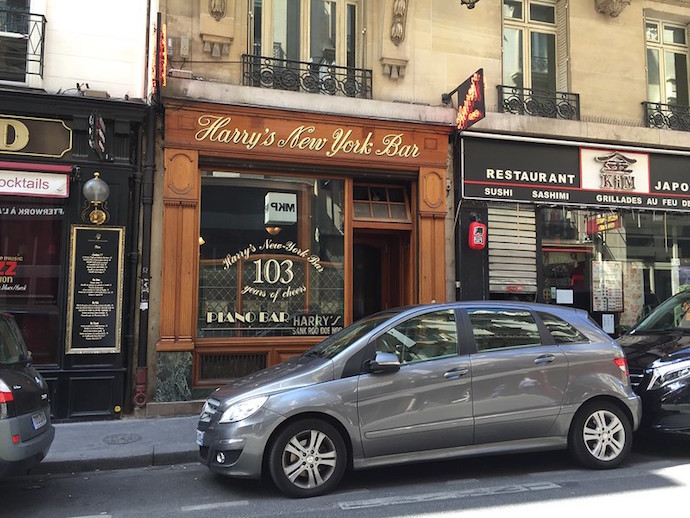 Photo of Harry's New York Bar via Allison Fender
Harry MacElhone is often credited as the creator of the cocktail; however, he himself credited Erskine Gywnne as the original creator in his 1927 recipe collection, Barflies and Cocktails. In his book, MacElhone wrote:
"Now is the time for all good Barflies to come to the aid of the party, since Erskine Gwynne crashed in with his Boulevardier Cocktail: 1/3 Campari, 1/3 Italian vermouth, 1/3 Bourbon whisky."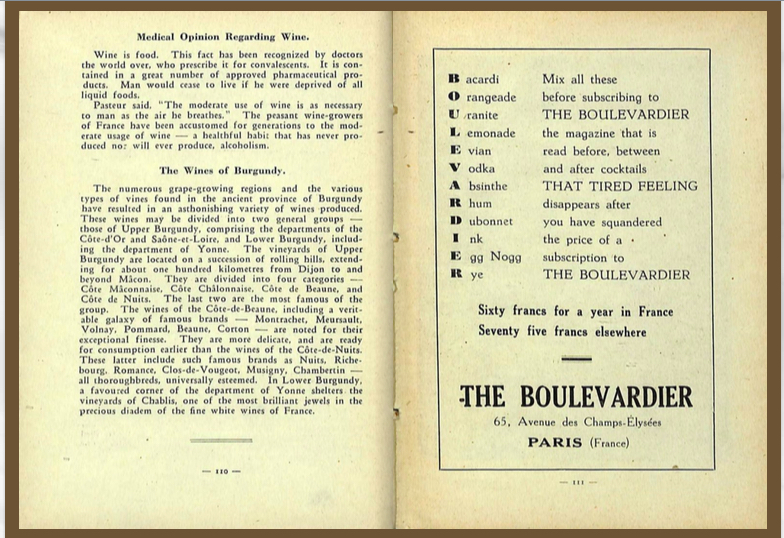 Barflies and Cocktails by Harry MaElhone and Wynn Holcomb
The print version of the book is a rare find these days, so if you stumble upon one, be sure to snatch it up — they currently sell for $2,000 - $7,500 on the rare book market. You can also read the whole book for free here.
The simplicity and taste of The Boulevardier have made it a classic, and throughout the years, it has stood the test of time and is still found on cocktail menus and in home bars around the world. The next time you take a sip of this savory drink, be sure to remember the story of Erskine and Harry.
Top Photos by The Drink Nation
Tags:
Cocktails
Recent Articles

Feedback
How are we doing? Tell us what you like or don't like and how we can improve. We would love to hear your thoughts!