Summer Cocktails: Cool Off in NYC with Mint, Lemonade, and... Curry?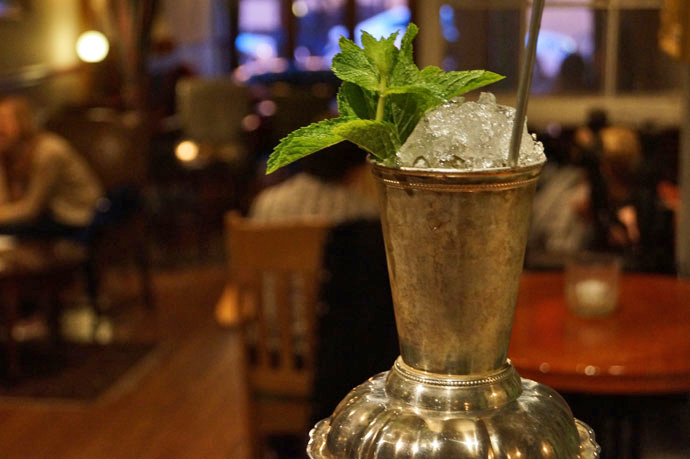 When you think of summertime, what comes to mind (other than sweat and mercifully air-conditioned subways)? Watermelon, lemonade, and rum often crop up on the list of expected summer-y drink fixin's, and this season's NYC cocktails certainly reflect them all. Add in some more surprising spices and herbs and you've begun to cover what bartenders in this bustling city are using to cool the masses as the temperature approaches — gasp — ninety.

Watermelon Margarita ($13)
Schoolbred's (197 2nd Ave.; 212-539-0340)
This summertime twist on a year long go-to at Mexican eateries will certain serve to refresh after a day in the sun. With Partida Blanco as the tequila base, you'll get a crisp, clean sip with the added brightness of watermelon puree. Fresh lime and, of course, Combier tether this margarita to its roots.

Mint Julep ($14)
Char No. 4 (196 Smith St., Brooklyn; 718-643-2106)
Keeping it simple and classy, this mint julep only includes the basics. Whisky, mint, and simple syrup make this cocktail light on the palate. The spirit of the South pervades with Rebel Yell, an 80 proof Kentucky straight bourbon, so you can imagine yourself slowly sipping this on a wraparound porch as the heat engulfs you like dripping molasses.

Bloody Madras ($16)
P.J. Clarke's on the Hudson (4 World Financial Center; 212-285-1500)
Transport yourself to India with this innovative Bloody Mary, where it's always hot (both weather and spice-wise). As Indians attest, the sweat caused by consuming spicy foods helps you cool down. Use this knowledge to your advantage this summer with a Bloody that mixes ample Green Tabasco with tomato juice surrounded by a celery salt rim. Just a pinch of Madras Curry provides the delicious Eastern flair that will remind you exactly why you're sweating to brave the heat.

Juniper #3 ($14)
Momofuku Ssäm Bar (207 2nd Ave.; 212-254-3500)
This seasonal cocktail looks like summer with a sun-like sheen. Barrel aged gin mixed with apricot, Campari, and lemon will make you purse your lips with the perfect bitter/sweet ratio. The apricot and lemon compliment each other to result in a tangy bliss that may make you find yourself shoving regular, old G&T's to the other side of the picnic table.

It's About Thyme ($15)
Bathtub Gin (132 9th Ave.; 646-559-1671)
It is about thyme (couldn't resist) to bring out the Champagne for another cocktail that channels the summer sun. With yellow chartreuse, pressed lemon, and fresh thyme, this sparkling beverage comes appropriately served in a flute. Piper-Heidsieck Brut Champagne means very low levels of sugar, so you can avoid the sort of cloying sweetness that only adds to the weight of humidity on stifling summer days.

Strawberry Fields ($13)
Bobo (181 West 10th St.; 212-488-2626)
Mt. Gay "Black Barrel" Rum has a fruity yet toasty finish that, combined with St. Germain and pear liquor, evokes the taste supposed by the cocktail's title, though no actual strawberries are to be found in the recipe. Lastly, lemon cuts the otherwise sugary concoction while still keeping it a favorite seasonal drink for those with a sweet tooth.

Orange Blossom Rum Lemonade ($12)
Night of Joy (667 Lorimer St.; Brooklyn, 718-388-8693)
Served in what looks to be a spin on the classical Champagne saucer, this deceptively adorable beverage is not your average summer lemonade. Though concealed by orange blossom and sweet lemon flavors, the rum will sneak up on you, which is just fine in this comfortably decorated, stylish bar full of revelers with a generous outdoor patio on the second floor.
Tags:
Cocktails
Recent Articles

Feedback
How are we doing? Tell us what you like or don't like and how we can improve. We would love to hear your thoughts!