Super Bowl Beer Review: Brewer's Art Resurrection Ale vs. 21st Amendment Monk's Blood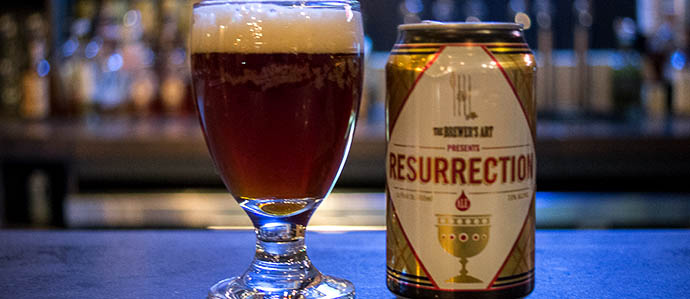 As the San Francisco 49ers and the Baltimore Ravens prepare to face off in New Orleans on February 3 for Super Bowl XLVI, we look at a similar beer from each city to see how they stack up. Though Baltimore has gained several new breweries lately, Resurrection Ale from The Brewer's Art is a flagship brew — not only for the pub, but for the city as a whole. Plus, it's offered in cans, a signature of 21st Amendment beers. We compare it to an ale from the California brewery's Insurrection Series: Monk's Blood.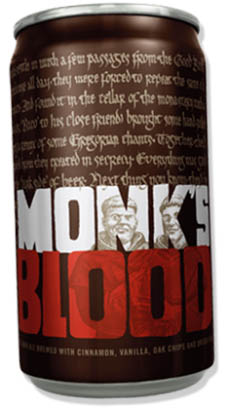 Resurrection Ale is billed as an Abbey Dubbel, and that's exactly how it drinks. The can itself provides a preview of the character of what's inside: its gold and red lettering is classic — almost retro — with no frills or extensive bells and whistles. Brewed with five kinds of malt, the amber-red, 7% ABV beer pours with a surprisingly buoyant, ecru head that holds its heft for several minutes.

Resurrection's scent is slightly sweet but not overwhelming, and no specific aroma (aside from that of "ale") is detectable. Taste follows along the same lines, with a fruity undertone, yeasty flavors, a medium body and a quick finish. You can imagine monks in Belgium drinking this exact beer a hundred years ago. Instead of trying to be exciting, The Brewer's Art has created a timeless classic.

Monk's Blood aims for the flip side of the Belgian beer coin. Brewed with eight different malts, spices, black mission figs and then aged on oak, the 8.3% ABV Belgian Dark Ale is designed to "[rise] up in revolt against common notions of what canned beer can be," according to the brewery.

The dark ale pours with a bubbly head that quickly dissipates, leaving a sweet, raisin- or plum-like fragrance. Vanilla and cinnamon fight with the malt for flavor dominance, resulting in a complex sip that will have you going back for more before you're even ready — just so you can figure it out. The finish is creamy and heavy.

The conclusion? If you want to drink two or three Belgians as you watch the big game, snag some Resurrection Ale. If you're looking for a standout Belgian that'll make a mark against the other, lighter brews you have planned for your party, seek out a can of Monk's Blood. May the best beer team win.
Recent Articles

Feedback
How are we doing? Tell us what you like or don't like and how we can improve. We would love to hear your thoughts!