Budweiser Admits Its Beer Has No Taste, Will Introduce Black Crown During Super Bowl XLVII
"Taste is making an entrance on 02.03.13," boldly states Anheuser-Busch's marketing copy touting the introduction of a new label dubbed Budweiser Black Crown. If you are craft beer drinkers like us, you might find it hard to hide a smirk. Is the company actually admitting its beers up to now have had no taste? We wouldn't argue.

Following a national trend of macro beer companies co-opting the craft beer movement — highlighted by the Brewers Association recently in an essay titled "Craft vs. Crafty" — AB InBev is trying to keep customers from going "off-reservation" and drinking microbrews. Craft beer has gained market share of late, now making up 9% of the total beer by sales in the U.S., and the big beer companies are buying up smaller breweries (Goose Island, for example), or releasing their own "craft-friendly" labels, such as this one.


Black Crown is the result of a yearlong project during which Budweiser worked with a dozen brewers to create a more flavorful brew, starting with 12 beers and narrowing it down to six, three and then one. The winning recipe uses a two-row malt, known for its biscuity, caramel flavors, as well as four types of U.S. hops, and is finished on a bed of Beechwood chips. The yeast used is the same as that used in regular Bud, and is descended from the strain used by Adolphus Busch in 1876.

The resultant beer has "more body, color and hop character than the flagship lager," according to a company rep. Copying another trait of many microbrews, the ABV of Black Crown is a higher 6%, compared to 4.8% ABV for Bud. Los Angeles-based AB InBev brewmaster Bryan Sullivan was the creator of the beer, which was chosen by a panel of brewmasters as well as in tastings with 25,000 beer drinkers across the country.

Stores and bars will begin carrying Black Crown as early as January 21, to make sure it's available in time for Super Bowl XLVII on February 3, when the first ad for the new label will be shown. The packaging is distinct from the brazen red of regular Budweiser, and features gold colors and black swoops. In addition to regular 12-oz. bottles, you'll also see 22-oz. singles of the beer, mimicking another craft brew trend.

More flavor than Bud doesn't really mean much, but we're curious how the new beer tastes. Even if Black Crown doesn't suck, we urge you to support your local craft breweries. "Taste is the new black," the company says? No. No it's not.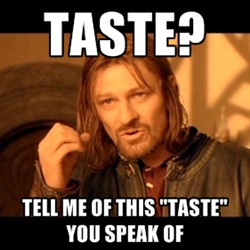 Recent Articles

Feedback
How are we doing? Tell us what you like or don't like and how we can improve. We would love to hear your thoughts!