The Green Dragon: Real Life Hobbit Bar Opens for Business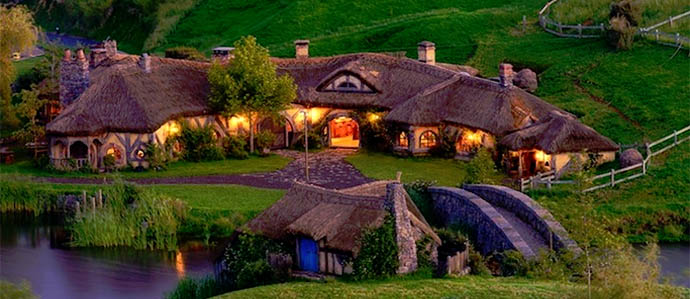 Fans of the Lord of the Rings may recognize The Green Dragon, a pub frequented by Frodo, Sam, Merry and Pippin. Now, if you care to make the trip down under, you can belly up to the same bar.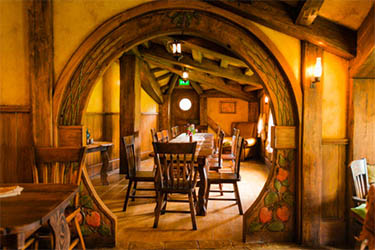 As part of the set for Peter Jackson's trilogy, a life-size tavern was constructed in New Zealand, though it was burned down (on purpose) while filming the devastation of the Shire in Return of the King. However, the pub makes a short appearance as the place where Bilbo Baggins meets the dwarfs before they set off in The Hobbit: An Unexpected Journey, so it was entirely rebuilt for the making of that movie. Now that the film is out in theaters, the bar is open for business.

The tourists who flock to the movie set town Hobbiton, located near Matamata on New Zealand's North Island, can duck through circular doorways and take up a seat in the Merry Parlour or the Bywater Beer Garden and enjoy a drink. Four specially brewed sips are available, including a light English bitter ale, a traditional English Ale (each 3.8% ABV), a slightly stronger cider (5% ABV) and a non-alcoholic ginger beer.

Jackson's movies have been great for Kiwi tourism, and the Prime Minister of the country was even on hand for the late November official opening of The Green Dragon. Though it's currently only a short stop on tours of the set, there are plans to convert the thatched-roof building to an inn that allows overnight stays. Anyone up for a journey to Middle Earth?
Recent Articles

Feedback
How are we doing? Tell us what you like or don't like and how we can improve. We would love to hear your thoughts!