Along With the Dark Knight, Fernet Branca Rises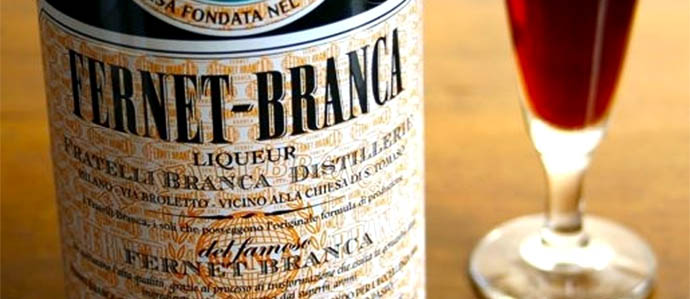 The recent home-viewing release of this summer's The Dark Knight Rises reminded us of the best product endorsement of the year. Near the beginning of the movie, Batman's trusty uber-butler Alfred speaks of sipping Fernet Branca day after day in a cafe in Florence, hoping to catch a glimpse of Bruce as a regular, happy guy.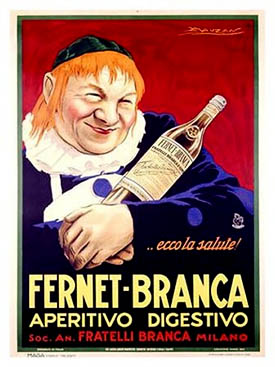 Whether this is a paid placement isn't clear, but it's likely not. Christopher Nolan and his fellow screenwriters were probably just trying to make Alfred into the hippest septuagenarian possible. Fernet Branca has been on the rise in the U.S. late. What is it, and why is it cool again?

Fernet Branca is a specific brand of amaro, a bitter Italian spirit often sipped after a meal as a digestif. If you've never tasted it before, be prepared for a bracing surprise — the flavor is often compared to Jagermeister, but without any sugar. Over 25 different herbs and spices go into the secret recipe, including saffron, aloe, rhubarb, chamomile, and the liquor is aged for a year in wood casks. The result is a very unique taste, but one that takes getting used to.

Popular in Italy for hundreds of years, the spirit is now being embraced by bartenders and drinkers throughout the United States. San Francisco was the first city to really adopt the bitter drink — if you were really cool, you were sipping it there back in 2002 — but the craft cocktail movement has brought Fernet to bars all over the country.

You can now glimpse a Fernet Branca bottle on the shelf of a good number of U.S. bars, and the liquor is even on tap at various establishments around the U.S. The bitter green juice is flowing at The Passenger in Washington, D.C., Citzen Public House and Oyster Bar in Boston, the Penny Diner in Portland, Lemon Hill in Philadelphia and Row 14 in Denver.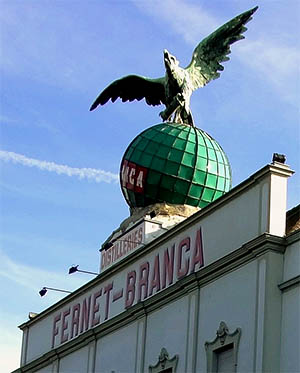 A word of warning to those preparing for a first sip: if you enjoy sweet drinks, this will take some getting used to. The spirit has been called the "liqueur of Hades," because it's unforgivingly sharp and strongly mentholated. But cocktails are less and less sweet these days, and palates are used to exploring new flavors, thanks to the general "foodie-ization" of American dining. So give it a try; we're fans. And if you need more inspiration, just imagine the voice of Michael Caine as Alfred. He could convince anyone.
ALFRED: Remember when you left Gotham? Before all this, before Batman? You were gone seven years. Seven years I waited, hoping that you wouldn't come back. Every year, I took a holiday. I went to Florence, there's this cafe, on the banks of the Arno. Every fine evening, I'd sit there and order a Fernet Branca.

I had this fantasy, that I would look across the tables and I'd see you there, with a wife and maybe a couple of kids. You wouldn't say anything to me, nor me to you. But we'd both know that you'd made it, that you were happy. I never wanted you to come back to Gotham. I always knew there was nothing here for you, except pain and tragedy. And I wanted something more for you than that. I still do.
Photos via Flickr user fixedgear
Recent Articles

Feedback
How are we doing? Tell us what you like or don't like and how we can improve. We would love to hear your thoughts!