Scotland's Brewmeister Introduces Armageddon, World's Strongest Beer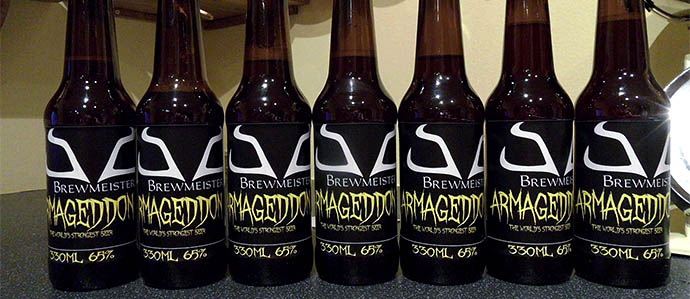 If you thought last decade's trend of higher-and-higher-ABV American craft IPAs was a bit excessive, check out the beer wars currently underway in the United Kingdom. Recent entries have been 2010's End of History from Scottish brewery BrewDog, a limited-edition 55% ABV whopper packaged in taxidermied real animals like squirrels. A few weeks after that, Dutch Brouwerij 't Koelschip came out with Start the Future, ringing in at 60% ABV (though not served in dead rodents).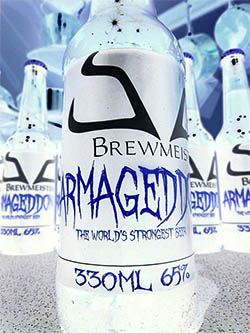 Now Scotland appears to be back on top with Brewmeister Brewery's newest offering, appropriately named Armageddon. It's clocks in at 65% ABV, which is equivalent to 130 proof, making it more alcoholic than just about any whiskey, brandy or other liquor. The 12-oz. bottle it's served in contains the equivalent of around 10 pints of a regular-strength (~4% ABV) brew.

The new potent potion is created using the same method as the previous contenders: freeze distillation. When you take it down below 0°C, the water in beer begins to freeze, coming out of solution and forming ice crystals. Ethanol — the part of beer that gets you tipsy — has a freezing point of −114.3 °C, and so does not crystallize. Then you simply remove the ice, leaving behind the strongly concentrated liquid.

Whether or not the resulting beverage is actually beer is a separate question. The flavor will vary depending on what type of beer you start with, but can actually be quite pleasant. Theoretically, you could try this at home by placing homebrewed beer in the freezer in empty plastic soda bottles and then cutting a slit in the bottom to drain the liquid once the ice has formed. However, it's not entirely clear if this is or is not actual "distilling," which is not legal for individuals in the United States.

If you're looking to get your hands on a bottle of Armageddon, you can pre-order a bottle for £40 online here (assuming delivery is legal in the state where you live), though you'll have to wait a couple weeks, as current batches are already sold old. Is 70% ABV Black Hole beer coming next?
Recent Articles

Feedback
How are we doing? Tell us what you like or don't like and how we can improve. We would love to hear your thoughts!