Dogfish Head & Sierra Nevada Team Up to Brew Rhizing Bines IPA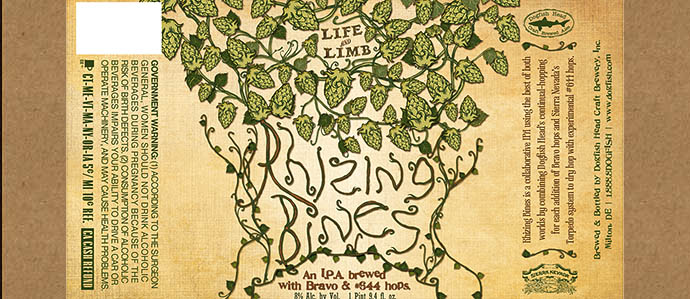 As Sierra Nevada expands into its new North Carolina facility, lots of staff and equipment are making the trip across country from its Chico, CA home. The brewery is taking advantage of this by creating its second collaboration beer with Delaware-based Dogfish Head.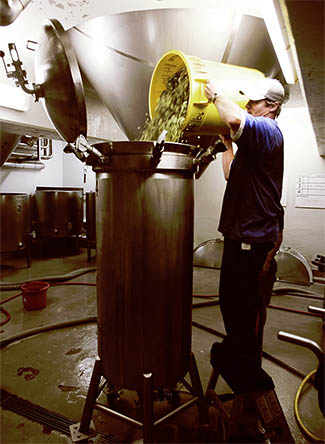 The East-meets-West beer will be called Rhizing Bines, and will be an Imperial IPA made from Carolina heirloom wheat grown at Anson Mills. Yeasts from both breweries will be used, and the beer will be double-hopped. The ale is expected to clock in at a buzzy 8% ABV, with 70 IBUs.

That relatively high score on the bitterness scale comes from all the hops. As is Dogfish's signature, the brew will be continually hopped during the boil with floral and citrusy Bravo hops. It will then be dry-hopped with an experimental hop known as Hop 644 using one of Sierra Nevada's "Hop Torpedos" that is making its way down to NC.

The somewhat amusing name of the beer is illustrated on the label, and is meant to exemplify the collaboration between the two family-owned breweries. The bonds between the two start at the root — or rhizome, the underground "stem" from which hops grow — and continues up through the winding bines (similar to vines, but a climb up by winding in a helix around a support, as opposed to using tendrils and suckers to scale a surface).

Rhizing Bines is expected to become available in February 2013 and will be distributed wherever Dogfish Head beers are sold.
Recent Articles

Feedback
How are we doing? Tell us what you like or don't like and how we can improve. We would love to hear your thoughts!