Cooking with Booze: Summer Time Recipes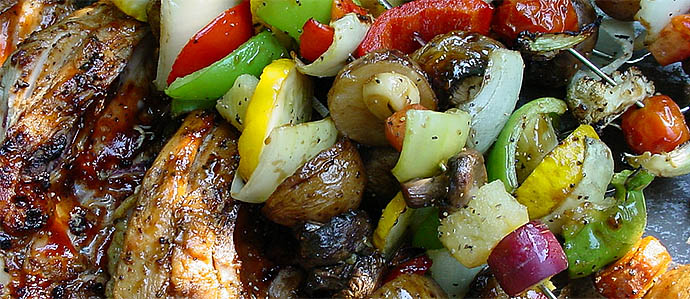 This article was originally published in 2012, but the recipes are still delicious.
Summer is here! It's time to fire up the grill and pop open some great craft beer. Or perhaps toss together a salad and mix up some summer cocktails. However you celebrate the season, there's a good chance food and drink will be involved. Which got us thinking, what about combining the two for the ultimate in tastiness? Check out these recipes from professional chefs that use spirits or beer to make great eats. What's on your menu this weekend? Let us know on Facebook or Twitter.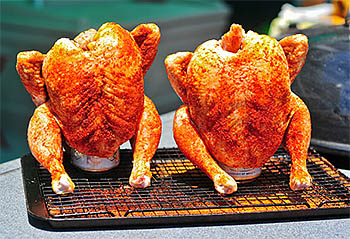 Beer Can Chicken
Chef Tony Stallone, Peapod.com

1 can beer, any kind will do
3-4 lbs Whole chickens (remove giblets)
1 1/2 tsp kosher salt
1 tsp cracked black pepper cracked
1 tsp chili powder, hot or mild
1 tsp paprika
1 1/2 tsp brown sugar
1 tbsp olive oil

Thoroughly wash chicken, pat dry and let rest. Combine all dry ingredients.

Prepare grill using indirect cooking method (coals on the side or gas on the side, with no heat in the center of the grill).

Rub oil on chicken, then sprinkle chicken with seasoning mixture, including inside cavity. Rub seasoning until the entire chicken is coated.

Pour half the beer out, (you can use the excess beer to soak wood chips and then place on fire), poke holes in top half of beer can to vent. Insert beer can in chicken's cavity. Place chicken upright on medium hot grill using a tripod method with the beer can as the back leg and the 2 drumsticks as the front legs.

Make sure chicken is secure, close lid and cook 50–60 minutes until chicken registers 165 to 175 degrees in the thigh. Remove and let stand 10 minutes before carving.

---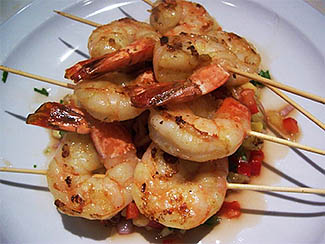 Tequila-Glazed Shrimp
Chef Matt Pressler, Matador, Wayne, PA

24 large shrimp (21-25 ct.) peeled & deveined
2 cups tequila, Blanco
3 limes
7-oz. can chipotle peppers in adobo
1 bunch cilantro, fresh, chopped
1 cup mayo, low fat or light
Salt to taste

Lightly salt both sides of all thawed shrimp and reserve for marinade. Heat tequila in small pan, light the tequila to flame off some alcohol, reduce tequila by one quarter, reserve for the marinade.

Empty entire can of chipotles, juice of two limes, and half the bunch of cilantro in blender, blend until smooth.

For the marinade, combine all of reduced tequila and half of the chipotle lime purée, salt to taste, (approximately 1 tbsp.). Add all shrimp to tequila chipotle marinade, let marinate at room temperature for 30 minutes.

Combine remaining chipotle lime purée to mayo and ½ teaspoon of salt, chill for 20 minutes and hold for dipping sauce.

Preheat grill to medium, remove shrimp from marinade and place directly on the grill, grill each side about 1½ minutes or until cooked through. Remove from grill and sprinkle with chopped cilantro and juice from one lime, serve with the chipotle dipping sauce.

For skewers: skewer the marinated shrimp with your choice of fresh vegetables. (Don't marinate the veggies.) For softer texture wrap each skewer in foil, then grill.

---
Bourbon-Molasses BBQ Sauce
Chef Thomas Dunklin, B&O American Brasserie, Baltimore, MD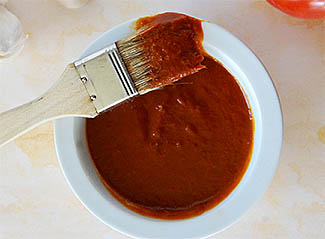 Yield: 1 gallon

1 yellow onion, sliced
⅔ cups whole garlic
1 can whole tomatoes
42 oz. porter beer
⅔ cups cider vinegar
1-2 dried chilis
1⅓ cups honey
½ cup chimayo chili powder
1⅓ cups molasses
2 cups ketchup
1⅓ tbsp. cayenne pepper
¾ cup brown sugar
1 tbsp. salt
¼ cup bourbon

Put beer, chilis, and vinegar into a pot and reduce by half. Sauté onions and garlic until soft, deglaze with bourbon. Add tomatoes, honey, molasses, ketchup, and chimayo. Bring to a boil and simmer for 20 minutes. Puree in a blender and add cayenne, brown sugar, and salt to taste. Reduce and adjust seasonings. Put into a container and chill until ready to use.

---
Beer-Braised Shortribs
Chef Ed Witt, 701 Restaurant, Washington, DC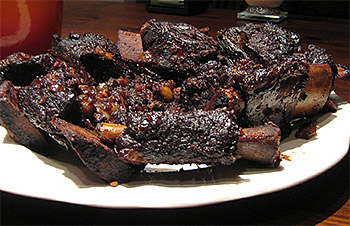 2 lbs. short rib
4 bottles lager beer
1 tsp. coriander
½ bunch thyme
1 tbsp. flour
1 lemon, juiced
1 carrot, peeled & chopped
½ onion, chopped
1 stalk celery, chopped
Salt & black pepper
Canola oil

Season short rib with salt & pepper then sear in a pan. Remove meat and add vegetables, coriander, and thyme. Sweat down vegetables, then add flour and cook for approximately one minute. Add beer, return short rib to pan and bring to simmer. Cover and cook in a 300°F oven until tender, approximately 2½ hours. Remove short rib, strain liquid until sauce consistency. Return short rib to pan, heat and serve.

---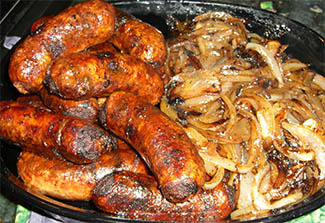 Beer-Marinated Sausages
McGillin's Olde Ale House, Philadelphia, PA

4 knockwurst sausages
4 bratwurst sausages
2 medium onions, sliced
24 oz. your favorite lager beer

Combine sausages, onions and beer and marinate — depending on how much time you have, anywhere from 1–24 hrs. Together, sauté sausages and onions for 3-5 minutes until just about cooked. Place sausages on grill to give exterior nice color and smoky flavor.

To serve, place sausages on plate and top with the sautéed onions. McGillin's serves with
sautéed pierogies, a side of sauerkraut and a dollop of sour cream.

Knockwurst
Bratwurst
Onions, Medium, sliced
Your favorite beer (McGillin's uses Yards)

---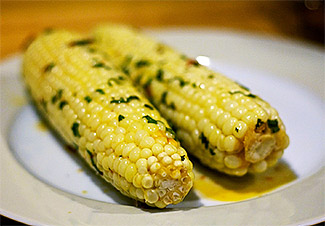 Reposado Grilled Corn
Chef Matt Pressler, Matador, Wayne, PA

12 cobs white corn, peeled
14 oz, reposado tequila
1 stick of unsalted butter, divided evenly for 12 corn cobs
1 tray of ice cubes slightly crushed. divided evenly for 12 corn cobs
12 sheets aluminum foil, 18" by 12"
Salt and pepper to taste

Preheat grill to medium-high.

Lay out one piece of foil on work surface, place one ear of corn in center, sprinkle well with salt and a pinch of pepper, place butter on either side of corn, put crushed ice on either side of corn, pour one ounce of tequila over the corn cob. Close foil loosely leaving a pouch of space and fold edges multiple times to assure a tight seal (leaving room for steam). Repeat with remaining 11 ears of corn.

Grill for 20 minutes, turning once, in a closed grill. Remove and let cool slightly (5 minutes). Carefully remove corn and serve. With the 2 oz. of tequila left over, enjoy straight up!

---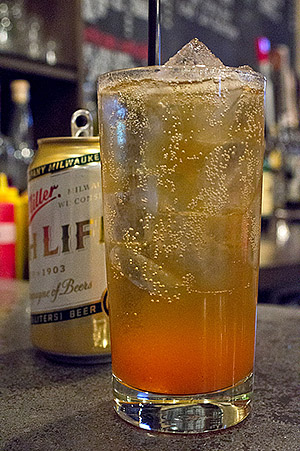 Hillbilly Gatorade
Percy Street Barbecue, Philadelphia, PA

½ oz. barbecue sauce
1½ oz. pickle juice
Miller High Life (or pilsner of your choice)

Combine barbecue sauce and pickle juice over ice in pint glass and stir. Fill with beer and enjoy.
Photos via Flickr user Baha'i Views; Flickr user She Who Will Not Be Named; Flickr user TheFrugalFlambe; Flickr user roopyfoo; Flickr user 2Eklectik; Flickr user Made In PHL; and Danya Henninger
Tags:
Beer
,
Cocktails
,
Food
,
Holiday
Recent Articles

Feedback
How are we doing? Tell us what you like or don't like and how we can improve. We would love to hear your thoughts!