Aerosol Spray Gets You Instantly Drunk For a Few Seconds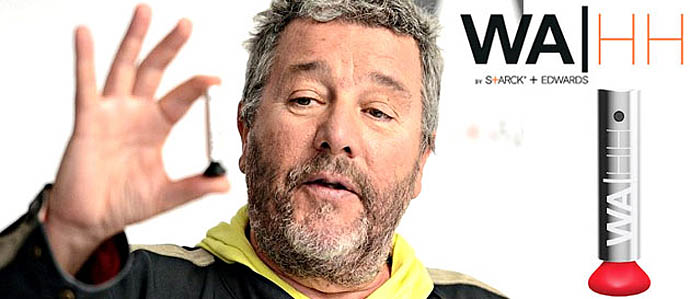 The French are well-known for their fondness for booze, and now a Franco-American scientist has come up with a mouth spray that makes you instantly drunk. For a few seconds. With no after-effects. What?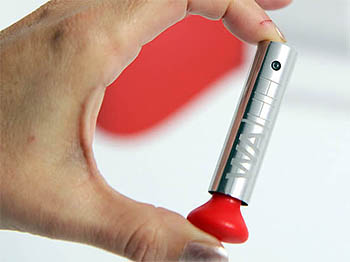 First reported by the Associated Foreign Press, the WA|HH Quantum Sensation is the size of a stick of lipstick and easy spritz from the pump releases 0.075 ml of alcohol. Supposedly, this is enough to give the palate and the brain the sensation of intoxication. Co-creator David Edwards refers to his invention as "aerosol cuisine," and says you can even pass a breathalyzer test immediately after using it.

Bottles of the spray, available in 2-ml black "Flash" or red "Demon" versions, are being marketed in Europe for around $26 each. From co-creator Philippe Starck (a respected product designer who works with companies such as Apple), via the company website:
"Everyone has an occasional need of light-headedness, distraction, and another place... We asked ourselves whether we might provide the same agreeable sensation as comes with a sip of alcohol without running the risk of drunkenness. Accent life with a magic wand, that was our desire. A spray of WA|HH and the shock is immediate, like a sensorial alarm."
Working out of a Paris space known as the "Laboratory," Edwards previously developed the Whif, an aerosol spray that mimics the flavors of coffee, tea or chocolate that the AFP says has sold over 400,000 copies worldwide since its 2008 debut (it runs $2.50–$5 per cigar-sized bottle). He followed that up with the Whaf, a more expensive ultrasound generator of "flavor clouds" that can be tasted with a straw.

No news on whether the nitrous-like WA|HH is coming to the U.S. anytime soon, so we remain slightly skeptical, but we are living in the future, after all. Mixologists and chefs are putting all kinds of flavors into foams, smokes or other airy textures, and this is just one more step in that direction. Sip your old-fashioned liquid drinks while you can.

via Gizmodo
Recent Articles

Feedback
How are we doing? Tell us what you like or don't like and how we can improve. We would love to hear your thoughts!