SF Weekly Taste-Tests Marshmallow, PB&J Vodka So We Don't Have To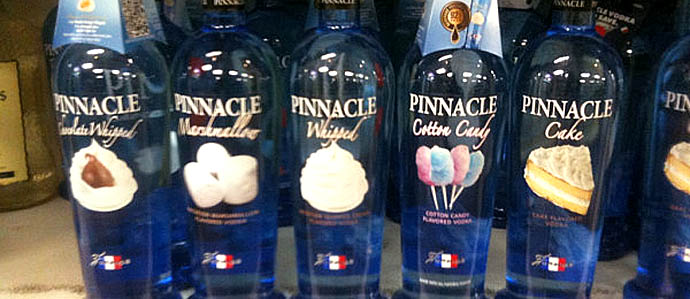 Wanted to shout out thanks to the good cocktailians at SF Weekly, who dedicated a day (and a whole lot of poor taste buds) to trying out six of the ickiest-sounding flavored vodkas on the market today. Their conclusion? These spirits tastes about as good as they sound – which is to say, not very.

Put to the test of scent and nose are creations like Smirnoff Fluffed Marshmallow, Pinnacle Cotton Candy and Van Gogh Peanut Butter & Jelly vodkas, among other abominations. Reading the capsule reviews really makes you glad they're taking this one for the team. For example, regarding Pinnacle Cookie Dough:
Without indulging in histrionics, SFoodie will say that this is the most disgusting thing we've put in our mouth since our last encounter with silkworm larvae. The flavor is dominated by a fierce grain-alcohol burn, and then comes a weird finish, as if we have been snorting detergent powder. At this point in the tasting, the marshmallow vodka begins to seem like the classiest drink in the bunch.
Head over to read the rest, because a) the writing is pretty funny and b) you gotta mark these down so that next time you're standing in the liquor store aisle, eyes glazed over from the ridiculous amount of choices, you know which ones to avoid.
Recent Articles

Feedback
How are we doing? Tell us what you like or don't like and how we can improve. We would love to hear your thoughts!