Beer Cocktails Jump the Shark with Bud Light Lime-a-Rita
Mixed drink in a can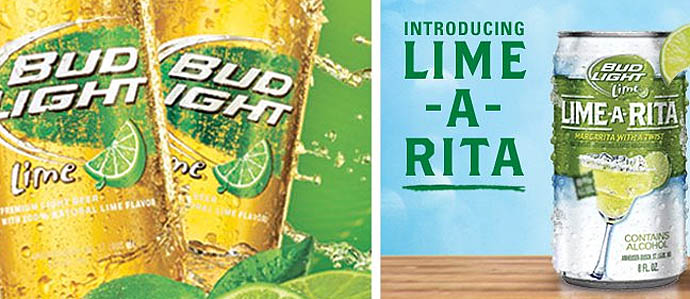 One of the hottest trends in better bars around the nation is beer cocktails, which see the seemingly unorthodox mixing of beer with spirits, juices, bitters and syrups to create refreshing combinations that are perfect for drinking outdoors in warmer weather. With the just-released Bud Light Lime-a-Rita, Anheuser-Busch (AB) is jumping on the bandwagon and taking this idea to the convenience-craving masses.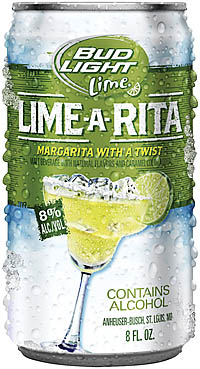 Lime-a-Rita is an 8% ABV malt beverage "with natural flavors and caramel color," according to the label, that AB says was inspired by drinkers' existing habits of mixing Bud Light Lime into margaritas. Available across the country in 8-oz. and 24-oz. cans or 12-oz. bottles, the company encourages consumers to pour the liquid over ice before sipping.

(Of note, the product is toned down to 6% ABV so it can be sold along with beer in states that have percentage caps, like Maine, Mississippi, New Hampshire and Tennessee — which means folks in those states are also missing out on some great high-alcohol craft brews too, it would seem.)

Judging from a random sample of Twitter users who have referenced the drink, the Lime-a-Rita may be on its way to mainstream success, as the general opinion thus far has been positive. Beer enthusiasts are not convinced, however. Early reviews say the drink sips very sweet, with one user exhorting, "Dumb. Drink a beer and grow chest hair."

Big Beer has been looking for ways to revive sagging sales, which dropped 1.5% by volume last year (even as craft beer sales continue to surge). The diversification into pre-mixed beer drinks (started in 2008 with the introduction of Clamato-containing Chelada) is seen as one way to bring customers back into the fold. The moves echo those of the soda corporations, who in recent decades have seen sales of their juice, water and energy drinks infringe on mainstays like Coca-Cola or Pepsi.

AB's "margarita in a can" has been released just in time for Cinco de Mayo, which is celebrated in the U.S. in honor of Mexican heritage and pride, and often includes the imbibing of many Mex-inspired drinks. While Lime-a-Rita may offer convenience, our suggestion is to make the extra effort by picking up a few lemons or limes and some tequila (and maybe a crisp lager too) and mixing up your own, or just head to your favorite bar where pros can mix up a fresh cocktail for you, instead.
Recent Articles

Feedback
How are we doing? Tell us what you like or don't like and how we can improve. We would love to hear your thoughts!