Good Ad/Bad Ad: Newcastle Pokes Fun at Traditional Beer Marketing Campaigns
No bollocks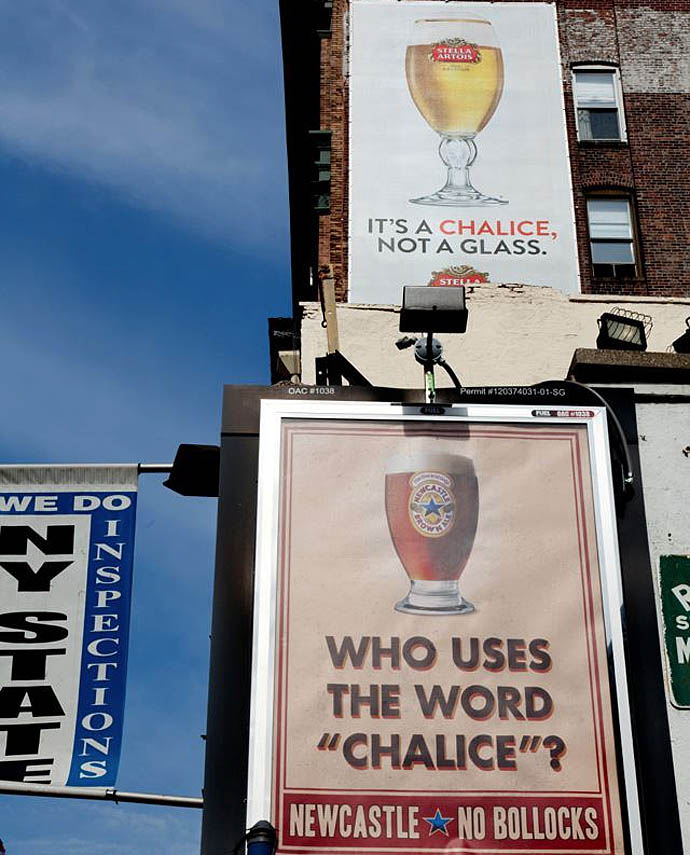 Newcastle Brown Ale was first brewed in 1927, and even though the company was acquired by Heineken in recent years, the beer is still brewed in England (though production has moved out of Newcastle to Tadcastle). Newkie Brown, as the Brits call it, is one of the U.K.'s most popular exports, with nearly half of production coming to American shores. The brand has retained market share here with a series of innovative ad campaigns (check out this great "shadow activated" billboard made of bottle caps), and has just announced a new one that's guaranteed to win it more fans.

The "No Bollocks" campaign includes tongue-in-cheek TV spots and print ad placements that make fun of conventional beer selling tactics. For example, the above image shows a strategically placed billboard that ribs rival brand Stella Artois for its use of the word "chalice" — it has has already gone viral. Another sign states that it is "A $400 Sign to Get You to Buy a $6 beer."

Droga5 agency is responsible for the pieces, and they say, "Newcastle's heritage, its founder, hometown and brewing process are all fair game. … It's beer advertising without all the bollocks that usually comes with beer advertising."

Check out a couple of the TV clips poking fun at the idea that only one glass is appropriate for drinking their brew, below, and then vote in the poll to tell us, are these good ads or bad ads?
Good ads or bad ads?
Good: the ads are funny and well-deserved; the beer industry should just lighten up
0%
Bad: Newcastle is just as guilty as any company of over-hyped marketingl; these ads are dumb
0%
Recent Articles