Behind the Bar: Amanda Victoria of the Scotch Malt Whisky Society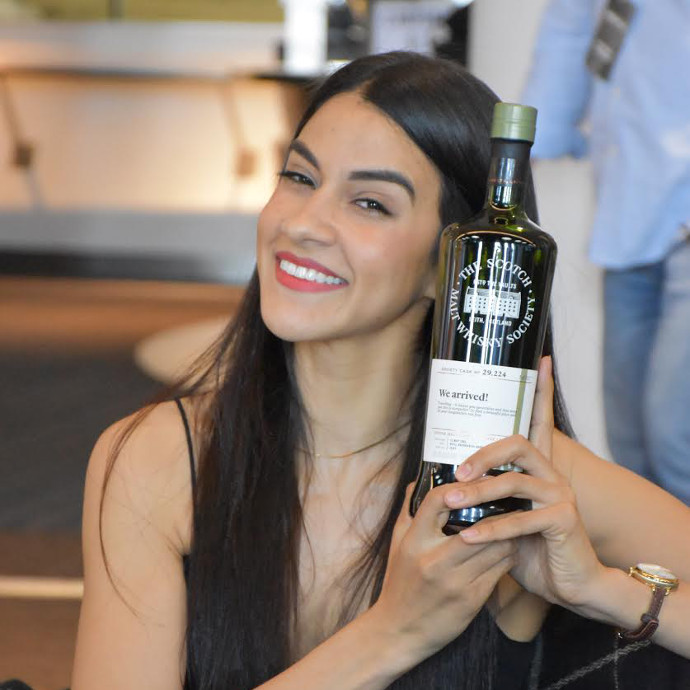 For this installment of
Behind the Bar
, we spoke to
Amanda Victoria
, the current
Communications Director
for the
Scotch Malt Whisky Society in America
. Though she has been in this position since 2016, she has taught wine, cocktail, and spirits education, has traveled the world, and has worked for legendary bars in New York City. Currently a resident of Brooklyn, we talked to Victoria about how she got into scotch, why she loves it so much, and her favorite places to drink in New York City.
The Drink Nation (TDN): Can you give us a brief overview of where you're worked?
Amanda Victoria (AV): I've worked for most major spirit companies in the states such as Remy Cointreau, William Grant & Sons, Bacardi, and Moet Hennessy. My roles have been national, which makes for a lot of travel, and have all largely been based around education and media. Currently I work with The Scotch Malt Whisky Society as their Communications Director. Formerly, I specialized in French spirit education, working with Lillet, St-Germain, Cointreau and Grand Marnier. I've also worked at some of the "world's best bars" early on, including PDT and Pegu Club in New York City.
TDN: How did you get your start?
AV: I graduated college during a recession having predominantly studied screenwriting, French cinema and media production (as well as advertising and marketing), so I was quite out of luck when it came to traditional employment. I turned 21 as a cocktail waitress at Pegu Club in New York City many moons ago, toasting with a 2 oz. shot of Rittenhouse Rye 100 Proof Whiskey (which I went on to name my dog after). The rest, I guess, is history.
TDN: Describe a typical workday.
AV: I've spent so much time traveling for work that there are no typical workdays, which is just how I like it. When I'm home I prefer to work from home – I'm up cycling or running as the sun comes up and talking to my plants, and then I'll check in on emails and social media, write for various columns pertaining to spirits education, and often review whisky and other spirits in the evening. Other days, I'm shooting video or hosting events. My work revolves mostly around media and education, and I absolutely love it.
TDN: Who are some industry professionals you've learned from or who have influenced you?
AV: Audrey Saunders, the brainchild proprietor behind Pegu Club in New York City, is my original mentor. I feel like I should have paid for the training I received under her, when in reality it was work. I've learned a lot recently from the younger generation of bartenders – they keep me sharp!
TDN: Why scotch whiskey? What's special about it?
AV: Where to begin?! Scotch whisky is like the wine of the spirits world, since it is nearly as vast in flavor and style – I believe there is definitely a Scotch out there for everyone's liking. It's a true journey and sensory experience built around occasions, experiences, and memories to be made. The brooding writer in me loves whisky in solitude for contemplation, but I also love a beach bonfire dram with friends! Whisky is all about range. And there's always the bottom line - it's so delicious!
TDN: Any predictions about where the industry might go next, or what trends we'll see soon?
AV: My hopes always with spirit trends are to bring the pretension down and to make quality spirits more accessible. I'm not a teacher that likes to stump the student, and as a student, I don't want to feel bad for asking the basic questions. I hope to invite new imbibers to whisky by making it less intimidating and focusing more on the flavor of what's in the glass.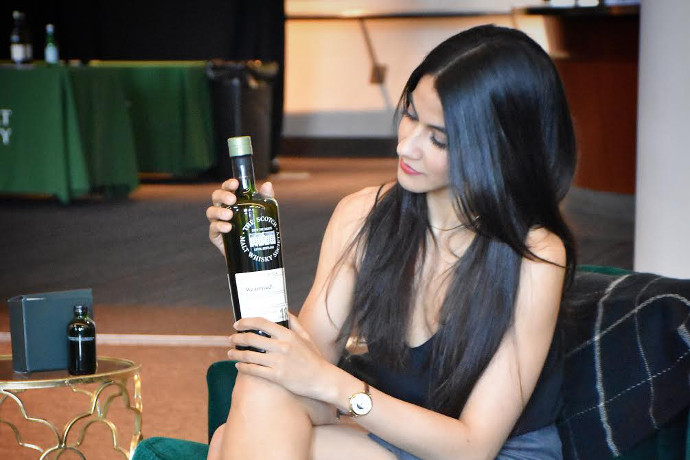 TDN: Favorite beer?
AV: I like my beers deconstructed… so basically whisky highballs.
TDN: Favorite liquor?
AV: An elegant Islay whisky.
TDN: Favorite cocktail?
AV: Spritz! If I'm drinking a cocktail these days it's got to be hydrating, refreshing and contain little to no added sugar. I'm a big fan of cocktails that use honey, as well as highballs.
TDN: You've traveled extensively for your job. What's one of your favorite travel experiences?
AV: Islay, Scotland and Reims, France are old school favorites. I miss having Napa Valley in my backyard, as well. I greatly enjoy nature, vineyards, open fields, wild animals, bare feet, and so on.
TDN: What do you think the essentials are for a good home bar?
AV: Whisky.
TDN: Where do you go for a drink when you're not working, and what bartenders do you always visit?
AV: Clover Club in Brooklyn, by the fireplace, to see Julie Reiner, the queen of Smith Street. Don't call ahead for that seating, just cross your fingers and hope I'm not already there. Don't tell Julie I wrote this.
TDN: If you could have a drink with any person, living or dead, who would it be, what would you drink, and why?
AV: An Islay dram in matching kilts by the fireplace with a Scotsman by the name of Sam Heughan to chat about all things fitness and whisky.
Photos via Amanda Victoria
Recent Articles

Feedback
How are we doing? Tell us what you like or don't like and how we can improve. We would love to hear your thoughts!