Behind the Bar: Conor Sweeney of Teeling Whiskey Co.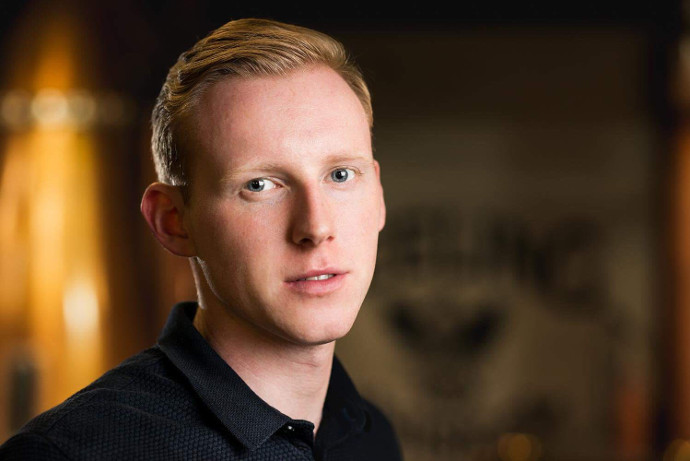 This time on
Behind the Bar
, The Drink Nation had the opportunity to chat with
Conor Sweeney
, the Irish-born, New York-based brand ambassador for
Teeling Whiskey
, the only operational distillery still open in Dublin today. We talked about his family history with whiskey, where he likes to drink in New York, and Elon Musk.
TDN: Tell me a little bit about Teeling and its history.
Conor Sweeney (CS): You'll notice that on our bottle, we have a label that says "since 1782," and this is the first reference to the Teeling family distillery in Dublin. The Teelings, way back then, owned a distillery - Walter Teeling was the patriarch, and the distillery was located in the Liberties. It got its name because, at the time, Ireland was ruled by the English, and the city had walls around it - within the walls, it was quite wealthy, and the Liberties was just outside of the walls, hence the name. Teeling was the first distillery to be established in Dublin in over 125 years.
TDN: What's a typical workday like for you?
CS: There isn't one! A typical workweek would be that I fly to a different state in the U.S. and meet with our local sales teams and work with them to educate and promote Teeling within those different markets. I do trainings and tasting events for consumers, like whiskey dinners. The latter is huge - we love to incorporate food with our whiskies. If you want to see any of my workdays, follow me on Instagram at
@whiskeysweeney
.
TDN: There are a few varieties of Teeling. Which is your favorite?
CS: I like single malts, because of the depth of flavor and because they're typically nuanced, so I prefer sipping our Single Malt neat. However, my mood sometimes dictates what I drink, so I love our Small Batch as well because of its high malt proportion and its depth of flavor. If I want a cocktail, I'll use the Small Batch.

TDN: Your father works in the Irish whiskey industry as well. How has he influenced you?
CS: People say I "grew up around whiskey," but that's not entirely true! I did visit the distillery when I was young and subliminally knew the process, and in my late teenage years, I became what I like to call a "brilliant whiskey thief" once I could legally drink. I acquired a taste for it over time, and was curious about it. I started out without his expertise, and my father made a wide range of whiskies, but as I aged he taught me a lot about the different varieties and the world of whiskies. He obviously taught me the process, but he also taught me what parts of the process result in what flavor profiles.
TDN: Favorite beer?
CS: I love double IPAs, and I've recently discovered New England IPAs. I like Other Half, Interborough, and I love The Jeffrey [a beer bar in New York].
TDN: Favorite liquor?
CS: I appreciate every spirit! I obviously love whiskies from everywhere - I don't think the country that a whiskey is from should dictate how it's perceived. I also love mezcal and tequila, two spirits I discovered in the U.S, and aged rums like El Dorado.
TDN: Favorite cocktail?
CS: Irish coffee.
TDN: You've traveled across the world for your job. What's one of your favorite travel experiences?
CS: I was training for my role in New York but was, at the time, based in Dublin and training there, and got the chance to go to Holland and The Hague to the International Whiskey Festival in 2015. Just in general, this position has given me an opportunity to see a lot of the United States and really get a feel for individual states.
TDN: What do you think the essentials are for a good home bar?
CS: I like stirred, spirit forward drinks, so I would say a gin, Irish whiskey - preferably Teeling! - bourbon, rye, a good sweet vermouth (preferably Carpano Antica), Saint-Germain, a solid selection of bitters (maybe local, unique bitters, and Frank Oley, the bartender at Dutch Fred's, makes his own incredible bitters), and fresh fruit.
TDN: Where do you go for a drink when you're not working, and what bartenders do you always visit?
CS: I'm based in New York, and when I'm there, I go to Dutch Fred's to see Frank Oley, a spot called Fool's Gold, and The Bonnie and Sweet Afton in Astoria to see Mike Di Tota, who does the drinks for both. I also love any wine bar with a great charcuterie plate.
TDN: If you could have a drink with any famous person, living or dead, who would it be and what would you drink?
CS: Elon Musk, and we would drink Teeling 34 Year.
Photo via Conor Sweeney
Tags:
Behind the Bar
Recent Articles

Feedback
How are we doing? Tell us what you like or don't like and how we can improve. We would love to hear your thoughts!