Behind the Bar: Jillian Vose of The Dead Rabbit Grocery & Grog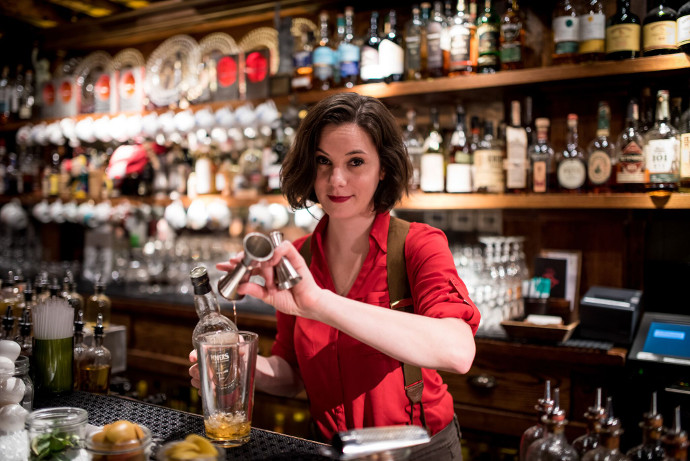 For this installment of
Behind the Bar
, we got the chance to interview award-winning bartender Jillian Vose, who is currently the bar manager and beverage director at
The Dead Rabbit Grocery & Grog
in Manhattan, which has won World's Best Bar at Tales of the Cocktail. Vose herself was named one of the 10 best bartenders in the world by Tales' Spirited Awards and has traveled all over the world for her craft, so we chatted about her love of cider, her favorite travel destinations, and how she makes her bar the best it can possibly be.
The Drink Nation (TDN): Tell us a little bit about your bar.
Jillian Vose (JV): The Dead Rabbit Grocery & Grog is located in the Financial District in downtown Manhattan at 30 Water Street. It's in a building that dates back to 1828, which is part of The Fraunces Tavern historical block. It's comprised of 3 bars inside the one building at 30 Water Street, consisting of the Taproom, Parlor and Occasional Room. The Taproom is the pub style bar with mostly standing room and bar seating, and its focus is high volume beers on tap, the largest Irish Whiskey collection in the U.S., and a select menu of 12 cocktails. The Parlor is the cocktail bar, a seated only room that features our comic book series drink menus, including 30 cocktails that change with the menu series every 6 months. The Occasional room is where we host private parties and events. The service style is similar to that of the taproom with the same offerings minus the tap beer selection. Overall, the bar as a whole has something for everyone, and we want to bring the Irish pub into the 21st century.
TDN: Can you give us a brief overview of where you're worked?
JV: I've worked all over: Four Peaks Brewing Co., in Arizona; Jade Bar & Elements at Sanctuary Resort, in Arizona; Maison Premiere, in Brooklyn; the Clover Club, in Brooklyn; Death & Co., in New York; Blacktail, in New York, and, of course, here.
TDN: Who are some bartenders you've learned from or who have influenced you?
JV: That's a tough one. I always try to learn from everyone I work with. Even those I am teaching, I am learning from. It's important we always keep an open mind and understand that everyone learns differently. There are definitely some people I would say opened my eyes to cocktails in the first place, gave me a chance, and have impressed me so much with their techiniques and ideas. This doesn't pertain to just drink creation, but to all aspects of our business. To name a few, I've been inspired by: Alex Day, Thomas Waugh, Phil Ward, Joaquin Simo, Brian Miller, Natasha David, Brad Farran, Jason Asher, Josh Boissey, Krystof Zyzka, Maxwell Britten, David Kaplan, Jessica Gonzales, Aisha Sharpe, Steve Olsen, Dale DeGroff, Paul Pacult, and of course, Jack McGarry & Sean Muldoon... I could keep on going, but don't want to miss anyone! The moral of the story is that you learn something from each person you encounter. Be open to that!
TDN: Any predictions about where the industry might go next, or what trends we'll see soon?
JV: Well as most can probably already tell, our industry is taking a positive turn into being more socially responsible for others and those within our industry. Topics of mental health, substance abuse, sexual assault, health and wellness are finally being discussed, and forums are being created for people to reach out and talk within. As far as what's in the glass, I see more use of local products, American whiskies outside the norm being created and more culinary approaches applied to drink creation.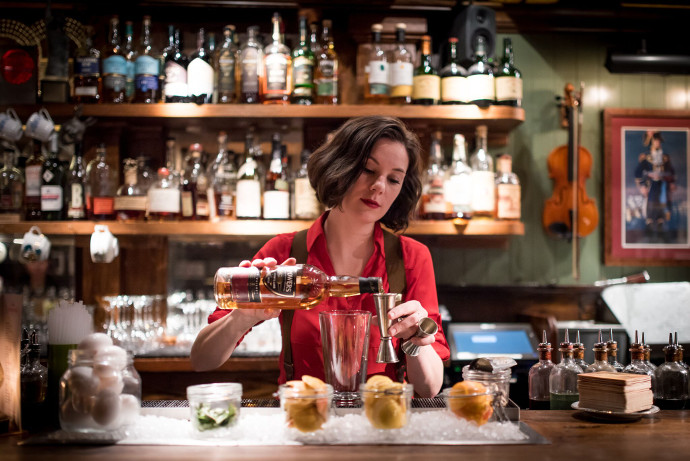 TDN: What goes into crafting a menu, and what makes a menu especially great?
JV: Well, there's really not a short winded answer for this.... but as short as I can, here it goes. As a beverage director, I oversee mapping out the menu before the drinks are even conceptualized. From there, it's a team effort of presenting the drinks to each other and giving feedback as needed until the drink is up to standard. Once all the drinks are presented, I make sure all boxes have been ticked and the menu is balanced and reflective of our style. From there it is placing these drinks in an order on the menu that makes sense for our concept etc. The staff are given their training material to study before the menu launches. Also, the mise en place maps have to be put together before the menu launch. After the menu has been launched, 2-3 weeks later a test is given to each staff behind the bar and on the floor to ensure consistency and that everyone knows their specs.
TDN: Favorite beer?
JV: I don't really drink beer anymore, I'm more of a dry cider kind of gal! Make it a hopped cider, and I'm totally game. I miss Guinness for sure. Other than that, coming from a brewery background, I really appreciate a well crafted American pale ale or oatmeal stout.
TDN: Favorite liquor?
JV: Not a fair question! I can narrow it down to 2 though, Irish whiskey (not just saying that because of where I work, I swear!) and apple brandy (Calvados, american apple brandy, applejack - you name it!).
TDN: Favorite cocktail?
JV: No such thing! I'm a sucker for a great Sazerac for a stirred drink and a Royal Bermuda Yacht Club is one of my favorite classic Daiquiri variations.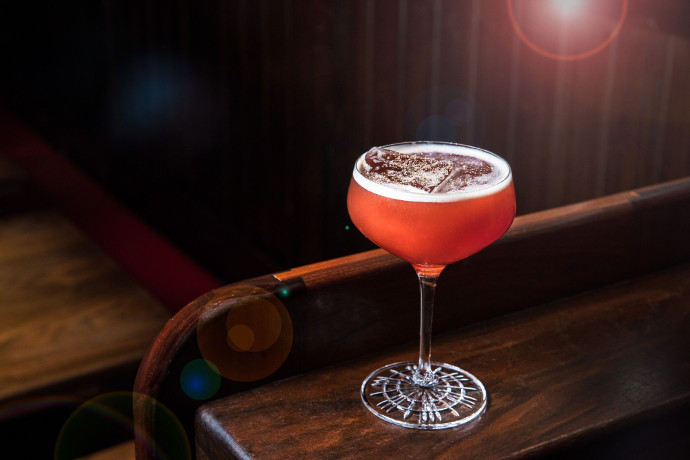 TDN: You've traveled across the world for your job. What's one of your favorite travel experiences?
JV: One of my favorite travel experiences this past year was my trip to Athens & Tel Aviv, which was a 2 part trip. They were such great hosts and I made some wonderful friends. It was really inspiring to see how motivated and excited the bar industry is over there. Also, that they both have a great work to life balance! Walking around and seeing people enjoy the beach on their breaks or days off was refreshing in Tel Aviv. The vibrance of the cities were amazing - it was so warm and beautiful in Athens with the energy of the city and the history surrounding it all that I was almost in tears when I had to leave. I just had an absolute blast.
TDN: What's the secret to running a great bar program?
JV: There really isn't a secret. It can sometimes be an unforgiving position, which is fine. It's realizing that is key. You do the work and give the tools to the team to succeed then you're on the right track. When you see your staff taking ownership and getting opportunities and praise, that's when you know you're doing a good job.
TDN: What do you think the essentials are for a good home bar?
JV: I think that you should start building your home bar with ingredients for your favorite drinks. Start off by being able to make, say, a classic martini. Buy your basic tools, then buy the ingredients for the martini: Orange Bitters, Dry vermouth & a London Dry Gin (or whatever you please). After you master the martini, move on to the next drink and then buy those ingredients. You'll be surprised at how your home bar builds this way. Don't just buy stuff to buy stuff. Also, go at your own pace. Some people will be very ambitious and want to do a drink a week, some a month and some longer. Take into account your budget and the time you can dedicate to the project. Also, keep your vermouths and sherries in the fridge, and try to buy in smaller bottles for home use, as these things alter after they are opened.
TDN: Where do you go for a drink when you're not working, and what bartenders do you always visit?
JV: I live in the East Village, so I'm pretty lucky that some of the best bars in Manhattan are at my back door....while I don't go to cocktail bars often, when I do you can typically find me at Death & Co. (my old stomping grounds) or Attaboy for an after work nightcap. For neighborhood bars, I love Ba'sik in Brooklyn to see friends Jay Zimmerman & Russell Dillon, Jeff Hazell at Boilermaker in Manhattan, and Nitecap, my bestie Natasha David's joint with Head Bartender Lauren Corriveau. Loverboy or Mother's Ruin are always a great time, and BUA on St. Marks is great for a pint and dram of whiskey.
TDN: If you could have a drink with any person, living or dead, who would it be and what would you drink?
JV: You're probably looking for someone famous or a drinks legend, but to be honest, it would be my grandparents. I wish I had more chances to sit down with them and listen to their stories they had about their lives. I have to say, they led some pretty amazing ones! It was such a different time back then, and the stories I do know, even in the slightest, are truly inspiring. My Grandma alone was a mother of 4, art teacher, received an honors degree in Art, was enlisted in the U.S. Navy WAVES, was on countless committees within our town community, was a huge part of her church, restored historical houses in our town, and countless other things. It really makes me think about the meaning of my life to be honest and how one life can make such an impact on others. Makes you want to get out there and do something bigger than you.
Photos via Dead Rabbit
Recent Articles

Feedback
How are we doing? Tell us what you like or don't like and how we can improve. We would love to hear your thoughts!