Where to Drink Festively in New York City This Holiday Season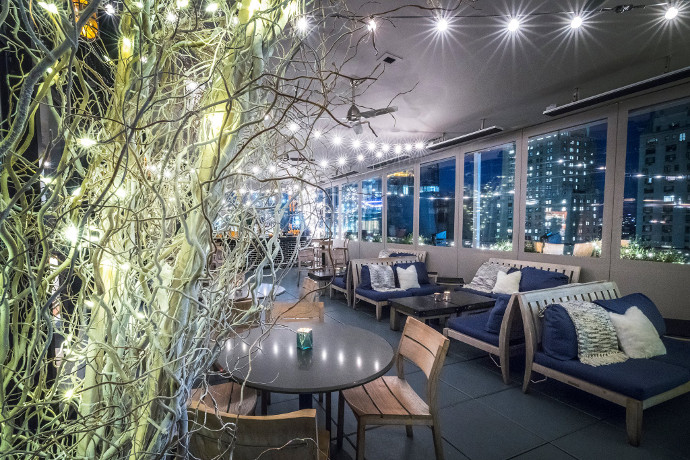 It's the most wonderful time of the year again! New York City will soon be dusted with snowfall, its city streets ornate with lights, wreaths, trees, and good spirits. Speaking of good spirits, we're rounding up the most festive bars and pop ups in New York City.
Rolf's
Over in Gramercy, this old world inspired German restaurant usually has that old school European vibe going on, but come the holiday season, it turns into a winter wonderland Christmas extravaganza. Renowned for their elaborate Christmas decorations, if this place doesn't put put you in the holiday spirit, try some schnitzel with a glass of mulled wine. (281 3rd Ave.; 212-473- 8718)
Miracle on Ninth Street
For its fourth year running, Mace in the East Village transforms into this special Christmas-themed pop-up courtesy of Miracle founders Greg Boehm and Joann Spiegel. All the signature cocktails will be served in custom Miracle glassware which are available for purchase, proceeds of which go directly to charity. You better believe there will be lights, trees, stocking, and any other conceivable Christmas decorations represented - but also, don't forget the 'Hanukkah Hideaway.' (649 E 9th St.; 347-866-7739)
Sleyenda
From mixology master Ivy Mix, this pop-up will be taking over Cobble Hill's latin inspired Leyenda for the month of December. That means a whole month of cocktails fashioned after festivities, menus written on Christmas cards, and glassware resembling christmas trees and ornaments. On a cold winter's day it's definitely recommended you stop in a try their Mexican Hot Chocolate dosed with Mezcal and chili peppers. (221 Smith St.; 347-987-3260)
VNYL's Winter Wonderland
Perhaps not a speakeasy and just plain hard to get to - VNYL's special season installment is located behind a bar which itself is behind a record store in Hell's Kitchen, but once you're in, there's no place like VYNL for the holidays. Cocktails specials like the Santa Sangria, Gin Stocking, and boozy hot chocolate run for only ten bucks, alongside a limited batch of the year-aged rum milk punch. (756 9th Ave.; 212-974-2003)
Winter Room at The Roof
Over in Midtown West, this renowned rooftop club will be hosting its own winter wonderland themed pop-up, Veuve Clicquot in the Snow.Yes it will be on the roof, but don't worry - you will be plenty cozy. With hot cocoa spiked with booze, cheese fondue, couches with blankets and heating arrangements, this enclosed roof will not only guarantee comfort but an excellent view.
The Cocktail Factory at the NYLO Hotel
Not exclusively devoted to the holiday spirit but spirited indeed, this pop-up on the Upper West Side aims to bring out the child in all of us this holiday season by combining candy and alcohol. Giant candy canes and even candy handrails will guide you through a veritable Wonkaland of adventure and mischief. Try their candy infused cocktails, especially because $1 from every cocktail purchased will go to Save the Children. (2178 Broadway; 212-362-1100)
Photo via The Roof on Facebook
Recent Articles

Feedback
How are we doing? Tell us what you like or don't like and how we can improve. We would love to hear your thoughts!