Where to Celebrate Halloween 2017 in New York City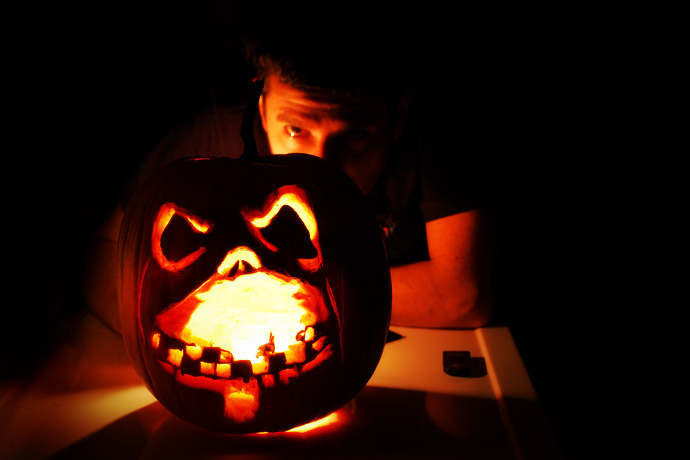 All Hallow's Eve has come again to the Big Apple, but it's easy to bob around and come up with nothing other than a scary movie night in. To make sure your Halloween is spectacular and spooky, we've rounded up some of the best Halloween event and parties in the five boroughs.
Rinsed: Don't Sleep
For those that don't really want to get all costumed up for Halloween and for those that do, Rinsed: Don't Sleep is the move to make. It's a secret warehouse party over in Greenpoint, and the location is still yet to be announced, so be ready. That being said, the party features three different rooms of techno DJs, performance art and art installations to titillate the senses, and an open bar from 11 PM to midnight. The only thing scary might be the morning after. Tickets to this event start at $20 entry and exceed upwards to $250 for a more VIP accessed evening. (Location Undisclosed)
The Shining Halloween Party at Videology
Scary movies is part of everyone's Halloween tradition, and at Videology in Williamsburg they're paying tribute to one of the all time greatest. Halloween this year falls on a Tuesday, so if you're trying to keep it light this scary screening is highly recommend for the perfect dose of Halloween festivity. The entire venue turns into the haunted Overlook Hotel, and each ticket comes with a complimentary serving of Jack Daniels on the rocks and Advocaat. (308 Bedford Ave., Brooklyn; 718-782-3468)
Inferno at The McKittrick Hotel
Over at the McKittrick Hotel in Chelsea, the team behind the interactive theatrical performance Sleep No More is raising hell with their own Halloween Party. Tickets to this event include an open bar, but you can always sell your soul for the more VIP package including champagne service and and access to the exclusive hotel bar Max Boudoir. Tickets range from $135 to $350 and are selling out fast! (530 W 27th St.; 212-904-1883)
BangOn!NYC Warehouse of Horrors
One undisclosed Williamsburg warehouse will be packed to the brim with frightfully fantastic festivities. hypnotic art installations, freak show performers, food vendors, bouncy house, and a live set by Fatboy Slim will be present to ensure that you are totally freaked out by the great time you're having. Tickets range from to $55 to $115 and VIP access is gained with a more expensive ticket purchase. (Location Undisclosed)
PhantasmaGorey: The Underworld Circus
Over at the Downtown Association in the Financial District, two companies, Dance of Vice and Company XIV, are collaborating for one of the most intricate Halloween parties this year. This Victorian Era gothic themed party demands for dressing up and getting down with all the fascinating production these teams have put together. Tickets start at $75 and admission gets you a shot of absinthe for those who dare, VIP tickets offering bottle service are also available. (60 Pine St.; 212-422-1982)
Back in the Day Fresh Prince of Bel-Air 90's Halloween Party
Over in Hell's Kitchen the Cantina Rooftop is throwing a throwback Halloween Party. Sometimes Halloween isn't about spooky scares, but more about chillin' out, maxin', and relaxin' all cool. This event will bring you back to the 90s, and maybe that is a bit scary for some, but for everyone else, the neon lights, and live set by DJ Fat Fingaz is exactly why we loved the 90s. If you can't jog your memory of the decade of yore, Cantina Rooftop will be handing out vodka cocktails for free from 10 to 11 PM. (605 W 48th St.; 212-957-1700)
Photo via Flickr user B Rosen
Recent Articles

Feedback
How are we doing? Tell us what you like or don't like and how we can improve. We would love to hear your thoughts!