Where to Grab Great Drinks in Harlem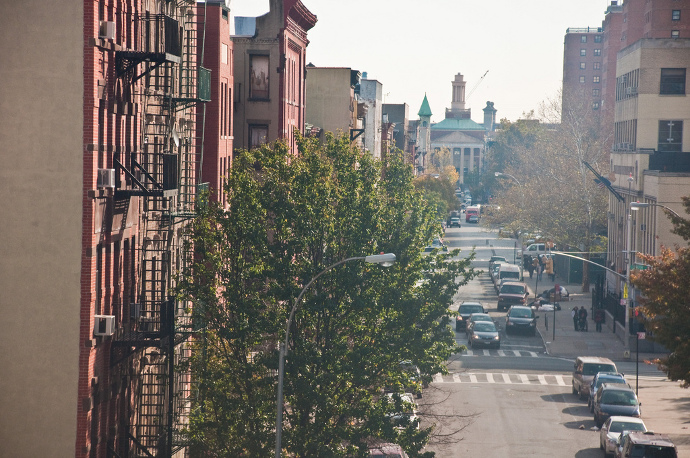 If you're spending an evening in the north Manhattan neighborhood of Harlem, you'll find that there's no shortage of spots to find a delicious beverage. Check out the wide array of bars below to try out lots of different vibes.

67 Orange Street
In the swanky neighborhood of South Harlem, you'll find 67 Orange Street, a speakeasy that's self-described as having an "underground mystique." The bar was inspired by Prohibition-era hidden nightlife. Just past the orange velvet curtain in the entryway, you'll find a small, dimly lit, intimate bar seating and a few extra tables and chairs. Taste the delectable cocktails like Red Rosemary Gin (Rooibos Infused Ransom Old Tom Gin, Lemon Shrub, Rosemary Simple, Fernet, and fresh lime juice) or Brandied Poire (D'USSE, Calvados, fresh lemon juice, orgeat, ginger syrup, and pear). (2082 Frederick Douglass Blvd.; 212-662-2030)
Row House
Located right in the heart of South Harlem, Row House is an American restaurant with a vibrant bar scene. The restaurant seats 150 and has a fairly open style that you notice upon walking in. According to the website, the restaurant's name is an homage to the architectural styles of Harlem. If you go, the "Bittersweet and Tropical" Jungle Bird (Blackstrap Rum, Campari, Pineapple, and Lime) and "Herbaceous and Citrusy" Last Word (Tanqueray Dry Gin, Green Chartreuse, Luxardo Maraschino Liqueur, and Lime) are must-try cocktails.
(2128 Frederick Douglass Blvd.; 212-256-0019)
BluJeen
This restaurant touts a blend of "traditional soul, Southern, and American cooking," also known as what the chef calls "heritage cuisine." Yum. If you go for happy hour, get some tasty lemon pepper wings with the purchase of a drink. You'll want to try the Henny jalapina (Hennessy vsop cognac, pineapple, and jalapenos) or the 7&7 (seagram's 7 whiskey, lemon-lime soda). (2143 Frederick Douglass Blvd., 212-256-1073)
Vinateria
This Harlem spot has a menu with roots in Italy and Spain, and it's evident in both the food and the beverages. Pair the fresh fish and juicy steaks with wines or artisan cocktails from the menu, like the Uptown Bellhop (Greenhook American Dry Gin, Orange Liqueur, Red Bell Pepper, Cayenne-Agave Syrup, Lime) or the Mindful of Harlem (EG Inspiration Vodka, Creme de Violette, Blackberry, Rosemary-Lime Syrup, Lime). (2211 Frederick Douglass Blvd., 212-662-8462)
Corner Social
Corner Social is a Harlem spot that always seems to have something going on on a summer night, whether a performer or an impromptu party. Located in the heart of Central Harlem, the bar has a rustic feel indoor with lots of wooden accents. The bar features a wide array of beers, liquors, and wines. If you go, test out the Chapi-Chapi (Jack Daniel,Triple Sec, Lemon Juice, Simple Syrup) or the Social Mint (Hennessy, Guava Purée, Lemon Simple Syrup, Fresh Mint). (321 Lenox Ave., 212-510-8552)
Pisticci
Pisticci is a petite Italian restaurant tucked away in the Morningside Heights neighborhood. As you walk up the hill of La Salle street from Broadway, you'll see the restaurant just below ground level. Walk in and feel its homey, living-room style right away. You can sit in one of the chairs in the library area, or just sit at the bar for a drink and faster food service. If you go, try out one of many options on the bar's rich wine list, ranging from "crisp and dry," like their Virginie Taut New Zealand Sauvignon Blanc, to "big and bold," like the Villa Barbi Umbria Rosso blend of Sangiovese, Cab Sauv, Merlot 2013. Also test out the wide array of beers and delicious cocktails in the cozy environment. (125 La Salle St., 212-932-3500)
Photo via Flickr user PhillipC
Recent Articles

Feedback
How are we doing? Tell us what you like or don't like and how we can improve. We would love to hear your thoughts!