Liberte, Egalite, Fraternite: Where to Celebrate Bastille Day 2017 in New York City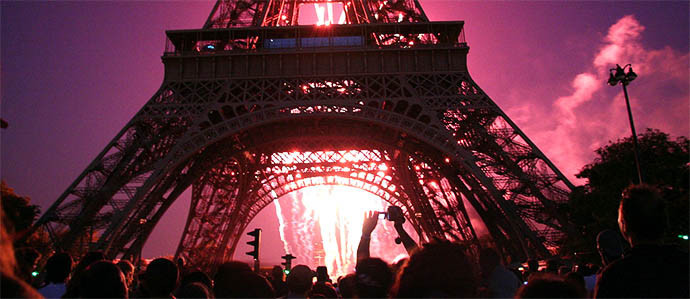 Following up the celebration of our own American Revolution, we celebrate Bastille Day, the day when the French people stormed the Bastille and the French Revolution began. Otherwise known as French National Day, Bastille Day brings out the Francophile in all of us, and when the cause of celebration is the great European Nation which brought us great food and great drink you know it's going to be a doozy. While the main celebration takes us over to 60th St. between Lexington and 5th we've rounded up the best parties and events from all over The Big Apple.

French Restaurant Week
There's a reason great food and wine comes to mind when we think of France — for a large part, they are responsible for it. From July 3rd through July 10th get in on all the amazing pre-fixe meals ranging from $18, $38 and $179. With some of NYC's great French bistros, brasseries, and French dining institutions participating is a great way to not only sample French cuisine, but just amazing cuisine in general.
The Champagne and Chocolate Tasting held at FIAF's Skyroom Lounge is definitely a ticket you'll want to get. Featuring some of the best bubbles from the region and exquisite French chocolates to pair with your glass, this tasting is guaranteed to have your senses screaming "Vive la France!" Tickets run from $65 for FIAF members and $75 for nonmembers, and ticket entry not only includes the tasting of champagne and chocolates, but hors d'oeuvres and a live band to boot. (FIAF Le Skyroom, 8th Floor, 22 East 60th St.; 212-355-6100)
Le District
Over in Battery Park you'll find one of the best embodiments of France in the States. This spacious French food hall features prepared foods and beverage from France with dine in availability and a large market place so you can enjoy at home. This year for Bastille Day, Le District is featuring extended happy hours, several cocktail specials, and live music, so party on the French way and head over to Le District for Bastille Day on July 14. (225 Liberty St.; 212-981-8588)
Bastille Day Block Party By Maison Harlem
This year for Bastille Day, the French restaurant Maison Harlem is shutting down the entire block on St. Nicholas Avenue for a day of French fun in the sun on July 16th. Featuring cuisine from Maison Harlem itself, crepes, and crafty activities that are family friendly, you have a great excuse to head over and stroll around Harlem. (341 St. Nicholas Ave.; 212-222-9224)
Cheese and Wine Tasting At Murray's Cheese
While wine and cheese seems stereotypically French, the fact of the matter is you can't really get much better than that. Featuring boards upon boards of the creamiest, sharpest, and most flavorful cheese from the Loire Valley and the rest of the French countryside to be paired with adventurous biodynamic natural wines from the country that gave us natural wines, it's a great way to expand your palate's horizons. (254 Bleecker St.; 212-243-3289)
Bastille Week Celebrations and Pétanque Tournament at Bar Tabac
Bar Tabac is back at it again with its annual Bastille Week celebration. Over in Boerum Hill, Brooklyn, Bar Tabac has always delivered to Smith Street a fantastic Bastille Day jam packed with live music, food, drink, a raffle, and of course the classic Pétanque Tournament. Enjoy the outdoors in beautiful Boerum Hill and celebrate Bastille Day! (128 Smith St., Brooklyn; 718-923-0918)
Photo via Flickr user irene.
Recent Articles

Feedback
How are we doing? Tell us what you like or don't like and how we can improve. We would love to hear your thoughts!