Here's Where You'll Be Drinking in NYC This Summer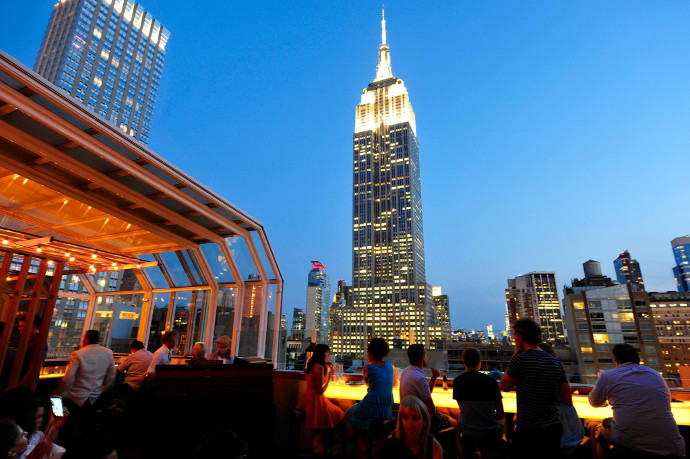 New Yorkers know how to keep cool in the heat, and more importantly, we know how to do it in style. Be it on a rooftop, an open patio, or right by the water, there are literally thousands of watering holes to choose to post up at, and while that can seem a bit overwhelming, we've done the hard part for you by rounding up the best summertime bars NYC has to offer.
Rippers
Truly the end all, be all for summertime bars, Rippers is the beach bar you'll always go to on your day trip to the beach. Located out on the Rockaways, Rippers meets all the beach bar requirements: cold drinks, scrumptious beach bites, and a perfect view of the ocean. Take a dip, drink a drink, eat a burger, and repeat (but only 30 minutes after that burger).
(8601 Shore Front Pkwy, Rockaway Beach)
Union Pool
This infamous Williamsburg hipster hideaway is perfect for a night out on the town with the whole crew. The incredibly spacious outdoor area, littered with picnic tables and even bleacher type seating, is centered around a communal gathering pit. Come hungry, because the taco truck outside is amazing. Also a music venue, Union Pool is a great place to stop in with friends and share some casual beers and well drinks, experience some tunes, people watch, and get a nice fresh breath of air.
(484 Union Ave., Brooklyn; 718-609- 0484)
Summer Garden & Bar
The name says it all. If you're trying to embody that classic New York experience this summer, the Summer Garden & Bar is the place to be. The large outdoor bar and restaurant offers some serious high brow cocktail and top notch American cuisine and is located in the heart of all the action.
(20 W 50th St.; 212-332-7620)
Gallow Green
Located on the roof of the McKittrick Hotel and only open for the summer, Gallow Green is both a bar and an experience like no other. An extension of Sleep No More's interactive theater program, there simply is no other rooftop bar like it in the world. Be prepared to be transported high above the city to a magical garden filled with exotic fawn and flora while you sip delicately on craft cocktails and take it all in.
(542 W 27th St.; 212-564-1662)
Night of Joy
In the north side of Williamsburg you'll find the ever so quaint Night of Joy bar. The lounge is filled with nostalgic antiques and herbal gardens, and those same herbs you'll find on the roof are also infused into Night of Joy's many, many refreshing and delicate cocktails, which are reason enough to stop by Night of Joy on a midsummer's night.
(667 Lorimer St.; 718-388-8693)
Top of the Strand
Any New Yorker worth their salt has most likely heard of the famous rooftop bar, Top of the Strand. Earning its right to one of the most exciting bars in the city with its dramatic view of the Big Apple, Top of the Strand is the perfect spot for an intimate summer's night when one wants to remind themselves why they are here in this city. The retractable roof allows patrons to visit any time of the year, but, for obvious reasons, we feel summertime is best.
(33 W 37th St.; 646-368-6385)
Watermark Bar
Right alongside the East River, patrons can gaze at glorious old Brooklyn from the Manhattan side. Stylish but not too lofty for its own good, Watermark Bar offers a warm invitation to all those city dwellers seeking a little R&R.
(78 South St.; 212-742-8200)
Recent Articles

Feedback
How are we doing? Tell us what you like or don't like and how we can improve. We would love to hear your thoughts!