NYC's Best Summertime Cocktails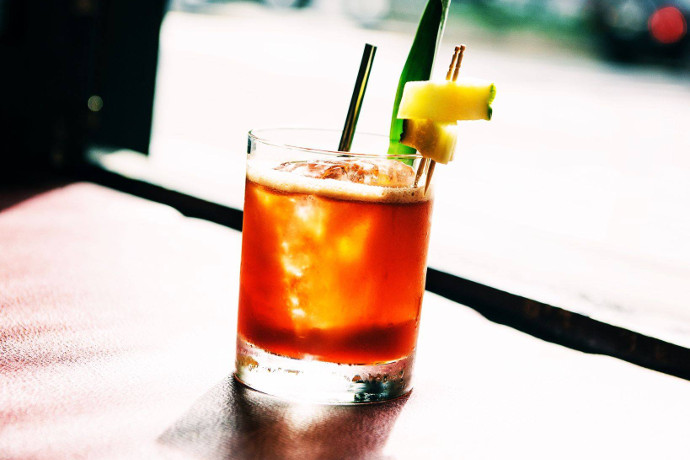 The season for drinking is upon us, and what better place to be than NYC. We've rounded up some of the most interesting, refreshing, and cool-down cocktails in the Big Apple available to you now - just bring thirst, and these folks will do the rest.

Blacktail
Celery Sour
The legendary team behind The Dead Rabbit has now opened a new cocktail parlor in Battery Park called Blacktail, so it is no surprise that the cocktails here are methodical and expertly designed. Cocktails here are broken down into four sections: Highball, Punch, Sour, Old Fashioned, and Cocktail. Some of the usual suspects will be present, such as the El Presidente or an Alexander, but innovative new twists on some classics are not only abundant but demand attention. This summer, we recommend the Celery Sour (referenced under the Punch section), an intriguing combination of dry gin, pineapple, celery, vanilla, lemon, cucumber, and Greek yogurt that is both refreshing as it is sumptuous and even a bit earthy. (2nd Floor, Pier A Harbor House, 22 Battery Place; 212-785-0153)
OTB
Smoked Rocket
OTB is short for Off Track Betting, and this bar, which finds its home in Williamsburg is a sure fire bet. Founded by author and bartender extraordinaire Alla Lapushchik, who helped open Death & Co., OTB is a casual meeting house for all things cocktail culture. This summer, go for the Smoked Rocket, an invigorating blend of gin, mezcal, arugula, and lemon. This cocktail is high drinkable, totally refreshing yet leaves a cheeky little bite on the end of your palate which begs for more. (141 Broadway, Brooklyn; 347-763-1481)
Bar Moga
Sleepwalk
Becky McFalls-Schwartz of Milk & Honey and SakaMai fame is at the helm at Bar Moga, a brand new Japanese cocktail bar in Greenwich Village. A lot of cool things are happening at Bar Moga, and within each you'll find a flare of Japanese expression artfully twisted in the most unexpected ways. For summer 2017, we urge you to get the Sleepwalk, a summer cocktail that embodies all summer cocktails and is an insanely spicy yet refreshing concoction of lemongrass infused shochu, yuzu omoi, coconut, ginger, lime, and rose water. (128 W Houston St.; 929-399-5853)
Death & Co.
Hawaii Five-O
This infamous industry hangout where cocktails are king has already rolled out their extensive summer 2017 cocktail list, and it is something else! Being a name that means something in NYC cocktail culture, every drink Death & Co has to offer is definitely worth a try. This year, for those hot, hot days we say cool down with the Hawaii Five-O, which is Tanqueray Gin meets JM Rhum Agricole accompanied by macadamia, passion fruit, and hopped grapefruit bitters. Delightfully boozy and a great way to wind down while refreshing yourself, this cocktail is light on its feet and packs just enough punch. (433 E 6th St.; 212-388-0882)
Cienfuegos
Liquid Sunshine
With a great menu of punches that can serve up to five or more, Cienfuegos is a perfect place to meet up with friends on a hot summer's day and delve into some classic rum punches. Our pick for summer 2017 is the Liquid Sunshine (of course) featuring Gosling Black Rum, Plantation 3 Star rum, Cherry Heering, lemon, black pepper, and Laura's secret mix, which is astoundingly delicious. Serving up to 5 or more people who are guaranteed to keep the punch coming, it's a must go-to for the summer months ahead. (95 Ave A; 212-614-6818)
Flora Bar
Spice Trader
Over on Madison Ave is where you will find the city's most exciting seafood-focused restaurant & bar around. There's more to love here than just the cocktails, and in fact the by the glass and beer list selections are already something to get pumped about. However, the cocktails cannot be put aside, and for summer they're some of the best around. Stop and and chill out with the Spice Trader, a unique blend of Chai spiced genever gin, lapsang tea syrup, and orange bitters.
(945 Madison Ave.; 646-558-5385)
Photo via Bar Moga on Facebook
Recent Articles

Feedback
How are we doing? Tell us what you like or don't like and how we can improve. We would love to hear your thoughts!