Behind the Bar: Tracie Franklin, Glenfiddich Ambassador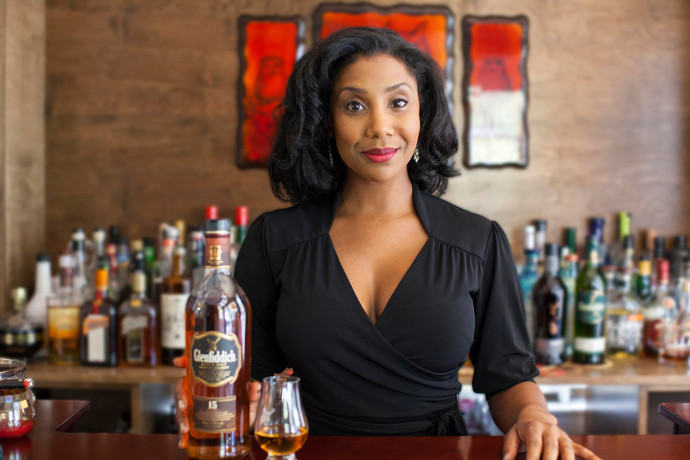 As the Southeastern US representative for Glenfiddich, Tracie Franklin leads an incredibly busy life filled with educational events, client care, and, of course, lots of whisky tastings. For this installment of Behind the Bar, we talked to Franklin about her day-to-day, her performance background, and why she thinks anybody will like scotch if they give it a chance.
Drink Philly (DP): What specifically do you do?
Tracie Franklin (TF): I have the honor of representing Glenfiddich Single Malt Scotch in the East from Pennsylvania down to Florida. I host educational opportunities and tasting events which allow guests to experience Glenfiddich in a fun way. I share the history of our family owned distillery, details about our many expressions, and knowledge of the entire whisky category.
DP: How did you get your start?
TF: I started out as a professional performer — working on and off Broadway as a dancer, singer and actress. In between tours I worked as a bartender and once I tasted and understood single malt whisky, I was hooked, and wanted to learn more. The more I learned about whisky the more I wanted to share my growing passion with others. A few years ago, there wasn't a lot of diversity at whisky events or in whisky marketing, and we wanted to change that. So, Jennifer Wren and I started a company which provided entertaining and inclusive whisky education. Our mission was to show that whisky isn't for a specific "type of person," but is something anyone can truly enjoy.
Sadly, I had to step away from the business after a move to Tampa where I worked as a representative for a couple whisky companies while working at a local whisky bar. Having access to almost 400 whiskies at the bar was a great opportunity to further educate my palate and improve my brand knowledge. I heard Glenfiddich was looking for an ambassador and applied. Unfortunately, or fortunately, the first time I applied I didn't get it. I kept building more experience in the industry and a year later was offered the role on my honeymoon. I couldn't have imagined a better wedding gift!
DP: Describe a typical day.
TF: In this role, there are two very different "typical" days. There are admin days, when I get up early, get on my computer, and spend 8-9 hours catching up on important emails, reports, recaps, etc. That's the part that very few people see. The glamorous days are market visit days — when I meet with managers, discuss new products and answer questions about the brand, teach staff trainings, host dinners for guests and whiskey lovers — and then, to cap off those days, I'll visit my favorite bars at night to check in and talk about scotch. My days can be long and difficult, but because it's whisky, they're also wonderful.
DP: What's your favorite part of the job?
Helping open up people's minds to a new category and flavor they didn't expect to enjoy. A lot of people tell me they "don't drink scotch" for any variety of reasons, but being able to see their eyes light up after as they realize they do enjoy whisky is so gratifying. Everything in my life so far has been about creating experiences for people, and I love it.
DP: Why do you think drinkers gravitate towards whisky?
TF: I think as your palate gets more refined, you look for more complexity. Whisky has a wide variety of distillation and aging techniques which create diverse flavors and aromas. Exploring the variations is so much fun. It's a spirit that always challenges you because there is always more to learn and taste.
DP: What trends do you see happening in whisky?
TF: There's a lot of exploration happening in whiskey, including Glenfiddich's Experimental Series. Through experimentation and collaboration we're creating unique whiskies that will appeal to diverse audiences, like our IPA Cask Finish or the upcoming release Project XX, that focuses on bold flavors. We want people to rethink the way they approach whiskey, and I think that's starting to happen more.
DP: What's your favorite whisk(e)y cocktail?
TF: It changes so much! Right now I'm obsessed with sherry, especially Manzanilla and Fino, so I like a twist on a Rob Roy with Glenfiddich 12, dry sherry, sweet vermouth, and bitters. I enjoy cocktails that are refreshing and fairly dry on the palate.
DP: If you could have a drink with any person, living or dead, who would it be and what would you drink?
TF: I would have a drink with my paternal grandfather, Leo Franklin, who passed when I was young. I remember very little about him but am told he had a soft spot for his first granddaughter. As the son of a sharecropper, he didn't have many resources, and yet persevered and created a comfortable life for is family. I would pour us each a glass of the Glenfiddich 40 year old and listen to long lost stories of turmoil and triumph and as we drink history in a bottle.
DP: What advice would you have for someone who wants to do your job?
TF: First, be the best at the job that you currently have. Your hard work will make you stand out and the community will notice. Second, work on your organizational skills. People within the hospitality industry are often very creative and passionate but not always the most disciplined. Being a brand ambassador is a huge amount of responsibility and being organized and efficient is indispensable. Third, figure out what makes your spirit happy and pursue it with a fervor.
Photo via Tracie Franklin
Tags:
Behind the Bar
Recent Articles

Feedback
How are we doing? Tell us what you like or don't like and how we can improve. We would love to hear your thoughts!