Behind the Bar: Camille Ralph Vidal, Global Brand Ambassador for St. Germain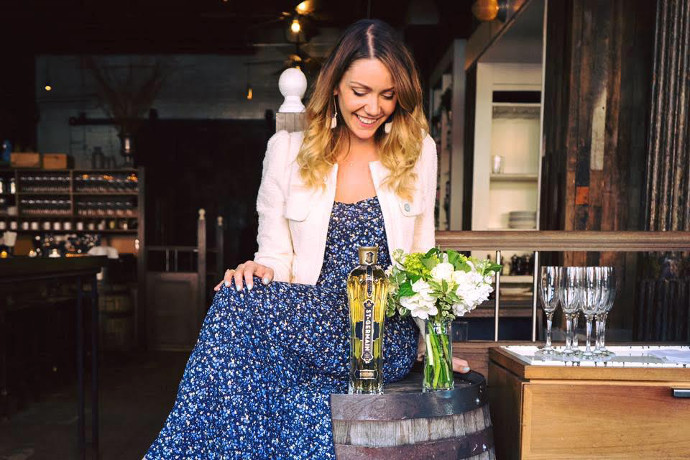 In this installment of Behind the Bar, we were lucky enough to interview Madame St. Germain herself, Camille Ralph Vidal. Vidal has been with St. Germain since before it was acquired by Bacardi in 2012 and has lived all over the world bartending and spreading the word about St. Germain and why it's so unique. She also recently coauthored a book about the spirit called How To Drink French Fluently, which is on shelves now. You can follow her international adventures on Instagram and Twitter, and read on to hear about how she got her start and why she's so passionate about this quintessential French elderflower liqueur.
Drink Philly (DP): What specifically do you do?
Camille Ralph Vidal (CRV): That's the question - what does Global Ambassador mean? I'm known as Madame St. Germain — as the St. Germain Global brand ambassador, I get to work with bars and bartenders from all around the world and travel to spread the love of the aperitif and how to drink French fluently with our beautiful French liqueur. But I also do marketing, PR, events and since this year, lead and mentor a team of 20 ambassadors.
DP: How did you get your start?
CRV: When I was at university in Lyon, I studied so many things, including communications and PR, and come from a creative family. I went to art school for a few years and then got a bachelor's degree in communications. In France, instead of paying for university, you can work to put yourself through school, so I worked for three years in different communications and PR agencies and companies and learned so much. After that I wanted to travel because I worked so hard, so I moved to Australia and decided to work there, and began working in the bar industry (I'd been working in the industry at home for a long time but on the floor never behind the bar). Being behind the bar allowed me to express my creative side in a way I loved.
A few years after, I met the founder of St. Germain, Rob Cooper, in Melbourne when I was living there. We were doing a St. Germain brunch during one of his market visits, and after a few hours together, he asked me to join the St. Germain team. I thought he was kidding but luckily for me he wasn't! He gave me the opportunity of a lifetime. He asked where I wanted to go, and I thought London seemed like a great city, especially because it had an amazing cocktail culture. There, I was a full time ambassador and working at a bar called Experimental Cocktail Club. I was very focused on the U.K. and the French market then. Once Bacardi acquired us, I became the global ambassador, and now I have a team of nearly 20 people.
DP: Describe a typical day.
CRV: It really depends on if I'm traveling or not. I probably travel overseas once a month, and within the U.S. about once a week. My typical morning at home, though, is waking up early, dealing with all of my emails (being global means there's always a market that's working!), and strategize with our global markets to make sure we're all on the same page. I also check in with my teams. I also organize events, from cooking classes to cocktail tastings, both in New York and while I travel. I do manage to squeeze a little bit of yoga into my day, even if it's just five minutes, to keep myself sane and grounded! That's something I'm trying to pass on to my team and ambassadors - to find balance, even in this amazing job. Self-care is so important, especially in this industry.
DP: Tell us about your book, How To Drink French Fluently. What inspired you to write it? How was the process?
CRV: The book was brought to life by St. Germain, myself and Punch Creative, which is a part of Punch Magazine,and more important all the bartenders who created the recipes. I've been doing this job for five years and have had the chance to meet bartenders all over the world and taste their St. Germain creations, and I wanted to feature their recipes and thank them for their creativity. I saw this as an opportunity to give back to bartenders, without whom St. Germain wouldn't exist. I adore cocktail books, but I feel like sometimes they're a lot like cookbooks, where you buy it, flick through it, and never actually use it - so I wanted a different approach.
Flavor really inspires me, and I look at cocktails the way I look at cooking, in the way a brunch cocktail will be different from a pre-dinner drink or a nightcap. I wanted to talk about what to drink and when to drink it. We also wanted to create a guide to the bon vivant by featuring bartenders with great tips and advice for casual consumers or aspiring bartenders alike. We wanted to share this way of living we've cultivated in France and share aperitif culture with the world. The title, How To Drink French Fluently, is a play on words that we created with Rob Cooper, and it embodies the philosophy of what St. Germain is all about, which is inspired by the 1920s and asks you to take time to appreciate the best things in life.
DP: What do you think is particularly special about St. Germain?
CRV: St. Germain was the world's first elderflower liqueur, which is just incredible. It's made with 100% fresh elderflower blossoms, which we handpick once a year, and the flowers only bloom for 2-3 weeks once a year! We never freeze or dry the flowers, nor do we use any artificial extract, which is what make St. Germain taste incredible. It's the absolute best representation of elderflower and its flavor that exists. The way that St. Germain is made is all about quality and such an inspiration to me.
DP: What's your favorite part of your job?
CRV: I love that I get to travel and meet people, and I think that this is an industry where the people in it push each other to learn and develop as much as possible. I give seminars in my travels, and there's really something about getting to stand in front of people and teach them about a topic I'm so passionate about. Getting to work with amazing talented people all around the world and my teams in the U.S. and Europe, inspires me and gives me the energy to carry on with this incredible job.
DP: What's your favorite St. Germain cocktail?
CRV: It depends on the weather, the season, my mood, and even the time of day! One drink I will always enjoy is the classic St. Germain cocktail (St. Germain, sparkling wine, and sparkling water in a Collins glass with a lemon twist). Otherwise, I can't possibly choose a favorite, but this is really a liqueur that is so incredibly versatile. It really goes with everything and allows consumers and bartenders to be so creative.
DP: If you could have a drink with any person, living or dead, who would it be and what would you drink?
CRV: Rob Cooper. We had an instant connection when we met, and I think he saw my potential for representing this brand thanks to my French background and my education in PR and communications and my bartending skills. He passed away far too early, which was devastating for both his family and this industry. I would love to sit in a brasserie in Paris with him, sip on the St. Germain cocktail, and discuss our passion for his creation. I'm carrying his legacy on, and hopefully doing a great job at it!.
DP: What advice would you have for someone who wants to do your job?
CRV: What I love about this industry is what a worldwide family it is, and so I think that working hard to become an expert in this industry and making connections wherever you can. You have to be in love with the brand that you represent and believe in it 200%, because in order to be an expert and be credible you have to live, sleep, eat and breathe your brand. You also must realize your job is about helping the industry and not yourself.
Photo via Camille Ralph Vidal
Tags:
Behind the Bar
Recent Articles

Feedback
How are we doing? Tell us what you like or don't like and how we can improve. We would love to hear your thoughts!