Where to Drink Coffee Cocktails in NYC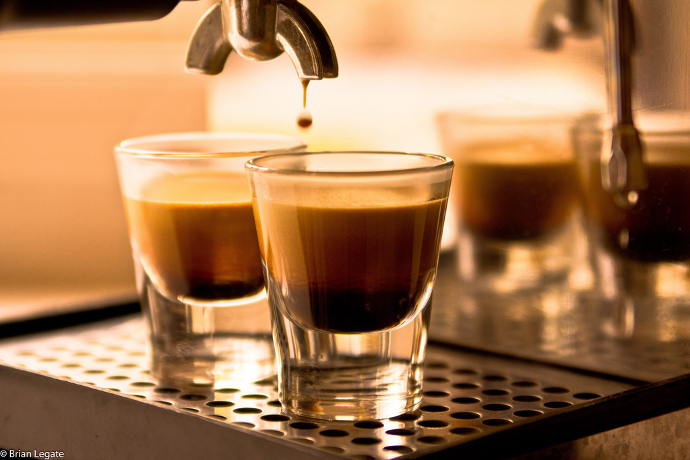 When we think of coffee, we think of the start of the day, and perhaps at the end of the evening meal. We do not think of sexy when we think of coffee, nor does savory really come to mind. Well, these coffee based cocktails are out to prove all of that wrong; they're sexy, and perhaps more importantly, they're savory too - and the buzz comes two fold.
Three Hour Kyoto Negroni
Specializing in coffee and cocktail, Kobrick Coffee Co. has master the art of blending sumptuous roasted caffeine boasting beans with bold spirits. The Three Hour Kyoto Negroni is an utterly divine concoction of equal parts gin (even better with mezcal), campari, vermouth, orange and single origin Kenyan beans. (24 9th Ave.; 212-255-5588)
Skinny Dennis
Willie's Frozen Coffee
Skinny Dennis, Williamsburg's popular Texas Swing bar, is almost single handedly known for this one drink, affectionately known as: "that coffee thing." Willie's Frozen Coffee is a bit of a secret recipe, but it's boozy and served slushie style in an old school diner coffee cup - so don't drink too fast. (152 Metropolitan Ave., Brooklyn; phone number n/a)
Sushisamba
Cafe Millonario
This West Village staple focusing on the fusion of Japanese, Peruvian, and Brazilian cuisines has its own coffee cocktail that's out of this world. The Cafe Millonario is a delightful combination of coffee-washed black rum, maple, dark chocolate, and a shot of espresso. (87 7th Ave S.; 212-691-7885)
Amor y Amargo
The Double Buzz
This quaint concept bar from Ravi DeRossi,the man behind Death & Co. and Cienfuegos, delivers a special cocktail program every Sunday called the Double Buzz. Every Sunday, the Double Buzz program dedicated the pair of bold roasted coffee that go perfectly with bitter yet smooth and fruity amaros. Pop in next Sunday and try the Flamingo, a daring fusion of Ethiopian Kuji Coffee, tequila, cocchi rosso, and apple bitters. (443 E 6th St.; 212-614-6818)
Maialino
Espresso Fizz
Brought to you by Danny Meyer, Maialino is an expression of Roma in New York City, and so it is only natural then that we see something curious with espresso on the menu. The Espresso Fizz is a simple yet elegant little number featuring medium-light roasted espresso, tonic, and orange bitters not to bold yet surprisingly refreshing and delightful to drink. (Gramercy Park Hotel, 2 Lexington Ave; 212-777-2410)
Sweetleaf Coffee
Java Flip
Long Island City's premiere coffee shop showcasing exceptional coffee beverages and artisan pastries is a quaint "hole-in-the-wall" space. The Java Flip is an opulent and rich blend of dark rum, bourbon, house-brewed coffee liqueur, egg yolk, and cream. It's frothy, creamy, extremely desiccant and a perfect 5 o'clock sit down drink. (159 Freeman St.; 347-987-3732)
Blueprint
Kickstarter
Located in Park Slope and serving up high-brow cocktail creations, Blueprint's Kickstarter is not recommended for the start of the day - unless it's that kind of day. The drink combines a riveting shot of espresso is shaken with turbinado sugar, rum, and bitters for a delightful collection of flavors both sweet and bitter. (196 5th Ave., Brooklyn; 718-622-6644)
Photo via Flickr user Brian Legate
Recent Articles

Feedback
How are we doing? Tell us what you like or don't like and how we can improve. We would love to hear your thoughts!