Make These New Year's NYC Bar Resolutions For A Great 2017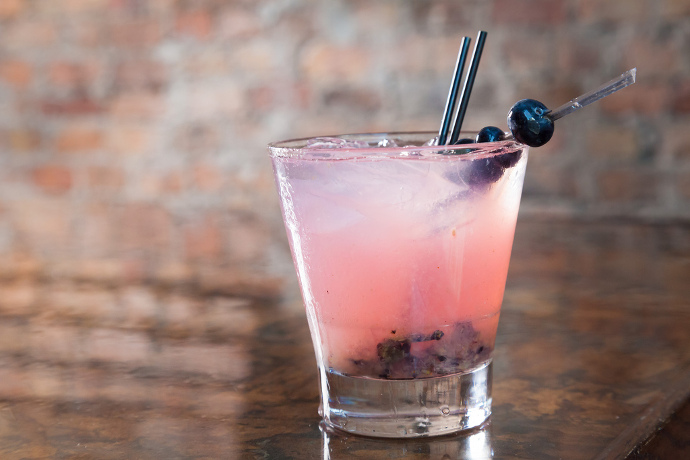 The start of a new year means fresh beginnings and time to hit the reset button — it's a chance to make a list of goals, resolutions, or intentions to accomplish new feats and grow in different ways. Many resolutions relate to our professional and personal lives, but there's no reason we can't integrate a few good drinks into the mix. Here are some resolutions this year that will help you expand your horizons and try out a new bar or beverage in the process.

Try a bar in a new borough.
Charlie's Bar and Grill
It's time to step outside of your comfort zone — and into some comfort foods and beverages — in 2017. Manhattan and Brooklyn tend to get the most recommendations, but why not try out a spot in the Bronx? Venture up to New York's northernmost borough and try out Charlie's Bar and Grill, a New American restaurant whose menu offers a Southern influence along with a selection of wines and locally brewed beers. Try out some of the cocktail options, which include the Bronx Tale (vodka, lime juice, clove tincture, and house-made ginger soda) and Can You Dig It! (Bourbon, 5 spiced infused agave, bitters). (112 Lincoln Ave., The Bronx; 718-684-2338)
Expand your beer horizons.
Maybe you get stuck in a rut with your go-to beer of choice, or maybe you generally stick with a certain type of liquor or wine. How about embracing some new beers this year? With 24 craft options on tap, Arts and Crafts Beer Parlor is a spot to test out your new favorite type of brew. The menu rotates, and you can even use the beer tasting glasses to make your own flight. With two New York location options, Arts and Crafts is all about taste testing and finding your new go-to. (1135 Amsterdam Ave.; 917-675-6835 or 26 West 8th St.; 646-678-5263)
Not let the winter prevent you from enjoying a rooftop cocktail.
Who says you have to wait until the summertime to enjoy the rooftop bar scene in New York? There are quite a few heated rooftops still open in the dreary winter months throughout the city.
The Delancey on the Lower East Side offers specials most days of the week, where you can save two buck on drinks — $7 for well drinks and wines, $11 for top shelf boozy drinks, and $4 for beers. What's even better? The insulated rooftop is even adorned with green plants to keep the feel fresh and remind you the summer is right around the corner — sort of. This is a spot to go to if you're looking to have a private party or a night out on the town. (168 Delancey St.; 212-254-9920)
The Empire Hotel Rooftop
The Empire Hotel Rooftop is a Midtown staple for after-work drinks or evening cocktails. With both interior and exterior space and multiple terraces, sit and bask in the luxurious space by the warmth of the fireplace and enjoy a range of cocktails and beers with a view of the bright lights around the city and the view below. (44 W. 63rd St.; 212-265-2600)
Get together more regularly with your friends for post-work happy hour.
Verlaine
Don't let yourself get stuck in a winter rut and stay indoors for too long -- schedule regular happy hours after work with your pals. Save some money while you're at it by planning to meet at bars with regular happy hour specials. Take advantage of this Lower East Side cocktail bar named after the 19th century French poet. From 5 to 10pm every single evening (yes, even weekends), curl up on the sofas near the windows to chat about how the work week is going and keep each other sane over $6 lychee martinis, sangrias, and house wines. (112 Rivington St.; 212-614-2494)
Get adventurous with your tastebuds.
Hill and Dale
This Lower East Side bar, whose name is inspired by old-school audio recording methods, offers a nontraditional take on comfort food paired with specialty cocktails that feature a unique blend of flavors and spices. With a daily happy hour from 5 to 8pm and all-night specials on Mondays to help you start your week off right, try one of their special cocktails, like the Henrietta Leavitt (Highland Park 12 year Scotch, cardamom star anise syrup, Combier, orange bitters, and a small Highland Park "Dark Origins" float) and the Smokey Joe (mezcal, lime, simple syrup, cilantro, and chili lime zest). Unusual blends of ingredients and spices like cardamom -- in the ginger family -- take you outside your comfort zone. (115 Allen St.; 212-420-1115)
Get moving.
Vig Bar
Check out more bars that let you get your dance on. Vig Bar in SoHo offers a daily happy hour and a rotating DJ spinning everything from hip hop to house depending on the day of the week -- just enough to get you out of your bar stool or couch and moving on the dance floor. Far from a club environment, the vibe -- even on the dance floor -- is typically fairly low-key and relaxed. (12 Spring St.; 212-625-0011)
Photo via Flickr user COVERT NINE
Recent Articles

Feedback
How are we doing? Tell us what you like or don't like and how we can improve. We would love to hear your thoughts!