Where to Drink on Thanksgiving 2016 in New York City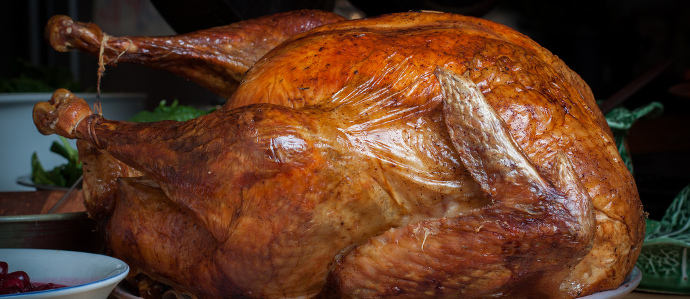 Sticking around the city for the Thanksgiving holiday? Whether you're with friends or family (or both), making a stop at a bar after the big turkey is a perfectly acceptable and encouraged custom to make. However, maneuvering around holidays hours can be tricky, so we here at Drink NYC have provided a solution for all that. We've rounded up the best bars in the boroughs that will be open this Thanksgiving.
Sports fans and beer fans alike have been known to gather at this downtown Brooklyn get-away, and since we heard football is a Thanksgiving tradition, Brooklyn Brewhouse fits in perfectly with the festivities. (229 Duffield St., Brooklyn; 718-254-7813)
32-ounce buckets of beer ranging from $3.50 to $4.50 —and if that's not enough to get you there, Rosemary's is everything you could want from a neighborhood hang out bar. With great patrons, a cheerful atmosphere, and plenty of booze, Rosemary's in Greenpoint is sure to bring family, friends, and perhaps even complete strangers together for the holiday. (188 Bedford Ave., Brooklyn; 718-384-9539)
for those who seek the refined comforts of a proper Thanksgiving outing, there's the Lexington Brass. Quaint and comfortable, the Lexington Brass offers at least six local wines on tap alongside a selection of Six Point seasonal beers, and just in case you didn't fill all the way up during the feast, delicious bistro bites are also provided. (Hotel 48LEX New York - 517 Lexington Ave.; 212-392-5976)
Maybe your family is coming to visit you in New York City for Thanksgiving. Want to show them a real New York tourist attraction? The famous Jack Dempsey's is a classic New York bars that truly capture the spirit of the city, and it may not be too surprising then to find some other out-of-towners raising a glass beside you. (36 W 33rd St.; 212-629-9899)
If you're even remotely familiar with the north side of Williamsburg, whispers of this legendary haunt have probably made it to your ears. The Turkey Nest is a neighborhood favorite and you can't beat the prices if you're one who favors no fuss, no nonsense, and just a bloody good time. They offer four dollar beers in a 32-ounce cup, eight dollar margaritas also in a 32-ounce cup, and it's right by McCarren Park so be there or be square. (94 Bedford Ave.; 718-384-9774)
Beer drinkers and shot takers flock to this East Village watering hole, where thanks and giving along with general merriment float through the air. A PBR will only cost $2, and for $4 you can get yourself a well drink. (141 Avenue A; 212-979-0312)
With a beer selection teetering over twenty beers on draft alone, The Brazen Fox is a must visit this holiday season to get any style beer for the holidays for any style of beer drinker. If the beer in hand isn't enough and you're still a bit peckish, try their famous bone marrow burger. (106 3rd Ave.; 212-353-1063)
Recent Articles

Feedback
How are we doing? Tell us what you like or don't like and how we can improve. We would love to hear your thoughts!