Where to Drink Soul-Soothing Hot Cocktails in NYC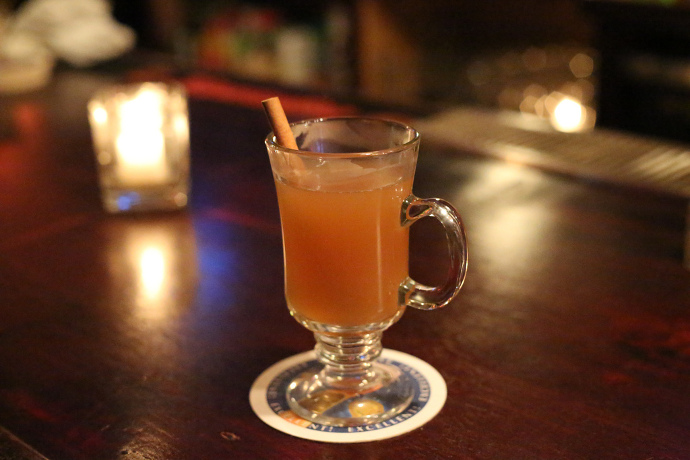 Just because the temperatures drop doesn't mean merriment and comfort have to too. The hot alcoholic beverage is usually the seasonal signal that the crispness of fall has begun to delve deeper into the density of winter. Below, we've rounded up the premier spots to grab a hot cocktail that's sure to soothe the soul, so grab your pea coat and scarf and meet us there!
Paper Crane
This intensely satisfying and soul nourishing cocktail from the alchemical minds of the Lower East Side's Apotheke has delightfully savory notes and is served up hot. Amazake with persimmon, bourbon, cinnamon, and fresh chestnut collide together as hot as tea to warm the bones and keep you strong against the NYC cold. (9 Doyers St. #1; 212-406-0400)
Hot Spiked Cider
Simple yet oh so spectacular, Williamsburg's Lone Star Tex Mex haven is offering up a spiked cider served hot. Consisting of Applejack one get to choose between Flor de Cana Rum or classic Four Roses Bourbon - either way it's sure to satisfy. (593 Lorimer St. Brooklyn; 718-599-9899)
Jailbird
This intensely rich and nutty cocktail comes from the great minds at this renowned cocktail den. Featuring bourbon, Calvados, Madeira, macadamia, almond, pimento Bitters, and a cream float, this complex cocktail goes down smooth and pleases the soul. (30 Water St.; 646-422-7906)
Hot Toddy
As if the Hot Toddy wouldn't be on this list. Perhaps the most famous of hot cocktails, the hot toddy is a perfect balance of sweetness, deepness, and pleasantry and is perfect going into the cold months ahead. Mother's Ruin, the famous industry hangout bar, has one on their menu and completely does justice to this must have libation. (18 Spring St.)
Mulled Wine
Mulled wine is, simply put, cozy. This spicy, warm and delicate beverage is the perfect blend of comfort and drinkability for the cold gloomy weather that approaches. Over at Jadis in the Lower East Side, mulled wine has become a staple and a tradition that keeps us going back for more. (42 Rivington St.; 212-254-1675)
Nellie Fur' Toddy
This Williamsburg late night hangout is famous for their whimsical house cocktail creations and scrumptious patty melts. This season they're doing their own unique and spicy rendition of a hot toddy: Black Grouse Scotch, King's Ginger, Blue Curaçao, and lemon. (302 Metropolitan Ave., Brooklyn; 347-422-0939)
Honor Amongst Thieves
The infamous cocktail spot that is Death & Co. has unleashed their seasonal winter cocktail lineup. While it is encouraged you stop in and try them all, during these chilly night you simply must get this cocktail made with Black Strap Rum, Amaro, and bitters served hot. (433 E 6th St.; 212-388-0882)
Photo via Flickr user WarmSleepy
Recent Articles

Feedback
How are we doing? Tell us what you like or don't like and how we can improve. We would love to hear your thoughts!