The Best Bottomless Brunches in NYC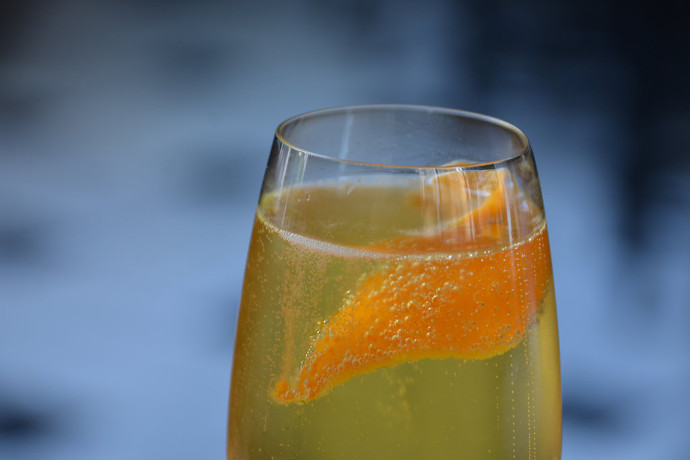 What is it about brunch that makes excessive daytime drinking not just acceptable, but a staple at many New York restaurants? Could it be that your average brunch patron is suffering from a hangover that can only be cured via hair of the dog? Perhaps it's because brunch is really the only time you'll see mimosas on the menu, and mimosas are so damn good that restaurants want to give you the chance to drink as many of them as possible when they're available?
Regardless of the reasons, bottomless brunch has become a given for heavy drinking New Yorkers, and these are some of the places where you can get it for a reasonable price (or if not for a reasonable price, at least with some really good food).
For $17, you can get as many mimosas as you can consume in an hour and a half. That may not seem like a long time, but with flavors like passion fruit, peach, and pomegranate, these mimosas will go down pretty quickly. Mediterranean food options sit alongside classic morning food options (eggs benedict, omelettes) on the brunch menu. (161 E Houston St.; 212-933-4587)
While the brunch menu will make your mouth water with entrees like coconut pancakes and ackee & saltfish, it's the fact that you can get any of these dishes with unlimited cocktails for $30 that puts Miss Lily's on this list. There is a two-hour limit on the drinks, which is pretty standard, but the cocktails themselves are not. Options include a thick passion fruit Bellini (deemed the "One Love Bellini") and a spicy soju Bloody Mary. (132 W Houston St; 646-588-5375)
Though this spot is usually a venue for acts like Macaulay Culkin's Velvet Underground parody band The Pizza Underground, Baby's All Right is also a pretty solid brunch spot. For $30, they offer a choice of meal (some such choices are "Things in a Bowl" and "The Risky Chicken") plus unlimited Bloody Mary's, mimosas, or greyhounds (grapefruit juice with vodka or gin) for an hour and a half. (146 Broadway, Brooklyn; 718-599-5800)
If you're looking for a really good bottomless brunch deal, it's safest to stay out of Manhattan/North Brooklyn. Down in Brooklyn's South Slope, Giovanni's Brooklyn Eats asks for only $18.95 for not just an entrée and unlimited drinks, but an appetizer, a main course and as many mimosas/Bloody Mary's as you can drink. Granola and ricotta fritters are available for course one, which you can follow up with a number of egg dishes, baked pasta, or Challah French toast. (1657 8th Ave., Brooklyn; 718-788-8001)
Not actually a bottomless brunch, dining at Il Bastardo on a weekend afternoon will certainly feel bottomless. A dark, club-like environment transports patrons from noon on Sunday to midnight on a Saturday, and the $45 prix-fixe brunch comes with either a bottle of champagne or a liter of anything per person—enough to make you surrender to the night-out-on-the-town vibes. If you're looking to extend whatever party you were at the night before and you feel like wearing four-inch heels in the morning, this is your brunch spot. (191 7th Avenue; 212-675-5980)
In case you're asking where the bottomless beer is, this is your answer. SideBAR offers $20 for a main course plus endless Bud Light on tap. You can also opt for mimosas and bloodies. Fare is more bar food than your typical Manhattan brunch, but what else would you pair with unlimited Bud Light? (118 E 15th St.; 212-677-2900)
For $45, this isn't the cheapest bottomless brunch on the list, but it's unique because "bottomless" covers the food in addition to the drinks. You can keep ordering Mexican style small plates for the full two-hour table limit while drinking margaritas, sangria, or a number of exotically flavored mimosas. (1191 First Ave.; 212-585-1818)
Photo via Flickr user Rob.Bertholf
Recent Articles

Feedback
How are we doing? Tell us what you like or don't like and how we can improve. We would love to hear your thoughts!