Where to Celebrate Bastille Day 2016 in NYC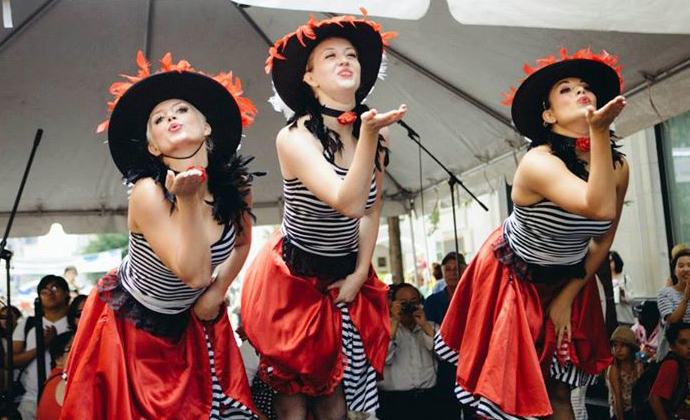 Known as La fête nationale in France, Bastille Day celebrates the Storming of the Bastille, which took place on July 14, 1789 in Paris. While that day marked a critical moment in the French revolution, July 14, 2016 means plenty of wine-centric celebrations in New York City and around the globe. Here's how they're doing it in NYC.
Bar Tabac
's 15th Annual Bastille Pétanque Event
In downtown Brooklyn, Bar Tabac has been celebrating Bastille Day for years with the French game pétanque, which is more or less a variation of bocce ball. The event draws a large crowd and takes place out in the streets on July 10th from noon to 6pm. You can drink and eat all day in the sun amongst the sand covered pétanque courts, and to give you a sense of what you might be drinking, Bar Tabac's wine list consists of varieties from the South of France, Rhone, Loire, and Bordeaux regions. (128 Smith St., Brooklyn; 718-923-0918)
If you want to shell out $80 so that you can impress your friends as a French wine expert come Bastille Day, you can check out this wine-focused restaurant's "A Tour of France" class, in which you'll learn about the country's biggest wine regions and even get the history behind the grapes. You'll get to taste plenty of French wines, whether you're truly interested in the history or not. The class takes place July 11 from 6pm to 7:30pm at the restaurant. (13 E 13th St.; 646-873-6071)
This screening of the 2003 animated film will take place at the Prospect Park Bandshell on Bastille Day itself at 7pm. It's best to get there on the early side because seats are free, and you'll want one up close to the live orchestra, who will be playing the movie's original score with its original composer, Benoît Charest. Before that, singer songwriter Jessica Fichot will play a twist on French folk music with her three-man band, at which time you can crack open the discreet water bottles you've filled with wine to bring into the park. (9th St. & Prospect Park West, Brooklyn)
Bastille Day on 60th Street
The French Institute Alliance Française (FIAF) has been putting on this festival in the Upper East Side for a couple of decades, now. You can drop by to enjoy the macarons and éclairs on the street or buy tickets to tastings that take place throughout the day. For instance, the wine, beer, cocktail, and cheese tasting is available to join at noon, 1:30pm, or 3pm for $25 at the FIAF Tinker Auditorium—seems like a pretty decent bang for your buck. If Champagne and chocolate is more your thing, you can do that at the FIAF Le Skyroom at 12:30pm or 3pm for $75. (Festival on E 60th St. between 5th Ave. and Lexington Ave., Tastings at 22 E 60th Street; 212-355-6100)
It's not everyday that there's a reason to go to a ball, so the fact that his French national holiday provides one on July 13 means it might be worth attending, especially for only $30 general admission—VIP tickets are $120. The former offers a cash bar while the VIP package grants you an open bar from 6pm, the start of the event, until 10pm. The ball ends at 1am, bringing you right up to the dawn of Bastille Day with a DJ set. (404 10th Ave.; 212-889-5966)
Though this cheesy event is technically sold out, you can still get on the waitlist (New Yorkers are known to flake at the last minute, after all). While most sign up for this $85 event for the high-end cheese, we drinkers flock to these kinds of things for the wine pairings, which, in this case, hail from the Loire Valley. The tasting takes place on July 14 from 6:30pm to 8pm. (254 Bleecker St.; 212-243-3289)
Ironically having begun on the 4th of July, French Restaurant Week lasts through July 17, so there's still plenty of time to get in some escargot and cuisses de grenouilles at affordable prices. Participating restaurants range from locations in Bed-Stuy (L'Antagoniste) all the way up to Harlme (Maison Harlem). Prix fixe meals begin at $17.89 if you're looking just to try the food, but for a full meal with wine you'll find yourself paying just around $35. (Check out the
website
for all of the listings.)
Photo via the French Institute Alliance Française
Recent Articles

Feedback
How are we doing? Tell us what you like or don't like and how we can improve. We would love to hear your thoughts!