Where to Celebrate July 4th in NYC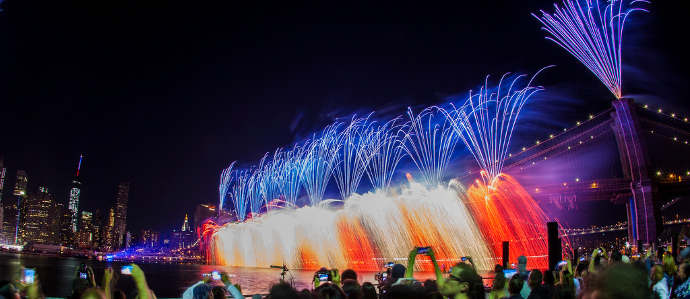 In New York City, the 4th of July presents no shortage of very American ways to celebrate. From drinking Budweiser ("made in America!") at a baseball game (America's favorite pastime!) to catching the Macy's Firework display from a Brooklyn restaurant or a Manhattan hotel rooftop, you'll be pointedly reminded of what country you're drinking to--the chants of "USA! USA!" will surely echo right across the East River.
Coney Island Circus Sideshow & Beach Party
Running from 1 PM to 8 PM all day (you can get tickets up until 7 PM), the Coney Island Sideshow constitutes one of the most American things you can do on this landmark day. Spending the day at the beach on Coney Island is patriotic enough to begin with, but throw in a $10 trip to the Sideshow and you've truly honored your country. Also, there will be an all day beach party going on, with live music and plenty of booze to be had in the sun and leading up to the steps to the Cyclone (but of course, drink before experiencing the Cyclone at your own risk). Fireworks naturally included. (Luna Park, Coney Island; 718-373-5862)
Mets vs. Marlins
Why not celebrate America day with its favorite pastime? The New York Mets are playing the Florida Marlins at 1:10 PM at Citi Field in Flushing (the Yankees will be away that day, in case that's your New York team of choice), and you can enjoy the game while drinking any from a variety of Budweiser beers--you know, ranging from Bud Light Lime to Bud American Ale. (Citi Field, 123-01 Roosevelt Ave., Flushing; 718-507-8499)
House of Yes 4th of July BBQ Extravaganza
Free with an RSVP, this event starting at 2 PM on the 4th and lasting until midnight takes place in a crowded but friendly venue in Bushwick, meaning the crowd will be mostly in their 20s and the vibe will be on the weirder side, or at least it will try to be. BBQ food items will be both carnivore and vegetarian friendly, and DJ sets will set the tone for your day's worth of drinking. (2 Wyckoff Ave., Brooklyn)
IndieFest 2016
Put on by the People's Improv Theater, this festival celebrating independent performers happens to be going on during this year's Independence Day. You can watch improv, musical performances, stand-up, and a variety of other acts while drinking beer and eating BBQ, the two staples of this great American holiday. Shows take place between noon and 11 PM on the 4th, and each one costs $10. (123 E 24th St.; 212-563-7488)
Berry Park
While many rooftop venues are ticket-only or even already sold out for this year's Independence Day celebrations, Berry Park remains a bar as usual, giving patrons eager to watch the East River Macy's Fireworks display a solid venue from which to critique the pyrotechnic performance. More of a sports bar downstairs, Berry Park is really an every person's bar once you get to the roof, but the yuppie Williamsburg/Greenpoint resident certainly dominates. (4 Berry St., Brooklyn; 718-782-2829)
Hotel on Rivington
If you're looking for a higher end celebration, a hotel rooftop is the place to find it, and Hotel Rivington on the Lower East Side offers one of the better spots for firework watching and partying. Tickets are up to $150 now, but they at least include a three-hour open bar and a buffet on the hotel's Penthouse Rooftop. (107 Rivington St.; 212-475-2600)
The River Cafe
Located on the East River in DUMBO, this fine dining spot offers a more refined and relaxed way to take in the fireworks — with a tasting menu and a dress code (gentlemen must wear jackets after 4 PM). It goes without saying that this is a pricier way to drink and dine your way through the 4th, but if you prefer sipping wine in a cool dining room over chugging beer in the sun, consider this the place the spot to treat yourself. (1 Water St., Brooklyn; 718-522-5200)
Photo via Flickr user Anthony Quintano
Recent Articles

Feedback
How are we doing? Tell us what you like or don't like and how we can improve. We would love to hear your thoughts!