Where to Celebrate Memorial Day 2016 in NYC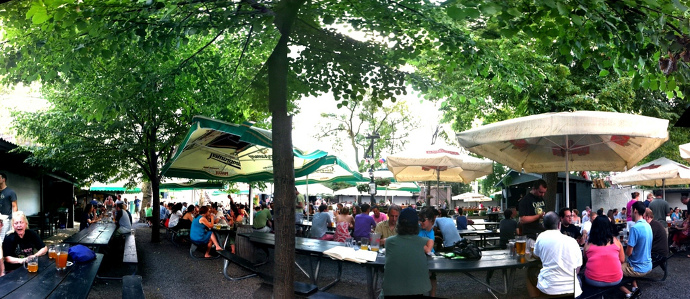 While it's important not to forget what Memorial Day is actually honoring (those who died while serving in the US military), its significance in the calendar is unavoidable. It essentially marks the start of summer in the city and gears people up for the coming months of warm weather celebration. To get geared up, here are some spots that exemplify summer drinking in a variety of ways.
Once you cross the bridge to get to the Frying Pan, the city grime melts right off you. You'll never feel like you're competing for space here, and the nautical vibe keeps you feeling removed from the city. This is definitely the kind of bar where you'll realize at the end of the day you bought a bunch of drinks for your friends without considering the cost—but you're happy you did it. (Pier 66 Maritime; 212-989-6363)
With pizza that people will wait hours to eat and a roomy outdoor space that hosts movie screenings in the warmer weather, Roberta's makes for a perfect, all-needs-met spot to spend a lazy afternoon this Memorial Day weekend. Watch movies outside while you wait for a table, and you may spot some celebrities while you do. (261 Moore St., Brooklyn; 718-417-1118)
A well-established Astoria watering hole, this beer garden offers everything a beer garden should. If you don't know what that entails, it's mostly large pours of a variety of (European) beers and long, wooden tables in an outdoor setting. At night, there are sometimes silent discos. The drinks are cheap and the crowd is pretty fun as well. (2919 24th Ave., Astoria; 718-274-4925)
This tiny Brazilian spot is best if you're going out to eat with a friend or two. There's some outdoor seating and the bar staff are very friendly. For food, the steak sandwich is amazing, and drink-wise, get the caipirinha, a cachaça based cocktail with lime and sugar. As this is Brazil's token cocktail, this place does it exceedingly well. (45 Richardson St., Brooklyn; 718-599-1645)
If you're looking for a party and don't mind spending money to attend it, there's a BlkMarket event on Friday, May 27th that will run on electronic music and the sweat of many a dancing 20 to 30-year-old. The event space is TBA, but will most likely be in Bushwick.
The atmosphere at Roof at Park South is relaxed and casual, but it's upscale enough that it never gets crowded in that typically Manhattan weekend night way (read: not an obnoxious venue). It's relatively small, the views are top notch, and a lot of thought clearly went into the rooftop's presentation. Plus, the cocktails are definitely worth the price. (125 E 27th St.; 212-204-5222)
Loreley
Another beer garden (hey, they're basically made for long spring weekends), Loreley seems like it has more of an Irish than a German vibe. The garden is surprisingly big for its Nolita/LES setting, and you can get lost here all day before moving onto one of the many nighttime spots in the area. It's also pretty sports oriented if you're looking to watch the game, whatever "the game" might be.
(7 Rivington St.; 212-253-7077)
Photo via Flickr user marc.flores
Recent Articles

Feedback
How are we doing? Tell us what you like or don't like and how we can improve. We would love to hear your thoughts!