New York's Best Wine Bars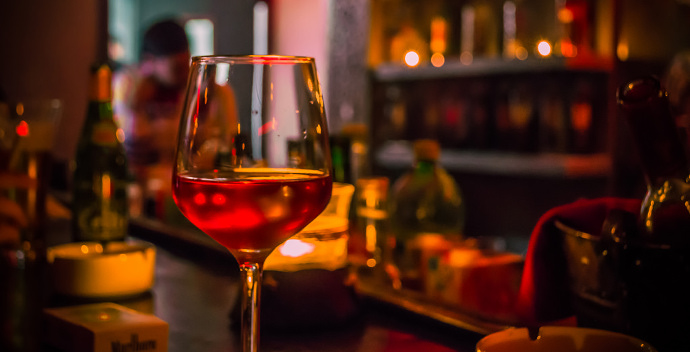 You can order wine pretty much anywhere in New York City, but only a select few establishments have really earned their stripes as "wine bars." When wine is a bar's focus, you can tell… mainly because the people serving it to you actually know what they're talking about. Well, that and the food pairings are always on point. And the ratio of bros to other patrons is about zero to one. And…well, you can just read about some of NYC's best wine bars for yourself.
Drinking wine right next to where it's made isn't something you often get to do in New York City, so take advantage of the fact that there's an actual winery located right on Varick Street. A really friendly staff, a big, open dining room, and frequent music performances make this winery a truly prime drinking destination. (155 Varick St.; 212-608-0555)
This Williamsburg joint makes it clear that its focus is on the wine. Smallish plates seem like they're meant to complement certain wines (rather than the other way around), and the wine list just goes on and on and on. (295 Grand St., Brooklyn; 718-599-4900)
The food here gets fewer stars than the wine, but the ambience and the service definitely make up for it. More of a neighborhood bar, it's got an atmosphere that's cozy without feeling exclusive. The wine never disappoints, and though the list isn't the longest, it's only because it doesn't need to be—you'll find what you're looking for on there no matter what. (242 E 50th St.; 212-888-8660)
Not strictly a wine bar, Beecher's does focus on wine's best friend — cheese. If you're looking for a more serious tasting (or at least more serious indulgence), the wine and cheese pairings here are pretty on point. Also, you can enjoy them while surrounded by cheese that is in the process of becoming, well, finished cheese in a place referred to as the "cheese cave" — pretty exotic. (900 Broadway; 212-466-3340)
A fairly versatile establishment, the Tangled Vine will serve you well as an after work chill out spot, a place to take your mom for brunch when she comes to visit, and a bar to bring a first or second date. Try the Trios, which are groups of three wines selected to complement both each other and the small plates they pair with. (434 Amsterdam Ave.; 646-863-3896)
If you prefer a certain level of fanfare with your food and drink, Corkbuzz will provide (the name says it all, really). You can just come here to drink, or you can come here to further your oenology game. Corkbuzz is big on the five-class packages that help you get to know your wine. To be honest, though, you can't really escape you server spouting some wine knowledge, even if you are just here to unwind with a glass of your favorite Pinot Grigio. There are two Corkbuzz locations—one in Union Square, and a smaller, more laid-back version in Chelsea Market. (13 E 13th St.; 646-873-6071 & 75 9th Ave.; 646-237-4847)
Great food and killer vibes make this wine bar something special. The second Williamsburg spot to make the list, this one is easily quainter and feels like more of a destination, not just another spot to get good wine. This might be because the owners are Sardinian, and it shows in their choice of meats and cheeses. (83 N 7th St., Brooklyn; 718-963-1925)
Photo via Flickr user aymen_bet
Recent Articles

Feedback
How are we doing? Tell us what you like or don't like and how we can improve. We would love to hear your thoughts!