New York's Quietest Neighborhood Bars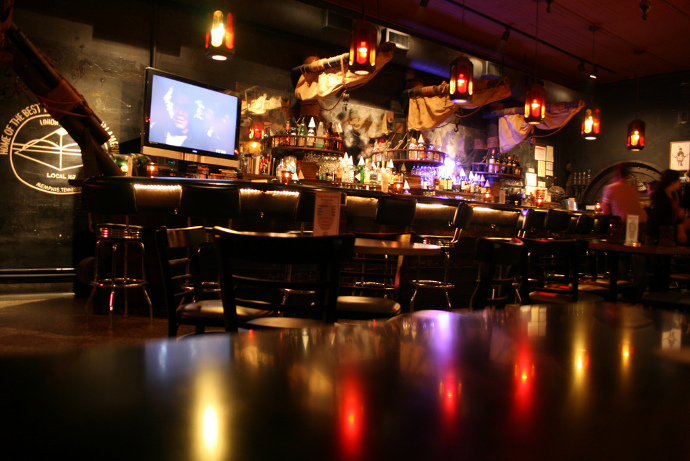 When you live in one of the densest and most fast-paced cities in the world, having a solid escape is a must. For those days when your apartment doesn't do it for you (or you want to escape in a social fashion), check out any of these neighborhood bars for a quiet time and an excellent cocktail.
If you want to avoid noise in the heart of one of the city's busiest bar districts (the East Village), duck into Burp Castle. The name is at odds with the ambience, which is hushed and peaceful. Worried that it won't stay that way as the night goes on? Don't be, because the bartender will shush the growing crowd. The beers on tap change every few days. (4 East 7th St.; 212-982-4576)
A dimly lit, quiet bar that specializes in fancy cocktails, Little Branch basically begs for you to bring your date and stay a while amongst the candles. The West Village in general is a fairly quiet neighborhood, so it's not hard to find a low key bar there. This one stands out for its cocktails. (22 7th Ave. S; 212-929-4360)
If a midnight closing time (and 2am on the weekends) doesn't make a bar "quiet" in New York City, it's hard to pinpoint what does. The most unique feature at The Monk is the lack of TVs, so you're forced to pay attention to the people you're with and the beer you're drinking — beer that, more likely than not, will be Belgian. Better yet, you'll actually be able to hear the people you're with, because this Queens bar rarely gets too crowded, and there's an outdoor space to escape to just in case. (68-67 Fresh Pond Rd., Ridgewood; 347-987-4097)
Another cocktail-focused establishment, Basik definitely goes for the neighborhood bar feel and lands somewhere between divey and just plain nice. The place definitely gets busy on weekends, but if you go during the week, you'll encounter a relaxed vibe and pretty friendly bartenders. (323 Graham Ave., Brooklyn; 347-889-7597)
Located in Washington Heights, Kazza is more readily described as "cozy" rather than "quiet," but the mostly local crowd definitely keeps the place firmly in the chill neighborhood bar category. The sangria is pretty fabulous while the wine is reasonably priced and ranges in caliber, so you have the choice to splurge or keep it cheap. There is a DJ who comes in during the weekends, so if that's the kind of thing you're looking to avoid, go during the workweek. (708 W 177th St.; 646-476-7887)
Located on the Upper East Side (but not priced like the Upper East Side), The Auction House caters more to couples and older patrons, so you can avoid the raucous crowds of downtown. Couches and chandeliers, both of which look like they came straight from the antique store, set the relaxing mood. (300 E 89th St.; 212-427-4458)
Loki has been around Park Slope for a while, currently in its second iteration, which happens to be more tranquil than the first. The food definitely serves as one of the place's main draws, especially the brunch menu, making this a great weekend daytime spot if you're looking to get food somewhere without too much bustle. Keep in mind, though, that the bar is cash only. (341 2nd St., Brooklyn; 718-965-9600)
Tags:
Beer
,
Cocktails
,
Wine
Recent Articles

Feedback
How are we doing? Tell us what you like or don't like and how we can improve. We would love to hear your thoughts!