9 NYC Hotel Bars Where You Don't Have to be a Guest to Have a Good Time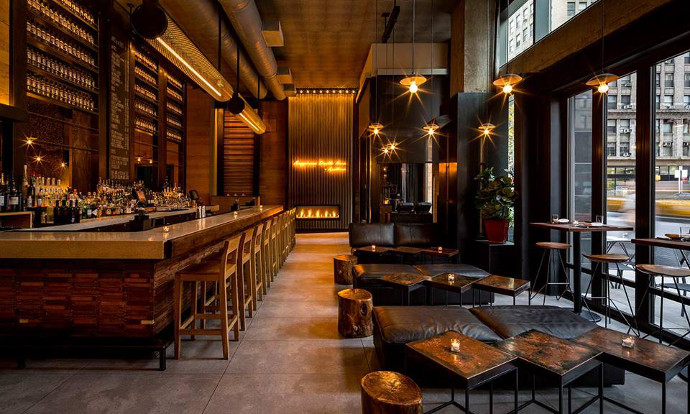 As much as you may hate pushing past tourists on the streets of New York, it can be fun to pretend to be one every now and again. A great way to do this? Check out some of the city's most inviting hotel bars.

Some hotel bars serve as regular weekend spots for many a partying New Yorker, while others offer up a great place to chill and feel removed from the bustling city…at least for an hour or two until you have to ride the subway back home.
If the rooftop bar with the pool and mini golf course doesn't sell you, then the food at the bar downstairs will. This trendy spot is located right by the High Line, so after you get tipsy you can take a stroll and act like a tourist in your own city. (848 Washington St.; 212-645-4100)
A weekend night destination for many New Yorkers, the Hudson Hotel feels like a beehive of bars (at least it does after drink number three). The beauty of this place is that you can jump from one bar to another as your night progresses without leaving the building, and they all offer totally different vibes. You can start your night off slow and easy in the Library Bar to warm up for DJ sets just steps away later. (356 W 58th St.; 212-554-6217)
The casual environment, dim lighting, and young crowd make this hotel bar just as great for a first date as for a post-work gathering with friends. Bar snacks skew to the classy end of the spectrum, but they're not above being tasty. (20 W 29th St.; 212-679-2222)
Kind of swanky without being overwhelmingly so, Hotel Beacon has a pretty expansive lounge area with not too pricey beverages. You can also play chess while you drink, which should encourage you to…drink responsibly and meet some very smart strangers? (2130 Broadway; 212-787-1100)
If you're looking for a Lower East Side vibe when it comes to going out on the weekend, you will find it at The Jane. By LES vibe, we mean dancing, a little sloppy, and a lot social. Drinks aren't too expensive, and dancing on the tables is totally acceptable. (113 Jane St.; 212-924-6700)
The Court Hotel's drink/eatery, Beer & Buns, serves up an excellent selection of both. Though it's nice enough on the inside, the real draw is the enclosed, outdoor patio area, along with the Asian inspired, bun-wrapped dishes. The food is delightfully inexpensive…unless you get the $250 house specialty burger, which includes foie gras, caviar, and truffles. (130 E 39th St.; 212-592-8888)
Yes, this hotel is right in Times Square, but if you can ignore that, there's a good time to be had. Heat lamps on the rooftop bar keep it open all year, and a view of the New Year's Eve ball make it fun to be in arguably the worst part of town. The drinks are overpriced (it's Times Square), but surprisingly delicious. (6 Times Square; 212-204-4980)
With an interior that's impressive even for a hotel, The Raines Law Room boasts a huge cocktail/liquor list and will serve you well if you aim to impress a date (note: there are candles everywhere). You will sit on possibly the comfiest chairs a bar in New York has to offer. (24 E 39th St.; 646-837-6776)
Gansevoort Park Avenue
Multiple levels of indoor/outdoor bar space make drinking at this hotel an adventure. You can play ping-pong on the roof when it's warm out (if you're willing to take on the wind as a third opponent), and as you do so, you'll be able to see much of the city and beyond. The cocktail menu, though pricey, includes some original options worth trying out (think champagne and strawberries taken to the next level). (420 Park Ave. South; 212-317-2900)
Photo via Gansevoort Park
Tags:
Cocktails
,
Food
,
Wine
Recent Articles

Feedback
How are we doing? Tell us what you like or don't like and how we can improve. We would love to hear your thoughts!