Drink the Winter Chill Away at These Bars With Heated Outdoor Spaces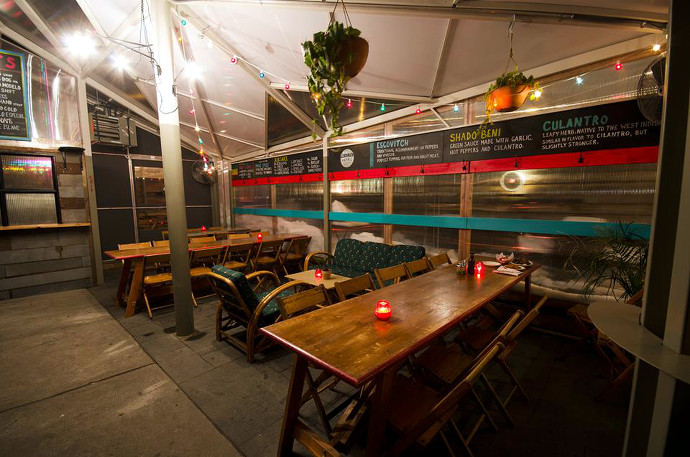 Now that the sparkle of the holiday season has turned into a dull glow, the winter here in New York has lost its glamour. Window displays are just of scarves, not scarves draped around sultry replicas of Mrs. Claus, and the biting wind holds no promise of transporting presents via reindeer-driven sleigh. The cold alone remains—biting and promising only dirty, polluted snow.

So let's pretend it's not winter anymore, shall we? These several bars will let you take your drinks outdoors like it's spring already, thanks to heat lamps and rooftop fireplaces.
Scottish music plays inside while you can huddle up between friends on a wooden bench out back, hot toddy in hand and heat lamp glowing by your legs. A commonly used first date spot, this bar is both friendly and conducive to privacy. (180 Grand St., Brooklyn; 718-384-5008)
While the artful fireplaces serve only as decoration in the summer, they prove necessary for business at this time of year, allowing those interested in classy cocktails and an impressive bird's eye view of the city to get their fix throughout the coldest months. With accomplished mixologist
Ted Kilpatrick
at the helm, no cocktail on the list will lead you astray.
(125 E 27th St.; 212-204-5222)
Enjoy the kind of pizza that people wait in long lines for after milling around an outdoor bar in the dead of winter. A beer and red wine kind of place, Roberta's has a lot of personality, which the outdoor space embodies thanks to its many quirks. (261 Moore St., Brooklyn; 718-417-1118)
Though not entirely outdoors, this rooftop eatery offers an equivalent feel with glass panels instead of walls and a view of the sky. The fried mushroom appetizer goes great with all of the beers on the menu, and you can always opt for a tasting (of the beers, not the mushrooms). (Rooftop, 200 5th Ave.; 212-937-8910)
If you feel like going out to meet people, this social bar will let you mingle with strangers in an outdoor space that draws additional winter warmth from bodies. Rub shoulders and sip cheap-for-New-York mixed drinks with your new best friends. (64 Frost St., Brooklyn; 718-384-8900)
Well known as a fashionable place where you can enjoy some solid Italian cooking, Da Silvano erects heat lamps in the winter so diners can continue to partake in wine and pasta by the sidewalk. The people watching won't be as good when everyone is bundled up in coats and scarves, but the ambience should be. (260 6th Ave.; 212-982-2343)

The Cannibal
The Cannibal knows the best ways to keep warm while braving the winter outdoors. They include drinking a lot of dark beer and devouring a boatload of meat, anything from lamb to a big ole pig's head. The amount of backyard space is almost as impressive as the look of that pig head on your plate. (600 11th Ave.; 212-686-5480)
Photo via Battery Harris
Tags:
Beer
,
Cocktails
,
Food
,
Outdoor Seating
,
Spirits
,
Wine
Recent Articles

Feedback
How are we doing? Tell us what you like or don't like and how we can improve. We would love to hear your thoughts!