Stay Cozy: 7 New York Bars With Great Fireplaces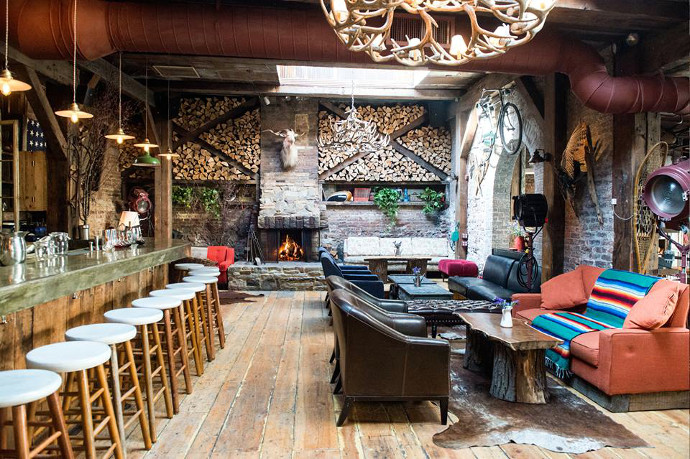 During the wintertime in New York, it's easy to confine yourself to your own apartment. There, the heat is (hopefully) always blasting, and the door only lets in cool air when you decide to invite someone in from the outside.

To save yourself from total recluse status, some bars in the city offer the kind of warmth your apartment may not—that from an actively burning fireplace. Take a trip to the following so you can warm your hands while continuing to have a social life this winter.
With wooden ceilings, antler chandeliers, and animal heads mounted on the walls, Williamsburg based Shelter provides exactly what its name suggests from the unforgiving winds coming off the East River. The fireplace adds to the rustic lodge feel, and you can always order hot chocolate if you get tired of drinking hot, hard apple cider or $12 cocktails. (80 N 7th St., Brooklyn;718-388-8338)
Located in its own, separate alcove by the Nomad Hotel's main bar, the fireplace room (called, simply, Fireplace) marks a lavish and intimate setting where you can take in a meal or relax with a drink. Apparently, the hotel imported the fireplace all the way from a château in France. Though you may not find an actual fire burning there, you will find a very classy place to sip a $16 gin cocktail called The Forbidden Dance. (The NoMad Hotel, 10 W 28th St.; 212-796-1500)
The fireplace isn't the only aspect of this bar aimed at warming patrons up. The staggering whisky, brandy, and scotch selection will certainly help to kindle a fire within. Definitely a more upscale venue, Brandy Library is meant for true lovers of this honey-colored alcohol. (25 N Moore St.; 212-226-5545)
With sawdust on the floor and a fireplace that burns real wood, Molly's will envelope you as if you were drinking beer in the womb. Since the interior is almost always dark, you will lose track of time, which is absolutely fine when the outdoors are so cold and it gets dark at 4 PM, anyway. (287 3rd Ave.; 212-889-3361)
Filled with art, wooden furniture, wine, and not much else, The Drunken Horse offers a calm, neat environment where you can partake in real conversation with a couple of close friends. Doing this while surrounding a fireplace with some chocolate stout in your hand (why not—it's wintertime) is even better. (225 10th Ave.; 212-604-0505)
A good date spot with a long wine list, tasty snacks, and a regularly maintained fireplace, Black Mountain Wine House very deliberately transports patrons to the country cabin they wished they had. Bookshelves stocked are with wine bottles and, naturally, books surround people nibbling at cheese plates and clinking wine glasses. (415 Union St., Brooklyn; 718-522-4340)

Hot Bird
If you somehow remain stubborn about the warm weather ending, Hot Bird has found a way to accommodate you. In this Brooklyn bar's backyard, a fire pit burns throughout the winter, so you can gather around that while clasping a craft beer. (546 Clinton Ave., Brooklyn; 718-230-5800)


Photo via Shelter
Tags:
Beer
,
Cocktails
,
Fireplace
,
Food
,
Spirits
,
Wine
Recent Articles

Feedback
How are we doing? Tell us what you like or don't like and how we can improve. We would love to hear your thoughts!