Where to Host the Best Holiday Party of 2015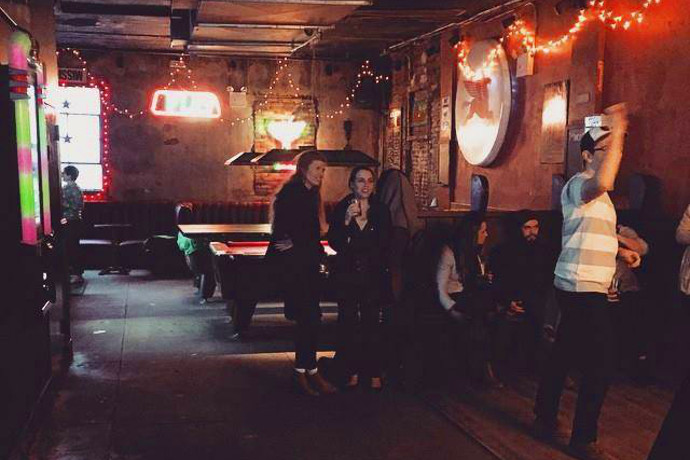 So the holidays are all about "coming together," but where are your friends and family to come to, and who's going to tell them to go there? If the answer to the latter question is you, then you need to figure out the answer to the former. Here are a few spots in New York that are amenable to large crowds and intimate gatherings alike. Don't worry—all of them offer built-in conversation starters so you don't have to help your co-worker figure out what to say to your cousin's shy boyfriend.

This restaurant sells two dishes: burgers and lobsters. Don't you love a place that's upfront about its offerings? Your guests surely will, too (unless they're vegetarians). You can rent out the restaurant for your party and, in doing so, book a spot that's a conversation piece in and of itself ("Does this place really just sell burgers and lobster? Yeah? What will you choose??"). (39 W 19th St.; 646-833-7532)
My friend describes this place as "a warm and intimate bar." It's casual, and the bar food is cheap, with the cheese curds (surprisingly) coming highly recommended. You can mingle, you can sit, you can munch on cheese curds, and you can play shuffleboard. Not a bad deal for a holiday party. (506 Grand St., Brooklyn; 347-889-7793)
Lots of space for big crowds and an unassuming setting makes this a great, low-key meet-up spot. There's room enough to exchange gifts and really set up shop to make the place your own. The managers are kind and would surely be amendable to you hosting your holiday shindig here—unless they happen to be hosting one of their own at that same time. (12 Grattan St., Brooklyn; 718-366-6311)
Tasty drinks and a stellar ambience mark this dimly lit bar. The lighting—candles on the many wooden tables—will make you feel like you're in a fairytale or at a hip version of grandma's house (depending on your take, I suppose), and there's a large backyard to which your smoker friends can retreat when the mood strikes. (383 Carroll St., Brooklyn; 347-799-2154)
A coffee shop by day, Freehold seamlessly transitions by evening to a big, open bar with an outdoor space and an annexed room perfect for a party of 30 or so people. Your guests can entertain themselves by playing pinball, dancing, or cozying up on couches, partaking in intimate discussions—the place supports all of these activities equally. (45 S 3rd St., Brooklyn; 718-388-7591)
The kind of place where people host charity parties, Hotel Chantelle has a high-class vibe that can get low in the basement, where there's room for a DJ and the opportunity to dance after guests take advantage of the champagne and cocktail menu. (92 Ludlow St.; 212-254-9100)

Ace Bar
For a bar that describes itself as having "no pretense," Ace actually doesn't. Instead, Ace has Big Buck Hunter, pool tables, dartboards, and skee ball. You won't have to worry about making awkward conversation with your more distant party guests (girlfriend's sister's best friend's boyfriend, for example), and everyone will have plenty of space to stand and sit.
(351 E 5th St.; 212-979-8476)
Photo via Ace Bar
Tags:
Beer
,
Cocktails
,
Food
,
Holiday
,
Music
,
Parties
,
Spirits
,
Wine
Recent Articles

Feedback
How are we doing? Tell us what you like or don't like and how we can improve. We would love to hear your thoughts!