Feel Like a Star and Drink at These Famous TV Bars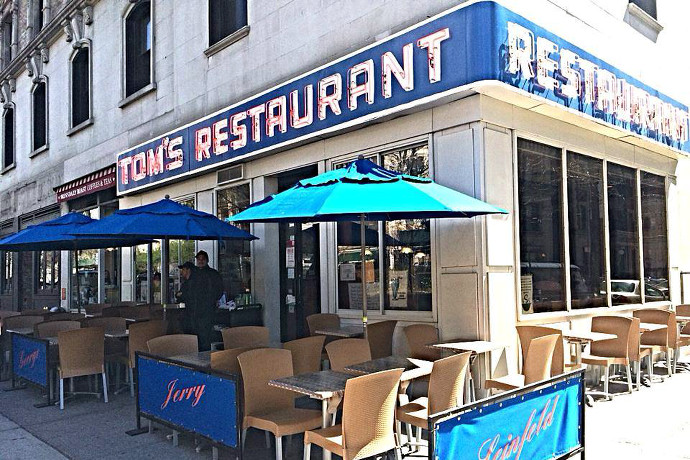 TV shows make hanging out in local haunts look like the end all be all of friendly recreation. From the diner where Seinfeld, Elaine, and George hash out their everyday "problems" to the countless, trendy
spots
the women frequent in "Sex and the City," these places, set on the small screen, make us wish we were there.

That's why we've compiled a list of some of these places (or, well, their closest, non-fictional counterparts) in New York City—so you can stop in and see how much less glamorous and friendly they are in real life…

Tom's Restaurant
, "
Seinfeld
"
One of New York's most quintessential sitcoms, "Seinfeld" finds its main characters in Tom's Restaurant episode after episode. Though it's known as Monk's Café in the show, it's exterior is that of Tom's, even though the interior shooting took place on a set in California. There's no alcohol, but it's a good, ole diner through and through, so it makes for a reliable place to meet friends and dish like they did on the show.
(2880 Broadway; 212-864-6137)

Bamonte's, "Bored to Death"
This Italian joint in Williamsburg is pretty much as old as it comes. With a family/Italian mob vibe (the latter, according to multiple Yelp reviews), it somehow served as the perfect place for Ray, played by Zach Galifianakis in "Bored to Death," a series also starring Jason Schwartzman and Ted Danson, to sulk and booze after getting into a fight with his girlfriend. Full bar available, with very fair prices. (32 Withers St., Brooklyn; 718-384-8831)

McGee's Restaurant and Pub
, "
How I Met Your Mother
"
Known as the fictional McLaren's Pub on "How I Met Your Mother," McGee's served as the inspiration for the haunt because it's where the show's creators would get together. The bar is not afraid to showcase its claim to fame. The drink menu literally has "How I Met Your Mother" written all over it, with cocktails based on episodes from the series (such as "The Pineapple Incident" and "Slutty Pumpkin"). Frozen drinks are always $6.
(240 W 55th St.; 212-957-3536)

Grand Bar and Lounge
, "
Sex and the City
"
Staffed by mixologists and numerous varieties of whisky, this venue at the Soho Grand Hotel served Samantha well in an episode where she seeks to counter her lover Richard's sleeping around by doing so herself. Classy and high-end, this isn't the place to casually drop by for drinks if you're looking to save your money.
(310 W Broadway; 212-965-3588)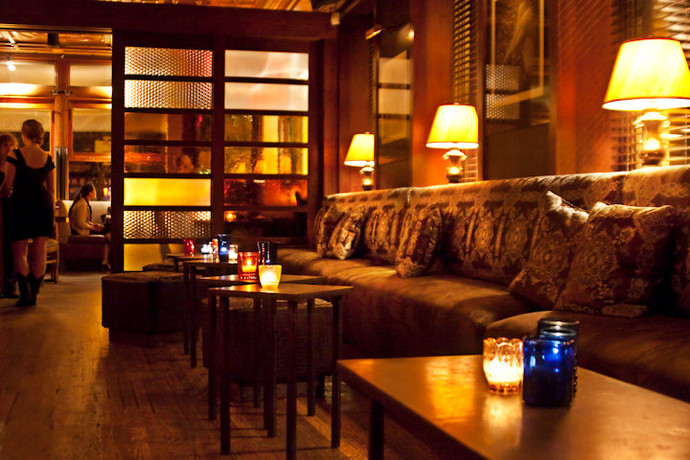 Onieal's
, "
Sex and the City
"
The history of this pub goes way further back than "Sex and the City," where it served as the location for Scout, the bar started by Miranda's then ex-boyfriend, Steve, and Carrie's ex, Aidan. Before that, the bar, which was located across from a police headquarters and came with an underground tunnel serving the fine NYPD officers who wanted to partake in some alcohol without being seen walking into a bar (or without having to face the inclement weather—you guess the most prominent reason). Today, the bar serves more young civilians than it does police officers, where they're surrounded by classic, wooden bar décor and a cocktail menu about as long as the draft beer list. (174 Grand St.; 212-941-9119)
If you feel like throwing back a stiff one with your boss or your stoic old man, P.J. Clarke's still fosters just the right atmosphere as it does in the faux-1960s of the hit TV series "Mad Men." The cocktails will be strong, the servers will be wearing ties, and the patrons will still largely be older white men. (915 3rd Ave.; 212-317-1616)
If you're a filthy rich Manhattan high school student, your "local haunt" may be more like an exclusive club ("exclusive" meaning there's going to be a line to get in and you might get turned down based on looks). "Gossip Girl" characters Serena (Blake Lively) and Nate (Chace Crawford) wind up at 1 OAK one night, where they definitely would have been able to afford the ridiculous cost of table service. (453 W 17th St.; 212-242-1111)

The Comedy Cellar
, "
Louie
"
Perhaps a more obvious one, The Comedy Cellar serves as the stage for comedian Louis C.K. in his TV series "Louie." While the show mainly focuses on the comedian's daily life (which is widely described as "surreal"), all episodes include Louis doing a bit at a stand-up venue that is more often than not The Comedy Cellar. If you decide to go there, there's a chance you'll catch one of Louis's performances—but you'll never know in advance if you're going to get so lucky. Overall, tickets aren't cheap—weekend shows go up to $24, on top of which is a mandatory two drink purchase—which you won't argue with, anyway, since you're at a comedy show.
(117 MacDougal St.; 212-254-3480)
Top photo via
Tom's Restaurant; Onieal's photo by tbishphoto for Onieal's
Tags:
Beer
,
Cocktails
,
Food
,
Wine
Recent Articles

Feedback
How are we doing? Tell us what you like or don't like and how we can improve. We would love to hear your thoughts!