6 Fall Festivals and Events to Get You Excited for Autumn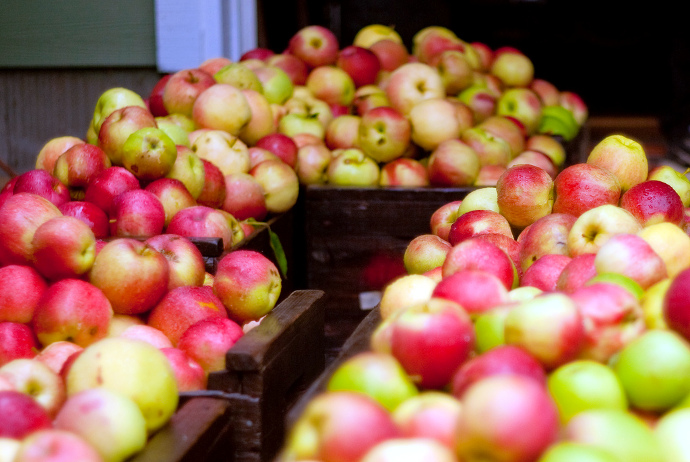 Fall brings to mind apple picking, carnivals, hard cider, and hayrides. If you live in New York City, it's unlikely you'll be able to experience most of these wonderful autumn staples too close to home. For those few events that do take place inside the city limits, and several that will take you on a foliage-filled day trip, check out the following.

If you're looking for drinking buddies, look no further than a festival full of Irish people…stereotypically speaking, of course. Still, there's booze to be had at this year's Hudson Valley Irish Festival, where you'll also be serenaded all day as you watch performances, meet people who don't live in New York City, and learn about Irish culture so that perhaps those stereotypes melt away. The festival is right by the Metro North station in Peekskill, so it's no large feat to get there. (Saturday, September 26; Peekskill Riverfront Green, Peekskill; 914-588-2710)
Though a bit pricey to attend, as each
event
will cost you, this comprehensive festival brought to you by Food & Wine magazine includes classes, dinners, and wine tastings. Fans of Food Network and Cooking Channel personalities will not be disappointed, nor will wine fanatics if they go to the right events (not to worry—there are tastings aplenty).
(October 15—October 18; 9 W 19th St.;866-969-2933)
Feel like a trip to the suburbs? Huntington, Long Island is about an hour away from the city on the LIRR, and in October, it's hosting a festival complete with rides, arts and crafts, food, and—what you were waiting for—wine and beer. If you have kids, this may be a great way to entertain them while you have an excuse to hang out in the fresh, suburban air and get a little tipsy. After all, you won't have to drive home. (October 9—October 12; 1 Heckscher State Pkwy, East Islip, Long Island; 631-423-6100)
With dates in October and November, this dinner series focuses on wine from France and next, from Northern Italy. The food should prove as enticing as the drink. For $100, you'll easily be able to justify the cost—if you're a total food and wine hedonist, which, if you have the resources, why wouldn't you be? (October 30 & November 19; City Winery, 155 Varick St.; 212-608-0555)
To put an alcoholic twist on the traditional autumn event of apple picking, visit this orchard/winery. It's a bit over an hour's drive from the city, so you'd better have a car, but once you arrive, there's live music on weekend afternoons and Sparkling Sunday Cider Mimosas for $3 between 11 AM and 1 PM. (82 Four Corners Rd., Warwick; 845-988-9292)

Cider Week
Looking further ahead this fall, New York City has dedicated a whole week to a grossly underrated beverage—hard cider. Events taking place this week will carry you all over the city, from Hops and Hocks in Bushwick to Vino Fine Wine and Spirits in Kip's Bay to The Queens Kickshaw in Astoria. Be prepared to hear the word "craft" a lot if you attend.
(November 6—November 15; Various Locations)
Tags:
Beer
,
Cocktails
,
Festival
,
Food
,
Music
,
Parties
,
Spirits
,
Wine
Recent Articles

Feedback
How are we doing? Tell us what you like or don't like and how we can improve. We would love to hear your thoughts!