Beachside Drinking in Brighton Beach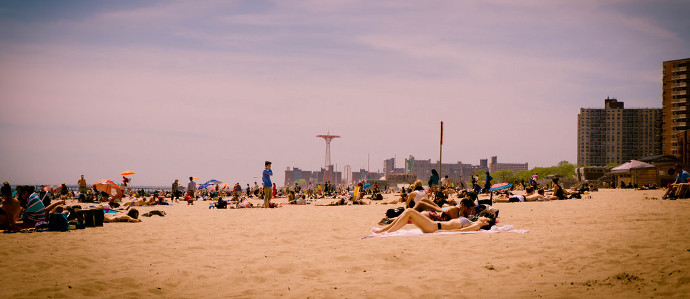 Though incredibly crowded on the weekends, Brighton Beach is worth going to for more than just the ocean. The area is basically Little Russia (or Little Odessa, depending on who you ask), and if you're smart, you'll do like the locals and spend time in the neighborhood by day and then venture out to the beach come evening, when all the screaming children and people trying to sell you "ice, cold bottled water" leave.

To pass the time before evening sets in, or to retreat to for some post beach food and drink, try these Brighton Beach options (and bring along your Russian-speaking friend, if you have one—the staff will be much friendlier).
Just a couple blocks away from the ocean, this low-key restaurant manages to be typically Russian without being over-the-top. Prices are reasonable, the food tastes like something your Russian grandmother might make (assuming you have one), and beers are five dollars across the board. Your options include Corona, Becks, Heineken, or Russian. Opt for the last. (615 Brighton Beach Ave., Brooklyn; 718-615-3096)

Oceanview Café
Offering up much better service than many of the other restaurants near the beach in this area, Oceanview's Russian food is better than you would imagine for a place with such an American name. Most importantly, there's a good selection of Eastern European beer. (290 Brighton Beach Ave., Brooklyn; 718-332-1900)
Don't go here for the food—it's nothing special and the Yelp page is rife with stories of food poisoning—but the fact that "Draft Bar" is in the name means something and you should definitely stop here for a beer. The beers are on the cheap side, and the selection is truly wide. (1003 Brighton Beach Ave., Brooklyn; 718-934-9005)
Don't come straight off the beach to Tatiana—get a little dressed up first to fit in with the rest of the crowd. The restaurant offers great people watching if you sit out on the boardwalk or some hearty entertainment and nightlife activities inside. I'll leave that part up to your imagination. Also, vodka—lots and lots of vodka. (3152 Brighton 6th St., Brooklyn; 718-891-5151)
A very casual atmosphere marks this place, which is as opportune to go to for breakfast as it is for a nightcap, especially because hookah is available. Drinks are solid here, and so are the pastries. (2601 E 14th St., Brooklyn; 718-676-0783)

"If you don't drink a Nutcracker, you're gonna die!"
If you have some extra money to spend (i.e. beach beverages are a rip off) and feel like snapping up a Nutcracker just for the experience, go ahead. Buying beers from a beach walking vendor is at least a safe bet and not much more overpriced than anywhere else in New York. Nutcrackers are such a staple of these crowded Brooklyn beaches that you've got to try one at least once. My friend recently shelled out eight bucks for a Nutcracker (the man selling them had warned us that if we didn't drink a Nutcracker, we were going to die), and it tasted like nothing more than yellow Gatorade, probably because that's exactly what it was (with maybe half a teaspoon of cheap vodka thrown in).
Tags:
Cocktails
,
Food
,
Wine
Recent Articles

Feedback
How are we doing? Tell us what you like or don't like and how we can improve. We would love to hear your thoughts!