Neighborhood Happy Hour Crawl: Bushwick/"East Williamsburg"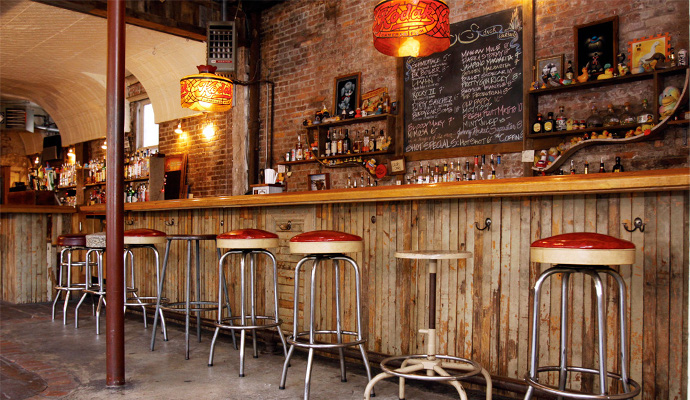 Welcome to a neighborhood that loves happy hours enough to extend them to the weekend. The area that's variously referred to as Bushwick and East Williamsburg is home to dives and yuppie havens alike (is there even a difference, these days?) that aren't afraid to offer specials that will keep the (relatively new) locals drinking well past the happiest hour.
Besides having some solid steak sandwiches, Sweet Science boasts a happy hour that goes from 12 PM to 8 PM on weekdays. That's only a dollar off well drinks and drafts, but for a bar that's not super pricey to begin with, the deal is nothing to scoff at. The place also gets four and a half stars for ambiance, and you can be equally comfortable sitting by yourself at a bar stool or chilling with a group of 10 at a table in the back. (135 Graham Ave., Brooklyn; 347-763-0872)
Full of the sort of furniture you might be wary of sitting on at a thrift store, duckduck has a drink menu that includes five different beer and shot specials starting at $5 a pop. The seven-day-a-week happy hour follows the traditional "a dollar off everything" model but also takes on a truly special aspect in the form of two-for-ones, which applies to all well drinks and Rolling Rock and Narragansett Lagers on tap. (161 Montrose Ave., Brooklyn; 347-799-1449)
Some words to describe Don Pedro include "dive bar," "hipster haunt," "Mexican themed," and "music venue." Daily happy hour offerings that last until 9 PM transcend any of these descriptors, especially because you can already get beer cans there for $3. (90 Manhattan Ave., Brooklyn; 347-689-3163)
This bar also embraces the two-for-one with a happy hour that goes so late it might not even be considered a "happy hour" anymore, just a plain, old drink special. Very dim lighting makes the bar feel cozy, and wooden benches along with the general décor make it feel like tens of other bars in the neighborhood. (35 Ingraham St., Brooklyn; 718-628-3643)
This bar literally has it all—cheap drinks, unlimited baskets of free cheese puffs, a photo booth, a slush machine, and, the cherry on top, a "shitty, man-made golf course in the back," as a friend of mine so lovingly describes it. Also, the happy hour absolutely kills it. It runs every day, from 5 PM to 8 PM during the week and 4 PM to 8 PM on weekends, and lets patrons buy one, get one free on draft beers, well drinks, and wine. (618 Grand St., Brooklyn; 718-388-2114)
Further into Bushwick than "East Williamsburg" and better known by its address than its longer moniker, 983 really does seem to serve as a living room for a handful of people in the neighborhood, complete with bartenders who know their names and select, personal details about them. The "all day drink specials" include a can of Rolling Rock with a shot of whiskey for $5 and Modelo and a shot of well tequila for $6. All well drinks go for $5. (983 Flushing Ave., Brooklyn; 718-386-1133)
Another bar that emphasizes beer and shot specials, Tradesman offers them for $5 all evening long. Otherwise, the happy hour runs daily (minus Saturdays) until 9 PM and features $4 drinks and drafts. Be warned: This is a cash only bar. (222 Bushwick Ave., Brooklyn; 718-386-5300)
Photos via duckduck and Bushwick Country Club
Tags:
Bar Crawl
,
Beer
,
Cocktails
,
Food
,
Wine
Recent Articles

Feedback
How are we doing? Tell us what you like or don't like and how we can improve. We would love to hear your thoughts!