April Showers Bring May Flowers-Flowery Cocktails, That Is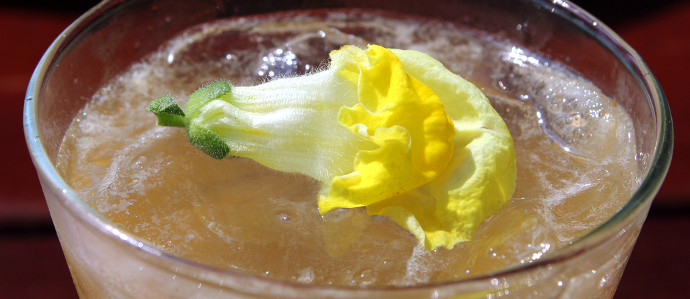 It may just be because it's springtime—and this sneakily happens every year—but it seems like bars have been all about the floral cocktails recently. From crème de violette to edible flowers as garnishes, no drink is safe from becoming more fragrant than its winter counterpart.

Luckily, this fragrance, when added in the right proportion, makes any old cocktail very refreshing and unique. Case in point, the following cocktails from around NYC…

Basil Negroni
Not to sound too corny, but this drink is as fresh as springtime. With Hendrick's Gin, you've already got a solid base, so mixing in Campari, sweet vermouth and basil will not serve you wrong. The basil actually does a lot for the bitterness you get from the other ingredients in this beverage. (Hudson Hotel, 356 W 58th St.; 212-554-6000)

Kale Kollins
This may sound more like a concoction from Jamba Juice than it does a cocktail, but besides the fresh-pressed kale, cucumber, lemon and parsley juice blend, the Spring 44 Gin and simple syrup will certainly remind you that you are drinking an alcoholic beverage—just one that comes very much from the earth. Consider it the healthy way to get intoxicated, like a Bloody Mary. (337B W Broadway; 212-941-7832)

Fitzgerald's Folly
Named after the famous author, this drink boasts "questionable life choices" as an ingredient on the menu, but it's the lavender honey that got it onto this list. Beet-infused Barr Hill Gin gives it an earthy taste, and lemon perks it right back up into tree level. (311 E 60th St.; 212-355-2337)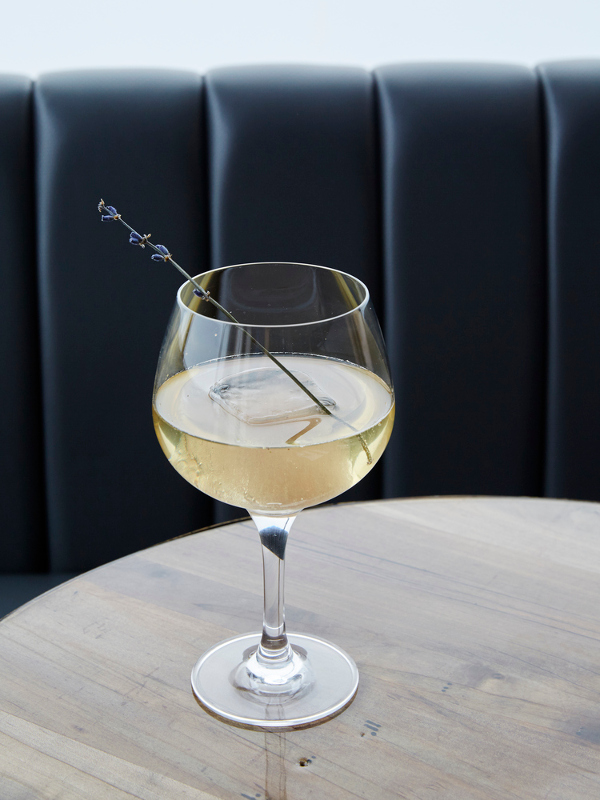 Lavender Piscine
As the name suggests, this drink more or less makes you feel like you're swimming in a pool of lavender—a bubbly one, because of the champagne, and an understated one, because the lavender is uniquely located in the drink's giant ice cube. This cube takes up no small portion of the drink, so you get your lavender fill in addition to the herbs de Provence syrup and grapefruit bitters. This drink is fragrant, elegant, none too sweet and downright luxurious looking. (1 Delancey St.; 212-226-2510)

Lychee Rose
If you are looking for sweet, this is absolutely your beverage. Made with Greenhook Gin (gin just goes with flowery/herbal tastes because of its botanicals), lychee, rose, strawberry and Prosecco, not only will this satisfy your sweet tooth, it will also get you fairly tipsy. (Mandarin Oriental, 80 Columbus Cir.; 212-805-8800)

Eagle's Dream
Again with the gin, this drink mixes it up a little by adding egg white, giving the Eagle's Dream (because eagles love eggs, sugar and lemon?) a thicker consistency than the other gin-based drinks on this list. Crème de violette adds that pinch of springtime necessary to feeling like you're drinking appropriately for the season. (329 Henry St., Brooklyn; 718-852-8630)

Wild Flowers
48 Lounge
A bit of a tacky, overpriced venue, 48 Lounge offers multiple drinks that, as its menu describes, are "fashioned with an edible flower." Naturally, they had to go on the flowery drink list. This one, in particular, mixes Belvedere Wild Berry Vodka with lemon juice, bitters and a hibiscus flower infusion—the last part of which transforms this drink from pure show to totally drinkable.
(1221 6th Ave. at 48th St.; 212-554-4848)
Top image via Flickr, Lavender Piscine by Nicole Franzen for Sel Rrose
Tags:
Cocktails
Recent Articles

Feedback
How are we doing? Tell us what you like or don't like and how we can improve. We would love to hear your thoughts!