Empellon Al Pastor Is Anything but Your Average Taco Joint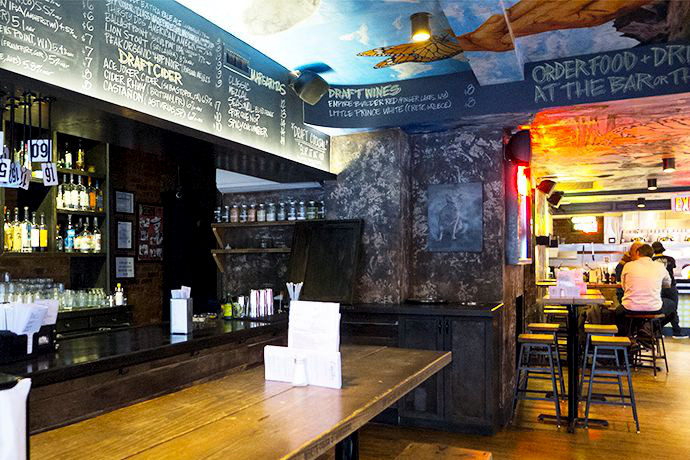 Empellón's downtown empire has a skillfully earned reputation for food that's worth every cent and minute spent on it. Let the foodies trek to Alex Stupak's Empellón Cocina. Those whose focus is on the more liquid side will find a happy, affordable perch at Stupak's St. Mark's Place outpost, Empelléon Al Pastor. Occupying a corner of St. Mark's Place, Al Pastor appears to be a temple of affordable, excellent tacos. A quick glance through the tall glass windows, though, will reveal more fluid pleasures.
Hand-written above the bar are lists of drinks, and shelves of mezcal shine with smoky promise. Tequila and mescal start at $5 and creep up in price from there. Offerings are listed in alphabetical order, from $5 Astral tequila and Bruxo mezcal to $7 Tequila Tres and $9 Fidencio.
There are more than ten draft beers, roaming the range from cream to pale to stout, and a handful of draft ciders. Cans and bottles of beer are also on offer. The US, Mexico, the EC and parts farther afield are represented. You can play mix-and-match with brews, tacos and distillates while your evening takes on a happy sheen.
The micheladas were created in-house and by chef-friends of Stupak's. Names on the menu include Andy Ricker and Wylie Dufresne, so you have reason to expect originality to blend with flavor. On the less-expensive – Empellón's version of ordinary micheladas – side, you'll find Emoticon (featuring yuzu, white miso and togarashi salt) and Dufresne's Micheloté (a standout with corn powder, malta goya, ponzu and Negra Modelo). The "loaded" micheladas includes Our Manhattan (Rittenhouse Rye, sweet vermouth, bitters, cherry salt and IPA) and El Chambovaca (chipotle-spiked tomato juice, beef broth and Dulce Vida reposado), which is Andrew Zimmern's contribution to the menu.
Highballs and margaritas are just as carefully created. You sure won't find Agave Root Beer (birch-infused Pueblo Viejo Blanco root liqueur), On the Water (cherry-scented blanco tequila, Mexican Coca-Cola and smoked cherry) or ¿Por Que No? (Espolon blanco, fresh pineapple, cilantro and Serrano chile) at your average taco joint.
As to food, tacos run a cheerfully affordable $4. The Al Pastor taco has a loyal following, as do the Queso Fresco and Oyster Mushroom – proving again, Al Pastor is more steps away from the average taco joint. Drunken black beans, al pastor scraps, spicy pickled cabbage and other "accouterment" cost the same $4, as does a notable house-made guacamole with chips. Buy a pile of six tortillas or an order of chips for $2, and you're well set for a session of conversation and booze-sopping paired with the kind of michelada that merits an Instagram photograph and detailed description – if you can keep yourself from sipping long enough to snap the shot and type, that is.
Empellón Al Pastor is open Sunday–Thursday, 12 PM–12 AM, and Friday and Saturday, 12 PM–2 AM. Get there for lunch (anytime between Noon and 5 PM) and you can enjoy two tacos and a can of beer or soda for just $10. And from Noon to 7 PM, all beer and cocktails are buy one, get one.
Empellón Al Pastor, 132 St. Marks Pl.; 646-833-7039
Photo by Seanan Forbes
Tags:
Beer
,
Cocktails
,
Food
,
Spirits
,
Tequila
Recent Articles

Feedback
How are we doing? Tell us what you like or don't like and how we can improve. We would love to hear your thoughts!