Where to Celebrate Memorial Day with Beer, BBQ and Boats in NYC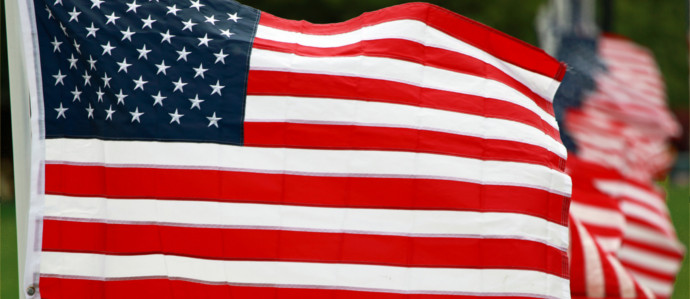 Memorial Day Weekend is all about celebrating our troops…which for most people means drinking beer and eating barbeque. Where in New York can you do this in the most enjoyable way possible? Though we're partial to the backyard barbeque with a few (like, 35-ish) close friends and ample beer cans chilling in coolers, only the lucky ones in New York can access outdoor space where you can drink so freely. If you nor your friends have a backyard or a rooftop where you can do this, here are some public options for enjoying the long weekend with booze.
This Staten Island brewery basically holds a block party to showcase the musical stylings of an official US Navy (cover) band along with its (the brewery's, not the band's) beers. Head over to Staten Island for this party the day before Memorial Day, Sunday, May 24, starting around noon. (40 Minthorne St., Staten Island; 718-448-5284)
This thus far mysterious gathering has no exact time and date yet—other than it being in New York City and on Memorial Day. This annual party is put together by a group of DJs, etc., called the Deep. The party promises to "get weird," and, if it's like previous years, it will be a pretty sizable gathering.
Email them
to RSVP and get info for this year's event.
This gay bar in Hell's Kitchen will give out free barbeque and $3 beers on tap all night (though it's likely the food won't last that long, but who knows?) on Monday, May 25. DJ Larry Twoface will be responsible for the music between 6 PM and 4 AM (he must have some stamina), and there will be various surprises and prizes. Seems like it'll be a truly lively time. (405 W 51st St.; 212-957-2222)
As potentially horrible as something like this could be, with a crowd either stuffy and snobbish or air-headed and obsessed with bottle service, all that will be overshadowed by the fact that you are on a boat, during what hopefully turns out to be a beautiful night. General admission is just over $20 (less if you come in a group of nine, which is probably tricky to gather but not impossible), but if you're willing to shell out hundreds (between two and four), you can pop some bottles along with your admission—better be some really nice bottles, though. The boat is two levels, and there will be a lengthy lineup of DJs, playing everything from salsa to reggae. Dress code is basically "preppy." This boat party starts Saturday, May 23, at 11:30 PM and goes until 4 AM. (Jewel Yacht, 2430 FDR Dr. Service Road East)
Get out to the ocean and celebrate during Memorial Day weekend with those who know it best (besides marine biologists)—surfers. Needless to say, there will be a DJ and plenty of beer. Worth mentioning are the tacos, which will be provided by Tacoway Beach. (302 Beach 87th St., Rockaway Beach)
Smorgasburg has been bringing together various, high-quality food vendors in one outdoor spot by the water in Williamsburg for some time now. The Coney Island version of this is opening on Memorial Day at 11 AM, so it's likely they'll have some kind of fanfare. Food ranges from Thai to lobster, and there will be a couple of bars serving Smorgasbeer to wash down the Thai and/or lobster. (1320 Bowery St., Brooklyn)
Okay, so this isn't necessarily a drinking destination, but if you're in the mood for a parade (hey, sometimes we all get the hankering), then you can watch a bunch of high school marching bands show off their chops while you sip the cheapest beer possible—the kind you buy at a bodega and conceal in your water bottle/brown paper bag. It'll get warm, but if you're in the parade mood, that kind of thing won't bother you. The parade starts at 11 AM. (Starts at 3rd Ave. and 78th St. in Bay Ridge, ends in Fort Hamilton, Brooklyn; 718-833-8923)
Photo via Flickr
Tags:
Beer
,
Block Party
,
Cocktails
,
Festival
,
Food
,
Food Trucks
,
Games
,
Holiday
,
Parties
,
Prizes
,
Spirits
Recent Articles

Feedback
How are we doing? Tell us what you like or don't like and how we can improve. We would love to hear your thoughts!