Drink in the Sweet Spring Air With These 7 Season-Appropriate Cocktails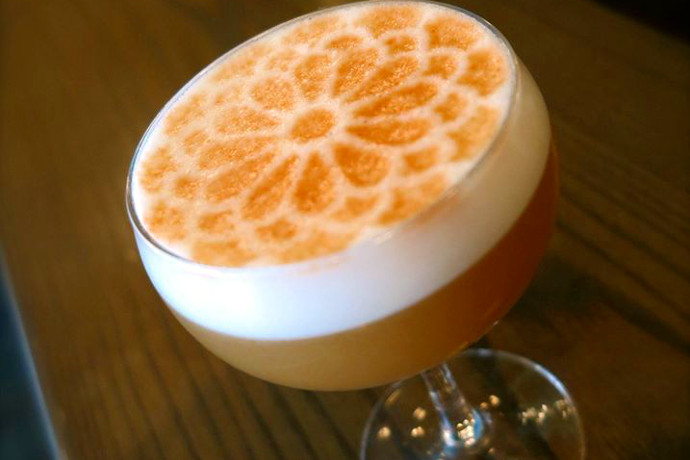 Now that you can finally open the window and let your apartment flood with fresh spring air, you'll notice that the air is surprisingly fresh. It's not yet hot enough for it to stink of everyone's sweat and garbage, but instead the temperature has induced the budding of flowers, which has miraculously made its way into your room.

One whiff of what may just be greenery in New York City is intoxicating, and it'll make you crave more. When the city's many fumes overpower that sweet smell of spring, you can easily find it again in some of these flowery and refreshing cocktails.

Larceny & Old Lace
Made with Cabeza Tequila and hibiscus-infused Pueblo Viejo 104 Tequila, this drink will wake you up from the long winter you spent hibernating in your cramped apartment. St. Germain and raspberry give this the fruity taste that mirrors the aroma of the air…in particular, parts of Central Park. (225 Ave. B, Second Floor; 917-656-6788)

Slack ma Girdle
Biting and sharp in the best way possible, this gin, dandelion, lime and IPA cocktail will make you purse your lips and then go "ahhhh" as if you jumped into a cold pool and happily adjusted to the refreshing temp. Slack ma Girdle is also a fantastically intriguing name, standing in appropriately for an intriguing combination of flavors. Gin and IPA? Who woulda thought—and they shoulda! (162 Orchard St.; 646-918-6835)

Spicy Brine Margarita
Margaritas are welcome year round, but it's warmer weather that bring out the I could go for a Margarita right now spirit in us all. This one provides a tasty twist on the classic party drink, pairing spicy pickle brine with the bar's house-infused jalapeño Espolon Tequila. (509 Amsterdam Ave.; 212-407-5566)

Juliette's Pimm's
It's a Pimm's cup, but better. Orange juice, strawberry puree and sparkling lemonade mixed with ginger beer would be great to drink as is, but adding the Pimm's is truly a positive game changer. (135 N 5th St., Brooklyn; 718-388-9222)

Carry the News
This South Williamsburg bar always has something innovative to offer and not in the way that most newish cocktail bars do where the bartenders seem like they're trying so desperately to create something you've never had before that you end up wishing you'd never had it to begin with. This shaken drink doesn't disappoint, and it makes a cold weather flavor combo—bourbon (Evan Williams Bonded), orgeat, orange, bitters and lemon—warm weather friendly with the addition of crushed ice and cucumber. (177 S 4th St., Brooklyn; 718-486-3726)

Coupe d'Amour
In keeping with the wildly fruity options on this list, this cocktail mixes blood orange, passion fruit and hibiscus (liquid and candied) with sparkling wine and American Harvest vodka. The taste of alcohol is hardly detectable, but that doesn't mean you won't feel it coursing through your veins after just one of these. (17 Barrow St.; 212-255-8649)

Italian Greyhound
For some reason, nothing tastes like spring more than the bittersweetness of grapefruit—perhaps because bitterness is reminiscent of the green buds popping up all over trees and bushes this season, while sweetness marks the flowers that blossom from them. The Italian Greyhound takes this analogy a step further by adding a salt rim to the cocktail's grapefruit juice and punt é mes over ice…because the salt is for the tears you cry when beholding nature's beauty after a long, desolate winter? (125 E 27th St.; 212-204-5222)
Tags:
Bourbon
,
Cocktails
,
Spirits
,
Tequila
Recent Articles

Feedback
How are we doing? Tell us what you like or don't like and how we can improve. We would love to hear your thoughts!