So Now There's This: AB InBev to Launch Tequila Infused Beer This April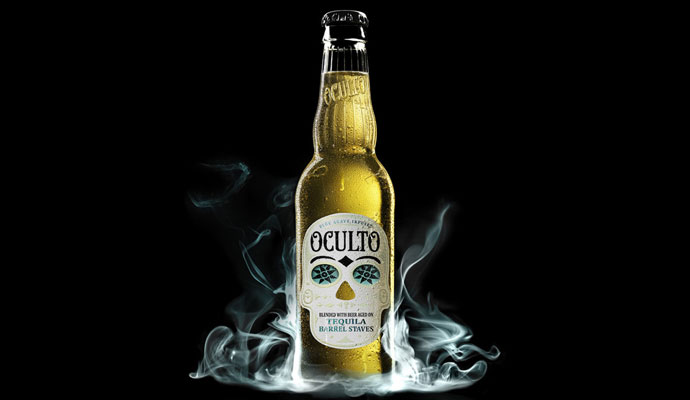 In an attempt to seduce those fussy 20-somethings, AB InBev has developed a new beer brand, Oculto—a blue agave-infused beer, aged in tequila barrels, which recalls the late 2010 phenomenon 4Loko (the hard liquor-energy drink mash up remembered fondly by frat bros across the nation).
Though mash ups seem tired, who can blame the industry giant for taking a familiar route when other similar products have brought the company big success? Bud Light Lime-A-Rita spawned an entire series (Raz-Ber-Rita, Straw-Ber-Rita, Lemon-Ade-Rita and Mang-O-Rita) that's
been selling well since 2012
, with over a $300 million sales increase during its first year alone. But Oculto goes the extra step by completely rebranding. The label features a Day of the Dead-inspired skull that rivals the eye-catching imagery of their microbrew competitors.
Vice President of U.S. Marketing,
Jorn Socquet
, is confident the new product will attract the Instagram generation. His marketing approach is two-pronged, targeting millennials in the clubs and on social media. "If it doesn't appear in the social feeds of our consumers, it's like a tree falling in the forest that no one is around to see," says Socquet. "Rather than us push the message towards them, we want them to become the brand ambassadors on our behalf"—an indication that the company has revised its approach since the debut of its
preachy and defiant 2015 Super Bowl advertisement
("It's brewed for drinking. Not dissecting."
).
While the beer hits select bars and clubs around the US this week, the main launch is set to take place in Miami this April. Socquet has declined to reveal exact locations, but he promises the event will "push [consumers] boundaries and every interaction with the brand will be an Instagram moment." Chances are consumers will succumb to the notoriously head-pounding hangover associated with beer and liquor infusions long before they reach for their phones.
Tags:
Beer
,
Tequila
Recent Articles

Feedback
How are we doing? Tell us what you like or don't like and how we can improve. We would love to hear your thoughts!