The Porchlight is (Almost) On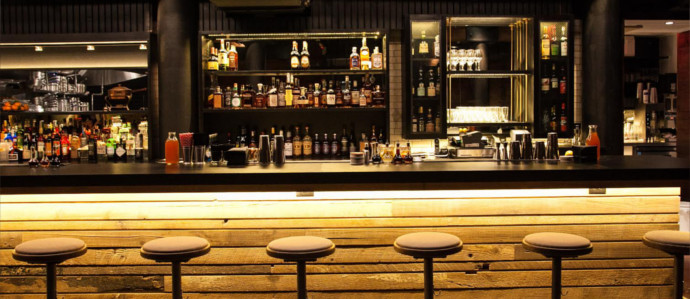 When you walk into the Union Square Hospitality Group's first standalone bar, Porchlight, the first thing you will feel is welcome. You have to think in the future tense right now, because Porchlight won't open until Monday, March 2. After that, you'll probably want to allow a few days for things to calm down. There will be the Danny Meyer fan base and the followers of fabulous bartenders from such places as Booker and Dax (That'd be the lean firebrand, Nicholas Bennett), bloggers eager to try to put their verbal mark on the place and foodies who have to be among the first through any door.
Give it a beat. Let anticipation build. It's okay. Porchlight is worth the wait.
Is it also worth the trek to 11th Avenue and 28th Street, against a river-chilled winter wind? You betcha! Although, you'll probably find it more seductive once mild temperatures come and you're taking a break from a river stroll or looking for something to do after exploring the Highline or the Whitney Museum in the Meatpacking District.
Even in the single-digit cold, Porchlight is a warm – not just in terms of temperatures – place to meet friends before a concert or game at Madison Square Garden, or when you're heading to or from an event at Chelsea Piers.
What will you be drinking? Maybe something spicy, maybe something smooth, maybe something blue.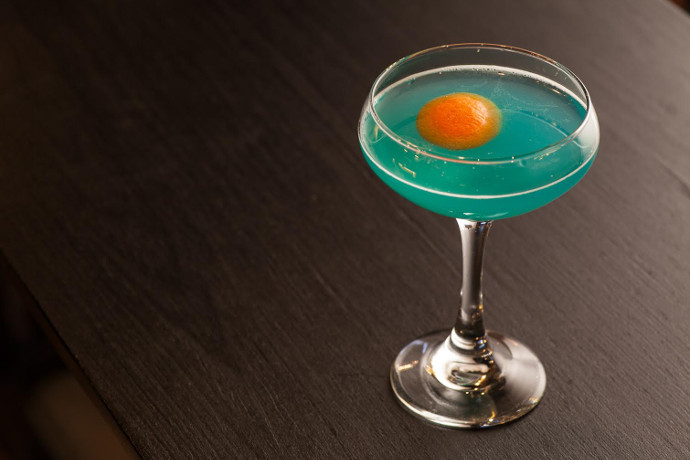 Behind the Mule takes the ginger of the traditional mule and brings it up a few levels. With George Dickel White Dog, a spark from house-made ginger, tang from lime and raspberry vinegar and a sweet New York snap of Katz's Rock & Rye, Behind the Mule leaves a dangerously thirst-inducing aftertaste.
With Mescal Vida at its base, Gun Metal Blue is anything but a shallow flash in the glass. Peach brandy, lime and cinnamon round it out – but the contrast between the blue curacao and the flamed orange garnish (floating bright side up, like a sunny island in an fathomless, still blue sea) will wake your senses before you lift your glass for a sniff and a sip.
With all of the new goods (New York Distilling, Laird's Jersey Lightning), Black Dirt apple brandy . . .), Porchlight knows how to bow to tradition. The house Sazerac features, not all-American rye, but Louis Royer cognac. Herbsaint and the NOLA's mandatory Peychaud's bitters will make this familiar to a contemporary admirer of all things Sazerac, but cognac? That's where Sazeracs began, so sit back and sip a little history.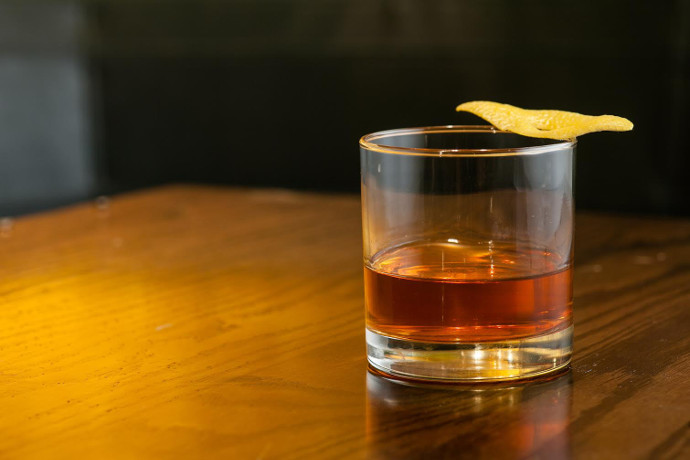 There's thought behind every detail, from the Rittenhouse in the New York Sour to the house-made cola in the Whiskey & Cola. The Stay All Night has Tito's, Amaro CioCiaro – a bartender's beloved – peach preserves, lemon and black tea. If your favorite cocktail isn't on the menu, then one of the bartenders – Bennett, the wide-grinning Mimi Burnham or one of their colleagues – will make the drink of your choosing, just the way you desire it. Maybe better.
Beers, wines, homemade sodas, "free-spirited" (alcohol-free) concoctions and an amply stocked bar are there for the admiring, conversing and drinking.
If you have questions about anything from menu items to a book on the door-side shelves, then ask. Every staff member has gone through hours and days and weeks of training, so Porchlight is starting with that bonded-team feeling. The crew knows the bar, the menu, the hospitality and every strength that each member has to offer. You'd expect this from a family-owned local bar that has been open for generations, but you'll find it at Porchlight from day one.
Jean-Paul Bourgeois, Blue Smoke's creative and texture-happy executive chef, has hold of the kitchen reins at Porchlight. Bites and bar snacks are built to quench your appetite and stimulate your thirst. Must-try items include warm bourbon bar nuts, sugar and spice popcorn, the thick-as-your-fingers smoky beef jerky, oyster shooters with pickled pepper and okra, avocado and crab toast, boiled peanut hummus and jalapeño cheddar cornbread.
The décor is clean, simple and comfortable. The designers took full advantage of the big corner space: large windows, high ceilings, stripped white walls, comfortable seating, nooks and banquettes and communal areas. You could spend a lot of time here and be very happy you did.
For a self-proclaimed bar with a Southern accent, Porchlight looks set to speak a style of Southern comfort that is uniquely its own.
Porchlight; 271 11th Ave.; 212-981-6188
Photos (Interior, Gun Metal Blue and Sazerac) by Andrew Kist
Tags:
Cocktails
,
Food
,
Spirits
Recent Articles

Feedback
How are we doing? Tell us what you like or don't like and how we can improve. We would love to hear your thoughts!