Where to Get the Most Booze for Your Buck: NYC's Best Bottomless Brunches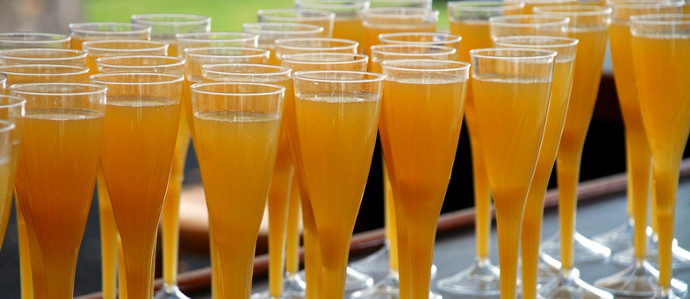 Bottomless brunches mean everything to people who live in New York City, where drinking can be a very expensive enterprise. When you can get a meal and, say, five drinks for about $30, you've accomplished something important. The following places will allow you these accomplishments, or at least offer a uniquely beefy and spicy Bloody Mary.

Hosting a "Russian Fairy Tale" brunch every Sunday from 11 AM to 5 PM, this heavily decorated Russian restaurant offers all you can eat of various breakfast kashas, fish, meats and salads for $35. That also includes unlimited mimosas. At Mari Vanna, unlimited mimosas actually means unlimited, unlike non-Russian establishments where there's a strictly imposed two-hour limit. Reservations are a good idea, here. (41 E 20th St.; 212-77-1955)
This Cuban restaurant offers one entrée and one and a half hours to drink as many "tropical" mimosas (in other words, they're not just made with orange juice), sangrias, champagne mojitos or margaritas, beer or Bloody Mary's as you desire. (210 E 3rd St.; 212-614-3080)
Bottomless mimosas and bloody's come with this brunch, which extends generously until 4 PM on Sunday (whereas it's more stingy on Saturday, lasting from 10:30 AM until 2 PM). You can use these drinks to wash down just about any sandwich or bar appetizer you could imagine, most of which go for under $10. (82 Stanton St.; 212-477-2232)
At $40, a bottomless brunch here means unlimited Bloody Mary's, mimosas, sangria and house wines and beers. There's no time limit on your drinking, and dishes range from the usual (pancakes, French toast, eggs and bacon) to the inventive and upscale (salmon burger, black truffle gnocchi). (166 N 7th St., Brooklyn; 718-599-1596)
Their famous "Jazz Brunch" lasts from 11 AM to 4 PM and features endless Bloody Mary's, mimosas and screwdrivers for a measly $23 (which also takes care of the meal, of course). Breakfast is pretty classic, with eggs done a million ways, and the jazz makes this much livelier than your average brunch spot. (99 7th Ave.; 212-645-0600)

There's no bottomless brunch here, unfortunately, but it's worth mentioning because the Bloody Mary's ("bulls," here) are the best in town. In addition to vodka and bloody mix, the drink contains beef broth and pickled beans and is deliciously spicy…for $10. If you're chasing after bottomless, get the mimosa or John Daly pitcher (vodka, lemonade and iced tea) for $34 or $36, respectively. (593 Lorimer St., Brooklyn; 718-599-9899)

Essex
Essex gets right to the point by offering three drinks as part of a $25 brunch special, because most people don't drink more than that when they're offered the truly bottomless option…most people—which is why restaurants often impose the two-hour time limit, which inhibits, again, most people. Brunch drinks are the usual, bloody or orange (the latter mixed in with either vodka or champagne).
(120 Essex St.; 212-533-9616)
Photo via Flickr
Tags:
brunch
,
Cocktails
,
Food
,
Spirits
Recent Articles

Feedback
How are we doing? Tell us what you like or don't like and how we can improve. We would love to hear your thoughts!